Analysis of the training in thanatology of nursing students from the Federal University of Maranhao, Brazil
Keywords:
Nursing; death; human resources formation; thanatology.
Abstract
Objective.  To  evaluate  the  training  nursing  students  are  receiving  in  topics  related  to  the  application  of humanized assistance  principles,  and guarantee the dignity of dying people. 
Methodology. Qualitative  research with document (Pedagogical project of the class and subject's curriculums) and exploratory (Nursing students'  participant  observation  and  analysis  of  their  journals  with  experiences  towards  death)  analysis. Information  was  collected  from  2008  to  2009. 
Results.  Thanatological  training  is  focused  on  theoretical contents and is not adequately systematized, what could lead to superstitious practices from the students.
Conclusion. Thanatology training given to nursing students is not enough and needs to be improved in its theoretical and practical components.
|Abstract = 33 veces | PDF (PORTUGUÊS) = 25 veces| | HTML (PORTUGUÊS) = 7 veces| | MCORREAHOYOS, CESSAO.PDF = 0 veces|
Downloads
Download data is not yet available.
References
(1) Kovács MJ. Morte e Desenvolvimento Humano. 3 ed. São Paulo:Casa do Psicólogo; 1992.
(2) Kovács MJ. Pensando a morte e a formação de profissionais de saúde. In: Cassorla RMS, coordenador. Da Morte: estudos brasileiros. São Paulo: Papirus; 1998:79-104.
(3) Kovács MJ. Morte e Existência Humana: caminhos de cuidados e possibilidades de intervenção. Rio de Janeiro: Guanabara-Koogan; 2008.
(4) Brêtas JRS, Oliveira JR, Yamaguti L. Reflexões de estudantes de enfermagem sobre morte e o morrer. Rev Esc Enferm USP. 2006;40(4):477-83.
(5) Susaki TT, Silva MJP, Possari JF. Identificação das fases do processo de morrer pelos profissionais de Enfermagem. Acta Paul Enferm. 2006;19(2):144-9.
(6) Aguiar IR, Veloso TMC, Pinheiro AKB, Barbosa XL. O envolvimento do enfermeiro no processo de morrer de bebês internados em Unidade Neonatal. Acta Paul Enferm. 2006;19(2):131-7.
(7) Santos FS. A Arte de Morrer: visões plurais. São Paulo: Comênio; 2008.
(8) Paterson G. Igreja, aids/sida & estigma: documento de discussão 02. Genebra: Ecumenical Advocacy Alliance, 2002.
(9) Falcão EBM, Lino GGS. O paciente morre: eis a questão. Rev Bras Educ Méd. 2004;28(2)123-34.
(10) Pessini L. Distanásia: até quando prolongar a vida? São Paulo: São Camilo-Loyola; 2001.
(11) Luna M. Eutanásia e obstinação terapêutica. J Med CFM. 2005;(maio/junho/julho):18.
(12) Kübler-Ross E. Sobre a morte e o morrer. 8 ed. São Paulo: Martins Fontes; 2005.
(13) Gomes AMA, Ruiz EM. Vida e Morte no cotidiano: reflexões com o profissional de saúde. Fortaleza: EdUECE; 2006.
(14) Silva JLL. A importância do estudo da morte para profissionais de saúde. Rev Técnica-Científica Enferm. 2005;3(12):363-74.
(15) Scrhamm FR. Morte e finitude em nossa sociedade: implicações no ensino dos cuidados paliativos. Rev Bras Cancerol. 2002;1(48):12-20.
(16) Carvalho LS, Oliveira MAS, Portela SC et al. A morte e o morrer no cotidiano de estudantes de Enfermagem. Rev. Enferm. UERJ. 2006;14(4):551-7.
(17) Gutierrez BAO, Ciampone MHT. Profissionais de enfermagem frente ao processo de morte em unidades de terapia intensiva. Acta Paul. Enferm. 2006;19(4):456-61.
(18) Bardin L. Análise de Conteúdo. Lisboa: Edições 70; 2002.
(19) Esslinger I. De quem é a vida, afinal? descortinando os cenários da morte no hospital. São Paulo: Casa do Psicólogo; 2004.
(20) Ariès P. História da morte no Ocidente: da idade média aos nossos dias. Rio de Janeiro: Ediouro; 2003. p.19-20.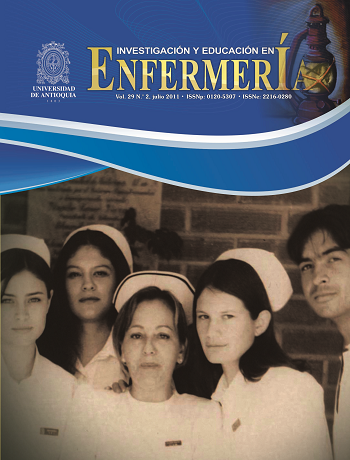 Downloads
Additional Files
How to Cite
Batista Gurgel, W., Gomide Mochel, E., Gomide Mochel, A., & Costa Farias, A. M. (2011). Analysis of the training in thanatology of nursing students from the Federal University of Maranhao, Brazil. Investigación Y Educación En Enfermería, 29(2). Retrieved from https://revistas.udea.edu.co/index.php/iee/article/view/4841
Section
ORIGINAL ARTICLES / ARTÍCULOS ORIGINALES / ARTIGOS ORIGINAIS
License
Derechos de propiedad / Direitos de Propriedade
English: If the article is accepted for publication, all copyright will be of exclusive property of Investigación y Educación en Enfermería. The text and the graphics included in the publication are exclusive responsibility of the authors and not necessarily reflect the thought of the Editorial Committee.
Español: Si el artículo es aprobado para publicación, todos los derechos son de propiedad de Investigación y Educación en Enfermería. El texto y las gráficas incluidas en la publicación son de exclusiva responsabilidad de los autores y no necesariamente refleja el pensamiento del Comité Editorial.
Português: Se o artigo for aceito para publicação, todos os direitos autorais serão de propriedade exclusiva de Investigación y Educación en Enfermería. O texto e os gráficos incluídos na publicação são de responsabilidade exclusiva dos autores e não refletem necessariamente o pensamento do Comitê Editorial.