Sexually transmitted diseases and AIDS vulnerability in women in forced displacement situation. Medellin, Colombia.
Keywords:
Women; migration; social vulnerability; sexually transmitted diseases; AIDS; gender identity; sexual and reproductive health.
Abstract
Objective: to analyze the social vulnerability to sexually transmitted diseases and AIDS (STD, AIDS), in a group of women who arrived to the city of Medellin (Colombia) in forced displacement situation.
Methodology: ethnographic qualitative study performed from April to August of 2008 in the city of Medellin. 23 women were interviewed in different health care providing institutions.
Results: the abrupt change from their daily life, the social and family networks fragmentation, the gender status, and in some women the sexual violence before, during and after the displacement were related with a higher vulnerability to STD/HIV/AIDS in the studied population.
Conclusions: the studied women vulnerability conditions belonging to this group of diseases began before the migration and were present during and after the displacement.
|Abstract = 336 veces | PDF (ESPAÑOL) = 53 veces| | HTML (ESPAÑOL) = 18 veces|
Downloads
Download data is not yet available.
References
(1) Segura N, Meertens D. Desarraigo, género y desplazamiento interno en Colombia. Nueva Sociedad.
(2) El Jack A. Género y conflictos armados. Informe general [Internet]. Londres: BRIDGE; 2003 [acceso 11 de marzo de 2008]. Disponible en: http://www.bridge.ids.ac.uk/reports/Conflictos%20ArmadosOverview%20Report.pdf
(3) Ley 387 de 1997. Poder Público – Rama Legislativa Nacional (Julio 18) [acceso 21 de septiembre de 2009]. Disponible en: http://www.disaster-info.net/desplazados/legislacion/Ley387de1997.pdf
(4) Ramírez M. El impacto del desplazamiento forzado sobre las mujeres en Colombia. Amérique Latine Histoire et Memoire. Les Cahiers ALHIM [revista en internet] 2001 [acceso 03 de abril de 2009]; 3. Disponible en: http://alhim.revues.org/index531.html
(5) Acción Social [sede Web]. Bogotá: Agencia Presidencial para la Acción Social y la Cooperación Inter- nacional; [actualizado 27 de febrero de 2009; acceso 28 de marzo de 2009]. Disponible en: http://www.accionsocial.gov.co
(6) Moser C. Reassessing urban poverty reduction strategies: The asset vulnerability framework. World Development.1998; 26 (1): 21-45.
(7) Organización Panamericana de la Salud, Universidad de Antioquia. Salud y desplazamiento en Colombia. Comparación de la situación de salud, entre población en situación de desplazamiento y receptora, en seis ciudades. 2002-2003: Módulo 1 Bogotá: Nuevas impresiones; 2005
(8) Castellanos G. ¿Existe la mujer? Género, lenguaje y cultura. En: Arango L, León M, Viveros M. Género e Identidad. Ensayos sobre lo femenino y lo masculino. Bogotá: Tercer Mundo Editores; 1995. 39 – 59.
(9) Palmer C, Zwi A. Women, health and humanitarian aid in conflict. Disasters. 1998; 22 (3): 236-249.
(10) García B, Ricardo et al. Infección por VIH y SIDA en Colombia. Estado del arte. 2000 – 2005. Bogotá: Programa conjunto de las Naciones Unidas sobre el VIH/SIDA (ONUSIDA) y Ministerio de la Protección Social de Colombia; 2006.
(11) Bronfman M, Leyva R, Negroni M, Herrera C. En: Alarcón D, Ponce de León S, editores. El Sida en las fronteras. El Sida en México: veinte años de la epidemia. México: El Colegio Nacional; 2003. 169 - 201.
(12) Hernández-Rosete D, Sánchez G, Pelcastre B, Juarez C. Del riesgo a la vulnerabilidad. Bases metodológicas para comprender la relación entre violencia sexual e infección por VIH/ITS en migrantes clandestinos. Revista Salud Mental. 2005; 28 (5): 20–26.
(13) Lima L. El desplazamiento forzoso en Colombia, el impacto en las mujeres. Refugiados. 2002; (114).
(14) ACNUR. Impunidad: Pongámosle fin. Violencia sexual contra mujeres en conflicto armado y postconflicto en América Latina. Publicación de la Consejería de Proyectos. 2006
(15) Garibello A. Las 600 mujeres que conmovieron a la corte. El Tiempo. Domingo 25 de mayo de 2008; primer plano: 1-2
(16) Pedraza N. Género, desplazamiento y refugio. Frontera Colombia y Venezuela. Fondo de desarrollo de las Naciones Unidas para la mujer – UNIFEM –. 2005.
(17) Profamilia.org [Sede Web]. Bogotá. Salud sexual y reproductiva en zonas marginadas. Situación de las mujeres desplazadas 2005. Disponible en: http://www.profamilia.org.co/encuestas/04desplazadas/resumen/2005.htm [Acceso 21 de marzo de 2008]
(18) Boyle J. Estilos de etnografía. En: Morse J. Asuntos críticos en los métodos de investigación cualitativa. Medellín: Universidad de Antioquia; 2003. p. 185 – 217
(19) Strauss A, Corbin J. Bases de la investigación cualitativa. Técnicas y procedimientos para desarrollar la teoría fundamentada. Medellín: Universidad de Antioquia; 2003. p. 63 – 79
(20) Hammersley M, Atkinson P. Etnografía. Métodos de investigación. Barcelona: Paidós, 1994. p. 15, 81
(21) Who.int. [Sede Web] Salud Sexual y Reproductiva. Disponible en: http://www.who.int/es/ [acceso 28 de septiembre de 2009]
(22) Kendall T. Mujeres y VIH/SIDA: Una introducción a la vulnerabilidad femenina ante el virus. En: Magis C, Barrientos H, Bertozzi Stefano. SIDA: Aspectos de salud pública. Primera edición. México: CENSIDA; 2006. p. 145 – 153
(23) Villa M. Desplazamiento forzado en Colombia. El miedo: un eje transversal del éxodo. Controversia. 2006; (187): 11 – 45
(24) Delor F, Hubert M. Un ré-examen du concept de "vulnérabilité" pour la recherche et la prévention du VIH/SIDA. Bruselas: Communauté Française de Belgique; 2003.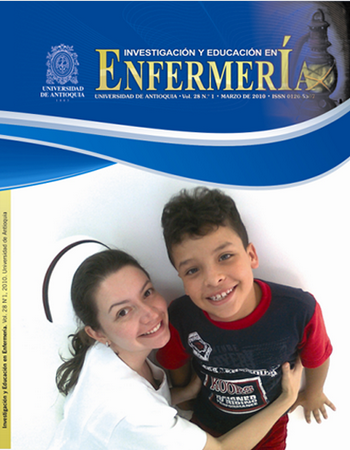 Downloads
How to Cite
López Torres, Z., Ochoa Marín, S. C., Alcaraz López, G., Leyva Flores, R., & Ruiz Rodríguez, M. (2010). Sexually transmitted diseases and AIDS vulnerability in women in forced displacement situation. Medellin, Colombia. Investigación Y Educación En Enfermería, 28(1). https://doi.org/10.17533/udea.iee.5476
Section
ORIGINAL ARTICLES / ARTÍCULOS ORIGINALES / ARTIGOS ORIGINAIS
License
Derechos de propiedad / Direitos de Propriedade
English: If the article is accepted for publication, all copyright will be of exclusive property of Investigación y Educación en Enfermería. The text and the graphics included in the publication are exclusive responsibility of the authors and not necessarily reflect the thought of the Editorial Committee.
Español: Si el artículo es aprobado para publicación, todos los derechos son de propiedad de Investigación y Educación en Enfermería. El texto y las gráficas incluidas en la publicación son de exclusiva responsabilidad de los autores y no necesariamente refleja el pensamiento del Comité Editorial.
Português: Se o artigo for aceito para publicação, todos os direitos autorais serão de propriedade exclusiva de Investigación y Educación en Enfermería. O texto e os gráficos incluídos na publicação são de responsabilidade exclusiva dos autores e não refletem necessariamente o pensamento do Comitê Editorial.