Teaching the caregiver the art of caring: an educational care program with multiple trauma patient caregivers
Keywords:
Multiple trauma; intervention studies; nursing education research; models, educational.
Abstract
Objective: to evaluate the effectiveness of an educational intervention program framed in self-care deficit theory addressed to multiple trauma patients´ caregivers at a hospital  in san luis potosí in Mexico.
Methodology: interventional longitudinal comparative study; Probabilistic systematic sampling was done with randomized assignation of the intervention. The study variables were: Caregivers level of knowledge and the multiple trauma patient evolution. An educational intervention program was applied to the caregivers throughout five sessions; the control group received conventional education by the health staff during their multiple trauma patient hospitalization. Knowledge level measurements were applied before and after the intervention to both groups, as well as a complete nursing assessment pre and post intervention aiming to identify disuse syndrome characteristic complications. The data was analyzed using descriptive statistics and inferential measures.
Results: There is statistical evidence of the educational program effectiveness. As it not only improved the caregivers level of knowledge but the multiple trauma patients of the group had a lower incidence of complications secondary to prolonged immobility.
Conclusion: the intervention program resulted effective favoring the caregiver's level of knowledge as well as the evolution and prevention of complications in the multiple trauma patient.
|Abstract = 45 veces | PDF (ESPAÑOL) = 47 veces| | HTML (ESPAÑOL) = 16 veces|
Downloads
Download data is not yet available.
References
(1) Instituto Nacional de Geografía, Estadística e informática. Información estadística del sector salud y la seguridad social. México: Instituto Nacional de Geografía, Estadística e informática; 2000. p. 14-16.
(2) López Antuñano S. Morbimortalidad en México. Salud Pública Méx. 1998;40(3):281-292.
(3) 3. Medina Arteles E, Rodríguez Rodríguez M, Acosta Suarez G. El estándar de cuidados de alto riesgo de síndrome de desuso. Rev Cubana Enferm. 1997; 13(1):54-59.
(4) Brown JB. User, carer and professional experiences of care in motor neurone disease. Prim Health Care Res Dev. 2003; 4:207–217.
(5) Mercado F. El manejo del tratamiento médico en el marco de la vida diaria. Relaciones. 1998; 19(74):135-178.
(6) Mercado F. Entre el infierno y la gloria: la experiencia de la enfermedad crónica en un barrio urbano. Guadalajara: Universidad de Guadalajara; 1996. p. 66-75.
(7) De Miguel Díaz M. Modalidades de enseñanza centradas en el desarrollo de competencias. Orientaciones para promover el cambio metodológico en el EEES. Madrid: Ministerio de educación; 2000. p. 197.
(8) Denyes, M, Orem D, SozWiss G. Self-care: a foundational science. Nurs Sci Q. 2001; 14(1):40-48.
(9) Lopez Frías B. Técnicas alternativas para la evaluación. Evaluación del aprendizaje, alternativas y nuevos desarrollos. México: Editorial Trillas; 2000.
(10) Jonassen D. El diseño de entornos constructivistas de aprendizaje. En: Reigeluth C. Diseño de la instrucción. Teoría y modelos. Madrid: Aula XXI Santillana; 2000.
(11) Ríos Arias C, Velásquez Serna Y. Incluir a la familia en el cuidado: una meta de Enfermería. Educare [Internet]. 2004 [acceso 2009 Ene 2 ];21(14). Disponible en: http://enfermería21.com/educare/educare14/ aprendiendo/aprendiendo.html.
(12) Andrade Cepeda RMG, Pérez Barcena I, Méndez Blanco L. Perfil de los Cuidadores Informales de Adultos Mayores Hospitalizados. Desarrollo Científ Enferm [Internet]. 2005 [acceso 2009 Ene 3];13(10). Disponible en: http://www.index-f.com/dce/13/13-301.php.
(13) Landeros Pérez ME, Padilla Aguirre AM. Relación del apoyo educativo en el autocuidado del cuidador principal del paciente con enfermedad crónica. Desarrollo Científ Enferm [internet]. 2008 [acceso 2009 Ene 3];16(3). Disponible en: http://www.index-f.com/dce/16/16-109.php.
(14) Nello B. Principles of palliative care and pain control. ABC of paliative care 1997. BMJ. 1997;315:801-804.
(15) Castellote Varona FJ. Trascendencia sociofamiliar de la demencia. Abordaje desde atención primaria. Salud Rural. 1998; 1:91-8.
(16) Lara Pérez L, Díaz Díaz M, Herrera Cabrera E, Silveira Hernández P. Síndrome del "cuidador" en una población atendida por equipo multidisciplinario de atención geriátrica. Rev Cubana Enferm. 2001;17(2):107-11.
(17) Villacañas Novillo E, Sobrino Sobrino I, Galindo Vinagre R, Arnal Selfa R, Regato Pajares P, Cantero García P. Intervención educativa dirigida a cuidadores y familiares de personas ancianas. Rev Metas 1998;1(5):44-48.
(18) Bañobre González A, Vázquez Rivera J, Outeiriño Novoa S, Rodríguez González M, González Pascual M, Graña álvarez J, et al. Efectividad de la intervención educativa en cuidadores de pacientes dependientes en diálisis y valoración de la carga. Rev Soc Esp Enferm Nefrol [Internet]. 2005 Jun [acceso 2009 Ene 4];8(2):156-165. Disponible en: http://scie- lo.isciii.es/scielo.php?script=sci_arttext& pid=S1139-13752005000200006& lng=es.
(19) Niño García AM, Jordán Jinés ML. Apoyo educativo en rehabilitación física al agente de cuidado dependiente del paciente con hemiplejia. Desarrollo Científ Enferm [Internet]. 2007 [acceso 2009 Ene 3];15(9). Disponible en: http://www.index-f.com/dce/15/15-395.php.
(20) Venegas BC. Habilidad del cuidador y funcionalidad de la persona cuidada. Aquichan 2006 Oct;6(6):137-147.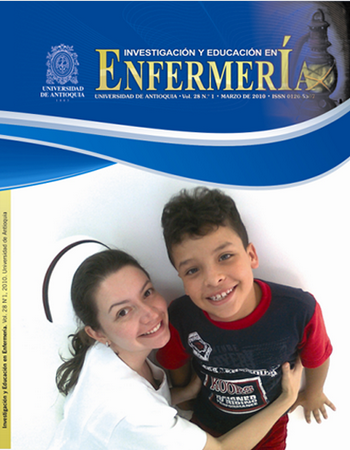 Downloads
How to Cite
Rangel Flores, Y. Y., Hernández Flores, M. M., & García Rangel, M. (2010). Teaching the caregiver the art of caring: an educational care program with multiple trauma patient caregivers. Investigación Y Educación En Enfermería, 28(1). Retrieved from https://revistas.udea.edu.co/index.php/iee/article/view/5482
Section
ORIGINAL ARTICLES / ARTÍCULOS ORIGINALES / ARTIGOS ORIGINAIS
License
Derechos de propiedad / Direitos de Propriedade
English: If the article is accepted for publication, all copyright will be of exclusive property of Investigación y Educación en Enfermería. The text and the graphics included in the publication are exclusive responsibility of the authors and not necessarily reflect the thought of the Editorial Committee.
Español: Si el artículo es aprobado para publicación, todos los derechos son de propiedad de Investigación y Educación en Enfermería. El texto y las gráficas incluidas en la publicación son de exclusiva responsabilidad de los autores y no necesariamente refleja el pensamiento del Comité Editorial.
Português: Se o artigo for aceito para publicação, todos os direitos autorais serão de propriedade exclusiva de Investigación y Educación en Enfermería. O texto e os gráficos incluídos na publicação são de responsabilidade exclusiva dos autores e não refletem necessariamente o pensamento do Comitê Editorial.