Social support with information technologies and communication to caregivers.
Keywords:
Evaluation studies; caregivers; chronic disease; information technology; social support.
Abstract
Objective. To determine the effectiveness of social support through the radio and web in caregivers of the city of Cartagena, Colombia.
Methodology. Semi-experimental research carried out in 2010 where 86 caregivers to whom the instrument Hilbert's social support in chronic illness inventory was applied before and after a social support intervention through the radio and the web. ANOVA's test was used to assess the differences in the score changes of the dimensions of the scale employed.
Results. The average scores before and after the interventions were respectively by dimension: Guide: 59.6 and 81.9; personal interaction 43.3 and 51.6; Feedback 20.7 and 27.3. Social interaction: 20.6 and 25.7. For all the dimensions statistically significant differences were found in the averages.
Conclusion. There is evidence in favor that social support with information technologies and communication was effective in the intervened caregivers.
|Abstract = 47 veces | RESUMEN = 6 veces| | RESUMO = 0 veces| | PDF (ESPAÑOL (ESPAÑA)) = 9 veces| | PDF (ESPAÑOL) = 13 veces| | PDF (PORTUGUÊS (BRASIL)) = 2 veces| | HTML (ESPAÑOL) = 4 veces| | MCORREAHOYOS, CARTA DERECHOS AUTORIA IEE.DOC = 0 veces| | MCORREAHOYOS, FORMATOCURRICULUM INNA FLOREZ.DOC = 0 veces| | MCORREAHOYOS, FORMATOCURRICULUM AMPARO MONTALVO.DOC = 0 veces| | MCORREAHOYOS, FORMATOCURRICULUM ELIZABETH ROMERO.DOC = 0 veces| | MCORREAHOYOS, RESEARCHASSOCIATEDPUBLICATIONS 03 05.DOC = 0 veces|
Downloads
Download data is not yet available.
References
(1) Laximarayan P, Mill AS, Brenan JG et al. Advancement of global health: Key messages from the Disease Control Priorities Proyect. Lancet.2006;367(9517):1193-5.
(2) Prieto RMA, Gil GE, Hederle VC, Frías OA. Perspective of informal caregivers on home care. Qualitative study with a computer program. Rev Esp Salud Pública 2002;76(5):613-25.
(3) Miguel JA, Sancho M, Abellán A, Rodríguez V. La atención formal e informal en España. En: IMSERSO, editor. Las personas mayores en España 2010.Madrid: IMSERSO; 2011.
(4) De La Cuesta C. Aquí cuidamos todos: asuntos de individualidad versus colectividad en un estudio sobre cuidado en la casa de pacientes con demencia avanzada. Forum Qual Soc Res. [Internet] 2006. [acceso: 3 de marzo de 2011]; 7(4). Disponible en: http://www.qualitative-research.net/index.php/fqs/article/viewArticle/170/381
(5) Crespo M, López J. El apoyo a los cuidadores de mayores dependientes: Presentación del programa "Cómo mantener su bienestar". [acceso: 3 de enero de 2011]. Disponible en: http://www.revistahospitalarias.org/info_2007/02_188_09.htm
(6) Barrera L, Carrillo GM, Chaparro L, Pinto N, Sánchez B. Investigar en el cuidado de la salud de las personas para transformar la política pública. En: Avances en el cuidado de Enfermería. Grupo de Cuidado Facultad de Enfermería, Universidad Nacional de Colombia. Bogotá: Editorial Universidad Nacional de Colombia; 2010: p.131-48.
(7) Hilbert G.A. Social support in chronic illness. In: Strickland OL, Waltz CF. Measurement of nursing outcomes: Measuring client self-care and coping skills. New York: Springer; 1990: p. 79-96.
(8) Struk C, Moss J. Focus on Technology: ¿What Can You Do to Move the Vision Forward? CIN. 2009;27(3):192-94.
(9) Cárdenas-Corredor DC, Melenge-Díaz B, Pinilla J, Carrillo-González GM, Chaparro-Díaz L. Soporte social con el uso de las TIC para cuidadores de personas con enfermedad crónica: un estado del arte. Aquichán. 2010;10(3):204-13.
(10) Ramos-Gónzalez V. Las TIC en el sector de la salud. En: http://www.coit.es/publicaciones/bit/bit163/41-45.pdf (Consultado. 3 de marzo de 2011)
(11) Barrón, A. Apoyo social. Aspectos teóricos y aplicaciones. Madrid: Siglo Veintiuno; 1996: 111. [acceso: 3 de enero de 2011]. Disponible en: http://books.google.com.br/books?hl=es&lr=&id=FyJuO1-HaGIC&oi=fnd&pg=PA3&dq=+Apoyo+social:+Aspectos+te%C3%B3ricos+y+aplicaciones&ots=PXkuLbPXeV&sig=C4NZUC3KyMIod26N64COGHSKNg8#v=onepage&q&f=false
(12) Grant J, Elliot T, Weaver M, Bartolucci A, Newman J. Telephone Intervention with Family Caregivers of Stroke Survivors after Rehabilitation. Stroke. 2002;33(8):2060-5.
(13) Barrera L, Pinto N, Sánchez B. Caracterización de los cuidadores familiares en América Latina. En: Barrera L, Pinto N, Sánchez B, Carrillo GM, Chaparro L. Cuidando a los Cuidadores Familiares de personas con enfermedad crónica. Universidad Nacional de Colombia, 2010: 45-56.
(14) Barrera M, Ainlay S.L The structure of social support: A conceptual and empirical analysis. Journal of Community Psychology, 1983; 1: 133-143
(15) Herrera A, Montalvo A, Flórez I, Romero E. Soporte social a cuidadores familiares de personas con enfermedad crónica en Cartagena. Aquichan, En prensa 2011.
(16) Ministerio de Salud. Resolución 008430 de 1993, Octubre 1993. Por el cual se establecen las normas científicas técnicas y administrativas para la investigación en salud. Bogotá D.C; Colombia. 1993.
(17) Asamblea General de la AMM. Declaración de Helsinki – Principios éticos para las investigaciones médicas en seres humanos. [acceso: 15 de enero de 2011]. Disponible en: http://translate.google.com/translate?hl=es&prev=/search%3Fq%3Dcadernos%2540ensp.fiocruz.br%26hl%3Des%26rls%3Dcom.microsoft:es-co:IE-ContextMenu%26rlz%3D1I7ACEW_esCO390%26prmd%3Divns&rurl=translate.google.es&sl=pt&u=http://www.wma.net/en/30publications/10policies/b3/index.html.
(18) Larrañaga I. Impacto del cuidado informal en la salud y calidad de vida de las personas cuidadoras: análisis de las desigualdades de género. Gac. Sanit. 2008; 22(5):443-50
(19) Wilcox S, King AC. Sleep complaints in older women who are family caregivers. J Geron Psyc Sci. 1999;54:189-98.
(20) Robinson-Whelen S, Tada Y, MacCallum RC, McGuire L, Kiecolt-Glaser JK. Long-term caregiving: what happens when it ends?. J Abnorm Psych, 2001; 110(4):573-84.
(21) Navarro-Diez MM. Estudio experimental sobre la eficacia de la intervención psicoeducativa INFOSA sobre el malestar psicológico de los cuidadores principales de personas ancianas dependientes. [acceso: 23 de febrero de 2011]. Disponible en: http://www.tesisenred.net/TDX-1110110-115150
(22) Guerreo L, Ramos R, Alcolado A, López MJ, Pons JL, Quesada M. Programa de intervención multidisciplinaria para cuidadores de pacientes en atención domiciliaria. Gac Sanit. 2008;22(5):457-60.
(23) Emaydis02_01. Estrategias de intervención con cuidadores informales de enfermos de Alzheimer. [acceso: 28 de marzo de 2011]. Disponible en: http://www.imserso.es/InterPresent1/groups/imserso/documents/binario/im_008813.pdf
(24) Villacañas E, Sobrino I, Galindo R, Arnal R, Regato P, Cantero P. Intervención educativa dirigida a cuidadores y familiares de personas ancianas. Rev Metas.1998;1(5):44-8.
(25) Del Risco P. Soporte social y satisfacción con la vida en un grupo de adultos mayores que asisten a un programa para el adulto mayor. [Tesis de licenciatura]. Lima: Editorial Creative Commons, Pontificia Universidad Católica de Perú; 2007 [acceso: 29 de marzo de 2011]. Disponible en: http://tesis.pucp.edu.pe/files/PUCP000000000999/Soporte%20Social%20y%20satisfacci%F3n%20con%20la%20vida%20en%20un%20grupo%20de%20adultos%20mayores%20que%20asisten%20a%20un%20programa%20para%20el%20adulto%20mayor.pdf y http://creativecommons.org/licenses/byncsa/2.5/pe/
(26) Fuhrer R, Stansfeld SA, Chemali J, Shipley MJ. Gender, social relations and mental health: prospective findings from an occupational cohort (Whitehall II study. Soc Sci Med. 1999;48:77-87.
(27) Gallagher SK y Gerstel N. Kinkeeping and friend keeping amog older women: the effect of mariage. The Gerontologist. 1993(33):675-81.
(28) Meléis Al. Experiencing transitions and progress. 3ra ed. Philadelphia: Lippincott; 1997. p. 27.
(29) Fuentes González N, Ojeda Medina AA. Soporte y red social en el adulto maduro con Hipertensión Arterial y/o Diabetes Mellitus tipo II en riesgo de insuficiencia renal. Granada:Biblioteca Lascasas; 2007.
(30) Torre-Egea MP, Ballesteros-Pérez E, Sánchez-Castillo PD. Programas e intervenciones de apoyo a los cuidadores informales en España. Gerokomos. 2008;19(1):9-15.
(31) Sánchez-Pascual P, Mouronte-Liz P, Olazarán-Rodríguez J. Beneficios de un programa de formación del cuidador en la demencia: experiencia piloto desde la enfermería especializada. Rev Neurol. 2001;33(5):422-4.
(32) Piriz C. Educación sanitaria a los familiares de pacientes con enfermedad de Alzheimer. Gerokomos.1997;8(19):26-30.
(33) Márquez M, Barquero A, Carrasco M, Cárdenas D. Los programas de educación para la salud desde una perspectiva cualitativa. El papel de la familia, cuidadores informales. Enferm cient. 1997; (186-7):5-7.
(34) Barrera OL, Galvis CR, Moreno ME, Pinto N, Pinzón ML, Romero E, et al. La habilidad de los cuidadores familiares de personas con enfermedad crónica. Invest Educ Enferm. 2006;24(1):36-46.
(35) Fernández R, Manrique-Abril FG. Rol de la enfermería en el apoyo social del adulto mayor. Enferm global. 2010(19):1-9.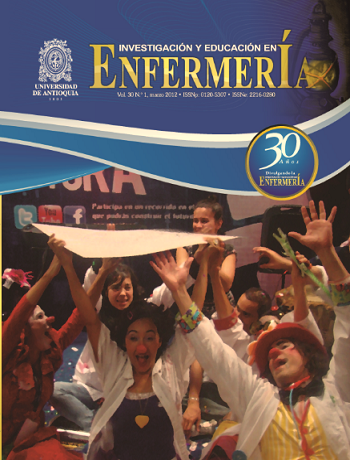 How to Cite
Florez Torres, I. E., Montalvo, A. A., & Massa, E. R. (2012). Social support with information technologies and communication to caregivers. Investigación Y Educación En Enfermería, 30(1). Retrieved from https://revistas.udea.edu.co/index.php/iee/article/view/8735
Section
ORIGINAL ARTICLES / ARTÍCULOS ORIGINALES / ARTIGOS ORIGINAIS
License
Derechos de propiedad / Direitos de Propriedade
English: If the article is accepted for publication, all copyright will be of exclusive property of Investigación y Educación en Enfermería. The text and the graphics included in the publication are exclusive responsibility of the authors and not necessarily reflect the thought of the Editorial Committee.
Español: Si el artículo es aprobado para publicación, todos los derechos son de propiedad de Investigación y Educación en Enfermería. El texto y las gráficas incluidas en la publicación son de exclusiva responsabilidad de los autores y no necesariamente refleja el pensamiento del Comité Editorial.
Português: Se o artigo for aceito para publicação, todos os direitos autorais serão de propriedade exclusiva de Investigación y Educación en Enfermería. O texto e os gráficos incluídos na publicação são de responsabilidade exclusiva dos autores e não refletem necessariamente o pensamento do Comitê Editorial.