Análisis de las metodologías usadas en la detección de posiciones dominantes en el mercado de electricidad mayorista colombiano
Camilo Gallego

Universidad Tecnológica de Pereira

Harold Salazar

Universidad Tecnológica de Pereira

Ramón Gallego

Universidad Tecnológica de Pereira
Abstract
En este trabajo se analiza el estado actual de las diferentes metodologías para determinar posiciones dominantes en el mercado eléctrico mayorista Colombiano. Se indica la existencia de una aproximación en el cálculo del Índice de Lerner (IL), principal métrica para estimar poder de mercado, que conlleva en algunos casos a presentarse sobrestimaciones o subestimaciones de este índice. Se proponen varias alternativas con el fin de demostrar distintas maneras para estimar el poder de mercado y subsanar las dificultades encontradas. Los resultados numéricos indican que es preciso revisar cuidadosamente la metodología vigente en el país.

|Abstract = 102 veces | PDF (ESPAÑOL (ESPAÑA)) = 76 veces|
Downloads
Download data is not yet available.
References
H. R. Varian. Microeconomic Analysis. 3ª. ed. Ed. Norton. New York. 1992. pp. 25-40.
S. Stoft. Power System Economics: Designing Markets for Electricity. Ed. IEEE Press & Wiley Interscience. 2002. pp. 316-365.
M. Joung, R. Baldick, J. Kim. "Strategic Behavior in Electricity Capacity Markets". International Conference on System Sciences. Hawai. 2009. pp. 1-6.
Comité de Seguimiento Independiente al Mercado de Energía Mayorista (CSMEM). Informes de seguimiento mensual. http://www.superservicios.gov. co/MEM/. Consultada el 29 de abril de 2009.
M. Santa María, Nils-Henrik Von Der Fehr, J. Millán, J. Benavides, O. Gracia, E. Shutt. "El Mercado de la Energía Eléctrica en Colombia: características, evolución e impacto sobre otros sectores". Fedesarrollo. http://www.acolgen.org.co/. Consultada el 3 de diciembre de 2009.
F. A. Wolak. "Report on Market Performance and Market Monitoring in the Colombian Electricity Supply Industry". http://www.superservicios.gov.co/ MEM/. Consultada el 5 julio 30 de 2009.
F. A. Wolak. "Measuring Unilateral Market Power in Wholesale Electricity Markets: The California Market, 1998-2000". http://www.stanford.edu/~wolak. Consultada el 29 de abril de 2009.
P. Twomey, R. Green, K. Neuhoff, D. Newbery. "A Review of the Monitoring of Market Power". Massachusetts Institute of Technology Center for Energy and Environmental Policy Research. http://ideas.repec. org/p/cam/camdae/0504.html. Consultada el el 29 de abril de 2009.
D. Kirschen, G. Strbac. Fundamentals of Power System Economic. Ed. John Wiley & Sons. University of Manchester Institute of Science & Technology (UMIST). Inglaterra (UK). 2004. pp. 16-92.
Parque generador del sistema eléctrico colombiano. http://www.xm.com.co/Pages/PreciodeOfertaInicial. aspx. Consultada el 5 de febrero de 2009.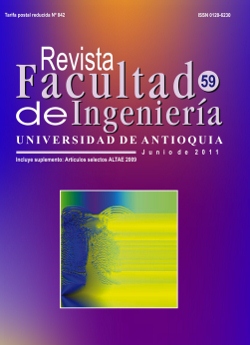 Copyright (c) 2018 Revista Facultad de Ingeniería
This work is licensed under a Creative Commons Attribution-NonCommercial-ShareAlike 4.0 International License.
All the texts included in the Revista Facultad de Ingenieria Universidad de Antioquia -redin- are protected by copyrights. According to the law, their reproduction through any means, physical or electronic, without written consent by the Editorial Committee is forbidden.  Complete texts of the articles will be fully and publically available, which means that they can be read, downloaded, copied, distributed, printed, searched for, or linked to. The opinions expressed in the published articles specifically belong to the authors and are not necessarily the same of the Editorial Committee or of the School of Engineering Management.