Análisis de las metodologías usadas en la detección de posiciones dominantes en el mercado de electricidad mayorista colombiano
Camilo Gallego

Universidad Tecnológica de Pereira

Harold Salazar

Universidad Tecnológica de Pereira

Ramón Gallego

Universidad Tecnológica de Pereira
Abstract
En este trabajo se analiza el estado actual de las diferentes metodologías para determinar posiciones dominantes en el mercado eléctrico mayorista Colombiano. Se indica la existencia de una aproximación en el cálculo del Índice de Lerner (IL), principal métrica para estimar poder de mercado, que conlleva en algunos casos a presentarse sobrestimaciones o subestimaciones de este índice. Se proponen varias alternativas con el fin de demostrar distintas maneras para estimar el poder de mercado y subsanar las dificultades encontradas. Los resultados numéricos indican que es preciso revisar cuidadosamente la metodología vigente en el país.

|Abstract = 9 veces | PDF (ESPAÑOL (ESPAÑA)) = 4 veces|
Downloads
Download data is not yet available.
References
H. R. Varian. Microeconomic Analysis. 3ª. ed. Ed. Norton. New York. 1992. pp. 25-40.
S. Stoft. Power System Economics: Designing Markets for Electricity. Ed. IEEE Press & Wiley Interscience. 2002. pp. 316-365.
M. Joung, R. Baldick, J. Kim. "Strategic Behavior in Electricity Capacity Markets". International Conference on System Sciences. Hawai. 2009. pp. 1-6.
Comité de Seguimiento Independiente al Mercado de Energía Mayorista (CSMEM). Informes de seguimiento mensual. http://www.superservicios.gov. co/MEM/. Consultada el 29 de abril de 2009.
M. Santa María, Nils-Henrik Von Der Fehr, J. Millán, J. Benavides, O. Gracia, E. Shutt. "El Mercado de la Energía Eléctrica en Colombia: características, evolución e impacto sobre otros sectores". Fedesarrollo. http://www.acolgen.org.co/. Consultada el 3 de diciembre de 2009.
F. A. Wolak. "Report on Market Performance and Market Monitoring in the Colombian Electricity Supply Industry". http://www.superservicios.gov.co/ MEM/. Consultada el 5 julio 30 de 2009.
F. A. Wolak. "Measuring Unilateral Market Power in Wholesale Electricity Markets: The California Market, 1998-2000". http://www.stanford.edu/~wolak. Consultada el 29 de abril de 2009.
P. Twomey, R. Green, K. Neuhoff, D. Newbery. "A Review of the Monitoring of Market Power". Massachusetts Institute of Technology Center for Energy and Environmental Policy Research. http://ideas.repec. org/p/cam/camdae/0504.html. Consultada el el 29 de abril de 2009.
D. Kirschen, G. Strbac. Fundamentals of Power System Economic. Ed. John Wiley & Sons. University of Manchester Institute of Science & Technology (UMIST). Inglaterra (UK). 2004. pp. 16-92.
Parque generador del sistema eléctrico colombiano. http://www.xm.com.co/Pages/PreciodeOfertaInicial. aspx. Consultada el 5 de febrero de 2009.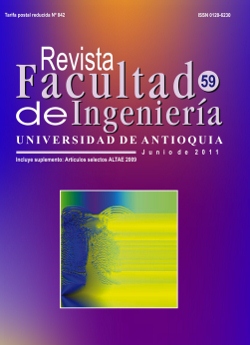 How to Cite
Gallego C., Salazar H., & Gallego R. (2012). Análisis de las metodologías usadas en la detección de posiciones dominantes en el mercado de electricidad mayorista colombiano. Revista Facultad De Ingeniería Universidad De Antioquia, (59), 122-132. Retrieved from https://revistas.udea.edu.co/index.php/ingenieria/article/view/13768
Copyright (c) 2018 Revista Facultad de Ingeniería
This work is licensed under a Creative Commons Attribution-NonCommercial-ShareAlike 4.0 International License.
Authors can archive the pre-print version (i.e., the version prior to peer review) and post-print version (that is, the final version after peer review and layout process) on their personal website, institutional repository and / or thematic repository

Upon acceptance of an article, it will be published online through the page https://revistas.udea.edu.co/index.php/ingenieria/issue/archive in PDF version with its correspondent DOI identifier
The Revista Facultad de Ingeniería -redin- encourages the Political Constitution of Colombia, chapter IV
Chapter IV Sanctions 51
The following shall be liable to imprisonment for two to five years and a fine of five to 20 times the legal minimum monthly wage: (1) any person who publishes an unpublished literary or artistic work, or part thereof, by any means, without the express prior authorization of the owner of rights; (2) any person who enters in the National Register of Copyright a literary, scientific or artistic work in the name of a person other than the true author, or with its title altered or deleted, or with its text altered, deformed, amended or distorted, or with a false mention of the name of the publisher or phonogram, film, videogram or software producer; (3) any person who in any way or by any means reproduces, disposes of, condenses, mutilates or otherwise transforms a literary, scientific or artistic work without the express prior authorization of the owners thereof; (4) any person who reproduces phonograms, videograms, software or cinematographic works without the express prior authorization of the owner, or transports, stores, stocks, distributes, imports, sells, offers for sale, acquires for sale or distribution or in any way deals in such reproductions. Paragraph. If either the material embodiment or title page of or the introduction to the literary work, phonogram, videogram, software or cinematographic work uses the name, business style, logotype or distinctive mark of the lawful owner of rights, the foregoing sanctions shall be increased by up to half.