Inspección en aislamientos sintéticos
Keywords:
Aisladores sintéticos, mantenimiento, inspección
Abstract

El presente trabajo describe las principales técnicas de inspección de aislamiento sintético usadas internacionalmente y particularmente en México. Se detallan los hallazgos de una inspección en México donde se encontraron degradaciones de la envolvente que alcanzaron el núcleo del aislamiento y que a simple vista no parecían importantes. Estas erosiones no fueron vistas con binoculares pero sí fueron detectadas con otras técnicas de inspección. A partir del daño encontrado, se describe el proceso de degradación electrolítica del núcleo y posibles alternativas de solución. Por otro lado, el daño sufrido por el núcleo justifica la solicitud de implementar la prueba de ácido como prueba de prototipo para el aislador sintético. En este trabajo se propone una metodología para llevar a cabo esta prueba.
|Abstract = 10 veces | PDF (ESPAÑOL (ESPAÑA)) = 16 veces|
Downloads
Download data is not yet available.
References
M. Kuhl. "FRP rods for brittle fracture resistant composite insulators". IEEE Trans. Dielectr. Electr. Insul. Vol. 8. 2001. pp. 182-90.
O. Aguilar, G. Montoya, E. Pérez, H. Aragón. "Actividades que se realizan en el mantenimiento de líneas de transmisión aéreas y recomendaciones de seguridad". IEEE RVP-AI. TRA-04 2005. Acapulco (México). 2005. pp. 1-6.
A. Phillips. Polymer Insulator Survey 2002: Utility Field Experience and In-Service Failures. EPRI. Palo Alto (CA). 2003. pp. 6-8.
C. de Tourreil, G. Riquel, R. Hartings, R. G. Houlgate, B. Kahl, R. E. Macey, G. Marrone, R. Matsuoka, K. O. Papailiou, R. Parraud, T. A. Pinkham, M. Portillo, B. Staub. CIGRE WG22.03, "Review of in service diagnostic testing of composite insulators". Electra. Vol. 169. 1996. pp. 104-119.
G. Montoya, I. Ramirez, J. I. Montoya. "Measuring pollution level generated on electrical insulators after a strong storm". Electr. Power Syst. Res. Vol. 71. 2004. pp. 267-73.
I. Gutman. "STRI guidelines for diagnostics of composite insulators: for visual inspections; for hydrophobilicy; for IR helicopter inspections". International Conference on Suspension and post composite insulators: manufacturing, technical requirements, test methods, service experience, diagnostics. St. Petersburg (Rusia). 2004. pp. 88-91.
G. Montoya-Tena, R. Hernández-Corona, I. RamírezVázquez. "Experiences on pollution level measurement in Mexico." Electr. Power Syst. Res. Vol. 76. 2005. pp. 58-66.
R. Hernández, I. Ramíez, G. Montoya. "Evaluation in laboratory of the visual corona and electric field measurement techniques to inspect polymeric insulators ". IEEE PES Transmission and Distribution Conference. Dallas (Texas). 2006. pp. 601-604.
T. Sorqvist, A.E. Vlastos. "Oudoor Polymeric Insulators Long-Term Exposed to HVDC". IEEE Transactions on Power Delivery. Vol. 12. 1997. pp. 1041-1048.
I. Ramírez Vázquez, J. L. Fierro. "Criteria for the Diagnostic of Polluted Ceramic Insulators Based on the Leakage Current Monitoring Technique". CEIDP. Vol. 2. 1999. pp. 715-718.
J. L. Fierro, I. Ramirez, G. Montoya. "On-line leakage current monitoring of 400 kV insulator strings in polluted areas". IEE Proc. Gen. Trans. and Dist. Vol. 143. 1996. pp. 560-564.
R. S. Gorur, S. Sundhararajan, O. G. Amburgey. "Contamination Performance of Polymeric Insulating Materials used for Outdoor Insulation Applications". IEE Trans. on Electrical Insulation. Vol. 24. 1989. pp. 713-716.
G. Montoya, I. Ramírez, J. I. Montoya. "Correlation among ESDD, NSDD and leakage current in distribution insulators". IEE Proceedings-Generation, Transmission and Distribution. Vol. 151. 2004. pp.
I. Ramírez Vázquez, R. Hernández Corona, G. Montoya Tena. "Diagnostic of non ceramic insulators aged in a salt fog chamber by using electric field sensor". Conference Record of the 2004 IEE International Symposium on Electrical Insulation. Indianapolis (IN). 2004. pp. 471-474.
I. Ramírez, R. Hernández, G. Montoya. "Diagnostics for nonceramic insulators in harsh environments". IEE Electrical Insulation Magazine. Vol. 25. 2009. pp. 28- 33.
I. R. Vázquez, G. M. Tena, R. H. Corona. "Nonstandard method for accelerated ageing tests of nonceramic insulators". IEE Proceedings: Generation, Transmission and Distribution. Vol. 149. 2002. pp. 439-445.
IEC Technical Specification. IEC TS 62073 Guidance on the measurement of wettability of insulator surfaces. IEC. Switzerland. 2003. pp. 9-14.
J. M. Seifert, M. Di Lorenzo del Casale, R. Schifani. "Quality Requirements of fibre Reinforced Polymer Materials for HV Composite Longrod". IEE International Symposium on Solid Dielectrics ICSD. 29th. Eindhooven. Netherlands. 2001. pp 50-53.
Norma IEC 61109. Insulators for overhead lines – Composite suspension and tension insulators for a.c. systems with a nominal voltage greater than 1 000 V – Definitions, test methods and acceptance criteria. IEC. 2008. pp. 19-29.
Norma ANSI C29.11. American National Standard for Composite Suspension Insulators for Overhead Transmission Lines – Tests. NEMA. Rev. 1996. pp. 8-12.
De Tourreil, C. Pargamin, L. Thevenet, G. Prat, S. Abrest. "Brittle fracture of composite insulators: why and how they occur". IEE PES Summer Meeting. Seattle (WA). Vol. 4. 2000. pp. 2569-2574.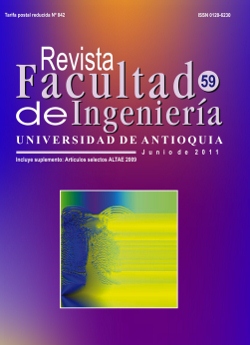 Downloads
How to Cite
Montoya, G., Hernández, R., & Ramírez, I. (2012). Inspección en aislamientos sintéticos. Revista Facultad De Ingeniería Universidad De Antioquia, (59), 237–246. Retrieved from https://revistas.udea.edu.co/index.php/ingenieria/article/view/13828
License
Revista Facultad de Ingeniería, Universidad de Antioquia is licensed under the Creative Commons Attribution BY-NC-SA 4.0 license. The material published in the journal can be distributed, copied and exhibited by third parties if the respective credits are given to the journal. No commercial benefit can be obtained and derivative works must be under the same license terms as the original work.

w