Simulation to asses a payment proposal for Black Start service in Colombia
Keywords:
ancillary services, black-start, power system restoration, system dynamics
Abstract
This article presents a payment proposal for Black-Start Service (BSS), which consists of bilateral procurements between generators and the administrator of the National Interconnected System (SIN). The procurement of Black-Start's MegaWatt (MW) depends on both the maximum demand and the stability of each operative area. This proposal is analyzed using System Dynamics (SD) in order to assess the impact on the behavior of the generators regarding the payment proposal. The simulation model has a time horizon of 20 years and includes the Contract Time (CT), the contract amount (AC), and the number of agents (NA). Model results show that the procurements duration is essential to ensure the necessary participation in each contract period.
|Abstract = 49 veces | PDF (ESPAÑOL (ESPAÑA)) = 27 veces|
Downloads
Download data is not yet available.
References
I. Dyner, C. J. Franco, S. Arango. El mercado mayorista de electricidad colombiano. Ed. Universidad Nacional de Colombia. Sede Medellín. Medellín. 2008. pp. 1-4.
S. Stoft. Power system economics: Designing markets for electricity. Ed. IEEE. Wiley Interscience. New York. 2002. pp. 245-350.
A. Expósito. Análisis y operación de sistemas de energía eléctrica. Ed. McGraw-Hill. Madrid. 2002. pp. 217-259.
M. M. Adibi. "Power System Restoration: Methodologies & implementation strategies". IEEE series on power engineering. 2000. pp. 96-103.
E. Hirst. "Maximizing generator profits across energy and ancillary services markets". The Electricity Journal. Vol. 2. 2000. pp. 62- 69.
Comisión de regulación de energía y gas (CREG). www.creg.gov.co/eléctrica/info.html. Consultada el 30 de septiembre de 2009.
R. Raineri, S. Ríos, D. Schiele. "Technical and economic aspects of ancillary services markets in electric power industry: an international comparison". Energy policy. Vol. 34. 2006. pp. 1540-1555.
A. Isemonger. "The viability of the competitive procurement of Black Start: Lessons from the RTOS". The Electricity Journal. Vol.14. 2007. pp. 60 - 67.
G. Rothweell, T. Gómez. "Electricity economics: Regulation and Deregulation". 3a . ed. IEEE series on power engineering. 2003. pp. 187-207.
A. Motamedi, M. F. Firuzabad. "Ancillary service markets". IEEE Transaction on Power Systems. Vol. 19. 2007. pp. 316-320.
F. Olsina, F. Garcés, H. Haubrich. "Modeling longterm dynamics of electricity markets". Energy Policy. Vol. 34. 2006. pp. 1411-1433.
I. Dyner. "Energy modelling platforms for policy and strategy support". Journal of the Operational Research Society. Vol. 51. 2000. pp. 136-144.
I. Dyner, E. Larsen. "From planning to strategy in the electricity industry". Energy policy. Vol. 29. 2001. pp. 1145-1154.
D. Bunn, E. Larsen. "Sensitivity of reserve margin to factors influencing investment behavior in the electricity market of England &Wales". Energy Policy. Vol. 29. 1992. pp. 420-429.
A. Ford. "Estimating the impact of efficiency standards on the uncertainty of the Northwest electricity system". Operations Research. Vol. 38. 1999. pp. 580-597.
A. Ford, K.Vogstad, H. Flynn. "Simulating price patterns for tradable green certificates to promote electricity generation from wind". Energy Policy. Vol. 35. 2007. pp. 91-111.
S. Arango. "Simulation for alternative regulation options in the Colombian electricity market". SocioEconomic Planning Sciences. Vol. 41. 2007. pp. 305- 319.
J. Sterman. Business Dynamics: Systems Thinking and Modeling for a Complex World. Ed. McGraw Hill. Indianapolis (IN). 2000. pp. 83-103.
J. Aracil. Introducción a la Dinámica de Sistemas. Ed. Alianza Universidad Textos. Madrid. 1983. pp. 135- 145.
C. K. Woo, D. Lloyd, A. Tishler. "Electricity market reform failures: UK, Norway, Alberta and California". Energy Policy. Vol. 31. 2003. pp. 1103-1115.
T. Kristianse. "The Nordic approach to market-based provision of ancillary service". Energy Policy. Vol. 35. 2007. pp. 3681-3700.
Y. Barlas. "Formal aspects of model validity and validation in system dynamics". System Dynamics Review. Vol.12. 1996. pp. 183-210.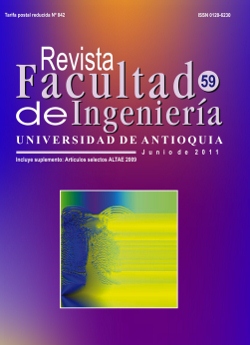 Downloads
How to Cite
Carvajal Quintero, S. X., & Arango Aramburo, S. (2012). Simulation to asses a payment proposal for Black Start service in Colombia. Revista Facultad De Ingeniería Universidad De Antioquia, (59), 267–276. https://doi.org/10.17533/udea.redin.13831
License
Copyright (c) 2018 Revista Facultad de Ingeniería
This work is licensed under a Creative Commons Attribution-NonCommercial-ShareAlike 4.0 International License.
Revista Facultad de Ingeniería, Universidad de Antioquia is licensed under the Creative Commons Attribution BY-NC-SA 4.0 license. https://creativecommons.org/licenses/by-nc-sa/4.0/deed.en
You are free to:
Share — copy and redistribute the material in any medium or format
Adapt — remix, transform, and build upon the material
Under the following terms:
Attribution — You must give appropriate credit, provide a link to the license, and indicate if changes were made. You may do so in any reasonable manner, but not in any way that suggests the licensor endorses you or your use.
NonCommercial — You may not use the material for commercial purposes.
ShareAlike — If you remix, transform, or build upon the material, you must distribute your contributions under the same license as the original.
The material published in the journal can be distributed, copied and exhibited by third parties if the respective credits are given to the journal. No commercial benefit can be obtained and derivative works must be under the same license terms as the original work.