Recubrimientos de quitosano/fosfato de calcio obtenidos por electrodeposición sobre una aleación de titanio
Darío Yesid Peña-Ballesteros

Universidad Industrial de Santander

Hugo Armando Estupiñán-Durán

Universidad Industrial de Santander

Elcy María Córdoba-Tutta

Universidad Industrial de Santander

Ricardo Martínez

Universidad Industrial de Santander

Custodio Vásquez-Quintero

Universidad Industrial de Santander
Abstract
Los recubrimientos de fosfato de calcio en Ti6AL4V como implantes ortopédicos son conocidos por acelerar el crecimiento óseo y mejorar la fijación del hueso. La deposición electrolítica de estos compuestos bioactivos ha presentado mayores ventajas que los recubrimientos obtenidos por métodos convencionales. Este método electrolítico ha facilitado la posibilidad de adicionar quitosano a la solución de iones calcio y fosfato y fijar este compuesto, funcional y estructuralmente. De esta forma se han obtenido, compuestos de fosfatos de calcio-quitosano sobre un substrato de Ti6Al4V ELI por electrodeposición catódica, los cuales se han caracterizado morfológica y químicamente, mediante SEM-EDX, DRX y FTIR, para determinar la estructura y asociaciones químicas entre los fosfatos de calcio y el quitosano. Además, se evaluó por EIE, la incidencia de la densidad de corriente, el tiempo de electrodeposición y la concentración de quitosano en solución sobre la resistencia a la polarización de los sustratos recubiertos. Se emplearon circuitos equivalentes para modelar el comportamiento fisicoquímico de los recubrimientos desde un punto de vista electroquímico.

|Abstract = 78 veces | PDF (ESPAÑOL (ESPAÑA)) = 39 veces|
Downloads
Download data is not yet available.
References
J. Wang, P. Layrolle, M. Stigter, K. de Groot. "Biomimetic and electrolytic calcium phosphate coatings on titanium alloy: physiochemical characteristics and cell attachment". Biomaterials. Vol. 25. 2004. pp. 583-592.
T. M. Sridhar, U. Kamachi Mudali, M. Subbaiyan. "Preparation and characterization of electrophoretically deposited hydroxyapatite coatings on type 316L stainless steel". Corrosion Science. Vol. 45. 2003. pp. 237-252.
R. Sastre, S. de Aza, J. San Román. Biomateriales. CYTED. Faenza Editrice Ibérica S. L. San Román. 2003. pp. 109-128.
E. Lee, D. Shin, H. Kim, Y. Koh, J. Jang. "Membrane of hybrid chitosan–silica xerogel for guided bone regeneration". Biomaterials. Vol. 30. 2009. pp. 743-750.
B. Finke, F. Luethen, K. Schroeder, P. D. Mueller, C. Bergemann, M. Frant, A. Ohl, B. J. Nebe. "The effect of positively charged plasma polymerization on initial osteoblastic focal adhesion on titanium surfaces". Biomaterials. Vol. 28. 2007. pp. 4521-4534.
Y. Li, I. Lee, F. Cui, S. Choi. "The biocompatibility of nanostructured calcium phosphate coated on micro-arc oxidized titanium". Biomaterials. Vol. 29. 2008. pp. 2025-2032.
K. Teraoka, T. Nonami, Y. Doi, H. Taoda, K. Naganuma, Y. Yokogawa, T. Kameyama. "Hydroxyapatite implantation on the surface of pure titanium for orthopedic implants". Materials Science and Engineering: C. Vol. 13. 2000. pp. 105-107.
R. A. Muzzarelli, G. Biagini, A. De Benedittis, P. Mengucci, G. Majni, G. Tosi. "Chitosan-Oxychitin Coating for Prostheric Materials". Carbohydrate Polymers. Vol. 45. 2001. pp. 35-41.
A. Di Martino, M. Sittinger, M. V. Risbud. "Chitosan: A versatile biopolymer for orthopedic tissue-engineering". Biomaterials. Vol. 26. 2005. pp. 5983-5990.
S. Yang-Jo, L. Jue-Yeon, P. Yoon-Jeong. "Chitosan sponges as tissue engineering scaffolds for bone formation". Biotechnology letters. Vol. 26. 2004. pp. 1037-1041.
J. Wang, J. Boer, K. De Groot. "Preparation and Characterization of Electrodeposited Calcium Phosphate/Chitosan Coating on Ti6Al4V Plates". Journal of Dental Research. Vol. 83. 2004. pp. 296-301.
X. Pang, I. Zhitomirsky. "Electrodeposition of Composite hydroxyapatite-chitosan films". Materials Chemistry and Physics. Vol. 9. 2005. pp. 245-251.
W. Jiawei. "Electrolytic deposition of calcium phosphate/chitosan coating on titanium alloy: growth kinetics and influence of current density, acetic acid, and chitosan". Journal of Biomedical Materials Research. Part A. Vol. 76. 2006. pp. 503-511.
K. Tuzlakoglu, R. L. Reis. "Formation of bone-like apatite layer on chitosan fiber mesh scaffold by a biomimetic spraying process". J. Mater Sci: Mater. Med. Vol. 18. 2007. pp. 1279-1286.
M. C. Kuo, S. K. Yen. "The process of electrochemical deposited hydroxyapatite coatings on biomedical titanium at room temperature". Materials science & engineering C. Biomimetic and supramolecular Systems. Vol. 8. 2002. pp. 153-160.
T. Kokubo, H. M. Kim. "Process of calcification on artificial materials". Zeitschrift für Kardiologie. Vol. 90. 2001. pp. 86-91.
ASTM, F136-08e1. Specification for wrought Ti6Al4V ELI alloy for surgical implant applications. ASTM International West Conshohocken. PA. 2008. DOI 10.1520/F036-08. www.ast.org.
R. Souto. "Degradation characteristics of hydroxyapatyte coatings on arthopedic TiAlV in simulated physiological media investigated by electrochemical impedance spectroscopy". Biomaterials. Vol. 24. 2003. pp. 4213-4221.
M. Metikos-Hukovic, E. Tkal, A. Kwokal, J. Piljac. "An in Vitro study of Ti and Ti-alloys coated with sol-gel derived hydroxyapatite coatings". Surface and Coatings Technology. Vol. 165. 2003. pp. 40-50.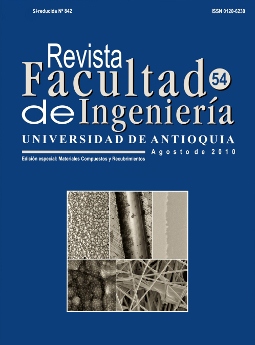 How to Cite
Peña-Ballesteros D. Y., Estupiñán-Durán H. A., Córdoba-Tutta E. M., Martínez R., & Vásquez-Quintero C. (2010). Recubrimientos de quitosano/fosfato de calcio obtenidos por electrodeposición sobre una aleación de titanio. Revista Facultad De Ingeniería Universidad De Antioquia, (54), 15-23. Retrieved from https://revistas.udea.edu.co/index.php/ingenieria/article/view/14160
Copyright (c) 2010 Revista Facultad de Ingeniería
This work is licensed under a Creative Commons Attribution-NonCommercial-ShareAlike 4.0 International License.
Authors can archive the pre-print version (i.e., the version prior to peer review) and post-print version (that is, the final version after peer review and layout process) on their personal website, institutional repository and / or thematic repository

Upon acceptance of an article, it will be published online through the page https://revistas.udea.edu.co/index.php/ingenieria/issue/archive in PDF version with its correspondent DOI identifier
The Revista Facultad de Ingeniería -redin- encourages the Political Constitution of Colombia, chapter IV
Chapter IV Sanctions 51
The following shall be liable to imprisonment for two to five years and a fine of five to 20 times the legal minimum monthly wage: (1) any person who publishes an unpublished literary or artistic work, or part thereof, by any means, without the express prior authorization of the owner of rights; (2) any person who enters in the National Register of Copyright a literary, scientific or artistic work in the name of a person other than the true author, or with its title altered or deleted, or with its text altered, deformed, amended or distorted, or with a false mention of the name of the publisher or phonogram, film, videogram or software producer; (3) any person who in any way or by any means reproduces, disposes of, condenses, mutilates or otherwise transforms a literary, scientific or artistic work without the express prior authorization of the owners thereof; (4) any person who reproduces phonograms, videograms, software or cinematographic works without the express prior authorization of the owner, or transports, stores, stocks, distributes, imports, sells, offers for sale, acquires for sale or distribution or in any way deals in such reproductions. Paragraph. If either the material embodiment or title page of or the introduction to the literary work, phonogram, videogram, software or cinematographic work uses the name, business style, logotype or distinctive mark of the lawful owner of rights, the foregoing sanctions shall be increased by up to half.