Experimentos de combustión con cascarilla de arroz en lecho fluidizado para la producción de ceniza rica en sílice
Keywords:
cascarilla de arroz, ceniza de cascarilla de arroz, combustión, lecho fluidizado, sílice
Abstract

A fin de contribuir con la valorización de residuos agrícolas que presentan dificultades de disposición, la utilización de energéticos renovables y la obtención de formas de energía más limpias y amigables con el medio ambiente, fue investigada la combustión de cascarilla de arroz en un reactor de lecho fluidizado burbujeante y atmosférico. La metodología consistió en evaluar la influencia de altos excesos de aire, en la obtención de gases calientes y ceniza con altos contenidos de sílice en estado amorfo. Excesos de aire en el rango de 40% al 125%, mostraron que los valores cercanos al límite inferior establecido (40%) favorecieron temperaturas superiores a 700ºC en el interior del reactor, dando origen a mayores eficiencias de conversión de la cascarilla, pero disminuyendo el potencial amorfo de la sílice contenida en la ceniza. Comportamiento contrario fue evidenciado en el límite superior del exceso de aire. Las concentraciones de los gases del proceso mostraron relativa variabilidad para cada condición de operación. Para el caso del CO, fueron reportadas emisiones promedio de 200ppm (en una base seca del 11% de O2), para los excesos de aire comprendidos entre 40% y 82,5%.
|Abstract = 109 veces | PDF (ESPAÑOL (ESPAÑA)) = 67 veces|
Downloads
Download data is not yet available.
References
Ministerio de Agricultura y Desarrollo Rural. Observatorio Agrocadenas Colombia. La Cadena del Arroz en Colombia una Mirada Global de su Estructura y Dinámica 1991-2005. Documento de Trabajo No. 52. pp. 35
R.V. Krishnarao, J. Subrahmanyam, T. JagadishKumar. "Studies on the Formation of Black Particles in Rice Husk Silica Ash." Journal of the European Ceramic Society. Vol. 21. 2001. pp. 99-104.
S. Chandrasekhar, P. N. Pramada, L Praveen. "Effect of Organic Acid Treatment on the Properties of Rice Husk Silica." Journal of Materials Science. Vol. 40. 2005. pp. 6535-6544.
N. Yalçin, V. Sevinç. "Studies on Silica Obtained from Rice Husk." Ceramics International. Vol. 27. 2001. pp. 219-224.
M. A. Barriga. "Experimentos de Gaseificação de Casca de Arroz em Leito Fluidizado." Disertación de Maestría. Universidad Estadual de Campinas. Brasil. 2002. pp. 68
L. Armesto, A. Bahillo, K. Veijonen, A. Cabanillas, J. Otero. "Combustion Behaviour of Rice Husk in a Bubbling Fluidized Bed." Biomass and Bioenergy. Vol. 23. 2002. pp. 171-179.
M. Fang, L. Yang, G. Chen, Shi Z, Z. Luo, K. Cen. "Experimental Study on Rice Husk Combustion in a Circulating Fluidized Bed." Fuel Processing Technology. Vol. 85. 2004, pp. 1273-1282.
M. Cortês. Investigação Experimental de Gaseificação de Biomassa em Leito Fluidizado. Tesis de Doctorado. Universidade Estadual de Campinas. Brasil. 2004. pp. 115
J. J. Ramírez, J. D. Martínez. "Experimentos de Gasificación con Cascarilla de Arroz Colombiana en Lecho Fluidizado." Colección Monografías y Tesis. Ed. Universidad Pontificia Bolivariana. Medellín. Vol. 4. 2007. pp. 186
F. Okasha. "Staged Combustion of Rice Straw in a Fluidized Bed." Experimental Thermal and Fluid Science. Vol. 32. 2007. pp. 52-59.
R. Andrade. Gaseificação de Biomassa: Uma Análise Teórica e Experimental. Tesis de Doctorado. Universidade Federal de Itajubá. Brasil. 2007. pp. 205
M. Rozainee, S. P. Ngo, A. A. Salema, K. G. Tan, M. Ariffin, Z. N. Zainura. "Effect of Fluidising Velocity on the Combustion of Rice Husk in a Bench-Scale Fluidised Bed Combustor for the Production of Amorphous Rice Husk Ash." Bioresource Technology. Vol. 99. 2008. pp. 703 713.
R. I. Singh, S. K. Mohapatra, D. Gangacharyulu, "Studies in an Atmospheric Bubbling Fluidized-Bed Combustor of 10 MW Power Plant Based on Rice Husk." Energy Conversion and Management. Vol. 49. 2008. pp. 3086-3103.
J. F. Vélez, F. Chejne, C. F. Valdés, E. J. Emery, C. A. Londoño. "Co-Gasification of Colombian Coal and Biomass in Fluidized Bed: An Experimental Study." Fuel. Vol. 88. 2009. pp. 424-430.
T. H. Liou, "Preparation and Characterization of Nano- Structured Silica from Rice Husk," Materials Science and Engineering. Vol. 364. 2004. pp. 313–323.
V. Della. Síntese e Caracterização do Pigmento Cerâmico de Hematita, Obtida a partir de Carepa de
Aço, Encapsulada em Sílica Amorfa Obtida a partir de Casca de Arroz. Tesis de Doctorado. Universidad Federal de Santa Catarina. Brasil. 2005. pp. 145
J. J. Ramirez, J. D. Martinez, S. L. Petro. "Basic Design of a Fluidized Bed Gasifier for Rice Husk on a Pilot Scale." Latin American Applied Research. Vol. 37. 2007. pp. 299-306.
S. Qiaoqun, L. Huilin, L. Wentie, H. Yurong, Y. Lidan, D. Gidaspow. "Simulation and Experiment of Segregating/Mixing of Rice Husk–Sand Mixture in a Bubbling Fluidized Bed." Fuel. Vol. 84. 2005. pp. 1739-1748.
V. Della, D. Hotza. "Estudo Comparativo entre Sílica Obtida por Lixívia Ácida da Casca de Arroz e Sílica Obtida por Tratamento Térmico da Cinza de Casca de Arroz." Quimica Nova. Vol. 29. 2006. pp. 1175-1179.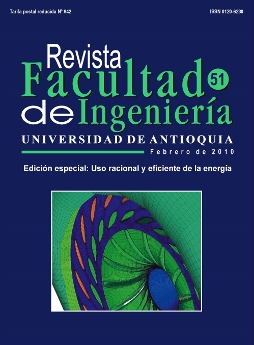 Downloads
How to Cite
Martínez-Ángel, J. D., Pineda-Vásquez, T. G., López-Zapata, J. P., & Betancur-Vélez, M. (2013). Experimentos de combustión con cascarilla de arroz en lecho fluidizado para la producción de ceniza rica en sílice. Revista Facultad De Ingeniería Universidad De Antioquia, (51), 104–111. Retrieved from https://revistas.udea.edu.co/index.php/ingenieria/article/view/14925
License
Revista Facultad de Ingeniería, Universidad de Antioquia is licensed under the Creative Commons Attribution BY-NC-SA 4.0 license. The material published in the journal can be distributed, copied and exhibited by third parties if the respective credits are given to the journal. No commercial benefit can be obtained and derivative works must be under the same license terms as the original work.