Análisis de las pérdidas de potencia en transmisiones de engranajes cilíndricos de dentado recto mediante la teoría del diseño de experimentos
Pedro José Fernández-Concellón

Universidad de Zaragoza

Santiago Baselga-Ariño

Universidad de Zaragoza
Keywords:
Mathematical model, efficiency, power losses, mechanical transmissions, spur gears, Design of Experiments Theory
Abstract
A review of 4 mathematical models proposed by different researchers has been carried out to analyse power losses in spur gears due to the sliding, rolling and wending phenomena. The main aim of this review is to detect the most significant factors that influence power losses in such conditions, whether or not exists some relationship between the analysed models and whether or not is feasible make assumptions for all kind of spur gears transmissions on the basis of the obtained conclusions. This analysis has been carried out using the Design of Experiments Theory, in particular using a 2k (k=4) factorial design with the purpose of detecting the most significant factors for each model. This experimental method only has allowed detecting the influence that each "k" factor has on the gears efficiency, in order to carry out a comparison between the 4 models. Once done that, it has been concluded firstly that each one of the analysed models is conditioned by the conditions around the experimentation and secondly that the analysed models are not applicable to any generic working situation, although it does not mean that for a specific group of determined conditions can be developed a generic model.
|Abstract = 141 veces | PDF (ESPAÑOL (ESPAÑA)) = 29 veces|
Downloads
Download data is not yet available.
References
V. Stavytskyy, P. Nosko, P. Fil, A. Karpov, N. Velychko. "Load-independent power losses of gear systems: A review". TEKA Kom. Mot. i Energ. Roln. 10B. 2010. pp. 205-213.
H. Xu. Development of a generalized mechanical efficiency prediction methodology for gear pairs. Dissertation. Ohio State University. Ohio, USA. 2005. pp. 258.
N. Anderson, S. Loewenthal. Comparison of Spur Gear Efficiency. Prediction Methods. Army Research and Technology Labs., NASA-CP-2210. Technical report. Cleveland, USA. 1983. pp. 365-382.
M. Pleguezuelos, J. Pedrero. "Modelo analítico de rendimiento de engranajes rectos convencionales". Revista Iberoamericana de Ingeniería Mecánica. Vol. 13. 2009. pp. 27-38.
N. Anderson, S. Loewenthal. Effect of geometry and operating conditions on spur gear system power loss. AVRADCOM, NASA. National Technical Information Service. US Department of Commerce. Technical Memorandum 81426. 80-C-2. San Francisco, USA. 1980. pp. 1-33.
N. Anderson, S. Loewenthal. Spur-Gear-System Efficiency at part and full load. Scientific and Technical Information Office, NASA. AVRADCOM. Technical report. 162. Washington D. C., USA. 1980. pp. 39.
J. Coy, D. Townsend, E. Zaretsky. Gearing. NASA, AVSCOM. Technical Report. NASA-RP-1152. Washington, D.C., USA. 1985. pp. 76
D. Dudley. Manual de Engranajes: Diseño, manufactura y aplicación de engranajes. Ed. Compañía Editorial Continental S.A. México. 1973. pp. 945.
Y. Michlin, V. Myunster. "Determination of power losses in gear transmissions with rolling and sliding friction incorporated". Mechanism and Machine Theory. Vol. 37. 2002. pp. 167-174.
D. Montgomery, G. Runger. Applied statistics and probability for engineers. 3rd ed. Ed. John Wiley and Sons Inc. New York, USA. 2003. pp. 707.
D. Montgomery. Design and analysis of experiments. 5th ed. Ed. John Wiley and Sons, Inc. New York, USA. 2001. pp. 684.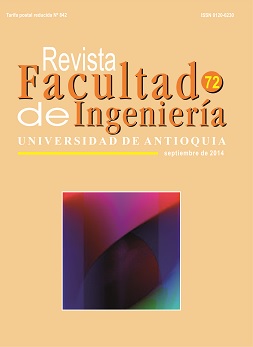 How to Cite
Fernández-Concellón P. J., & Baselga-Ariño S. (2014). Análisis de las pérdidas de potencia en transmisiones de engranajes cilíndricos de dentado recto mediante la teoría del diseño de experimentos. Revista Facultad De Ingeniería Universidad De Antioquia, (72), 203-216. Retrieved from https://revistas.udea.edu.co/index.php/ingenieria/article/view/15293
Copyright (c) 2018 Revista Facultad de Ingeniería
This work is licensed under a Creative Commons Attribution-NonCommercial-ShareAlike 4.0 International License.
Authors can archive the pre-print version (i.e., the version prior to peer review) and post-print version (that is, the final version after peer review and layout process) on their personal website, institutional repository and / or thematic repository

Upon acceptance of an article, it will be published online through the page https://revistas.udea.edu.co/index.php/ingenieria/issue/archive in PDF version with its correspondent DOI identifier
The Revista Facultad de Ingeniería -redin- encourages the Political Constitution of Colombia, chapter IV
Chapter IV Sanctions 51
The following shall be liable to imprisonment for two to five years and a fine of five to 20 times the legal minimum monthly wage: (1) any person who publishes an unpublished literary or artistic work, or part thereof, by any means, without the express prior authorization of the owner of rights; (2) any person who enters in the National Register of Copyright a literary, scientific or artistic work in the name of a person other than the true author, or with its title altered or deleted, or with its text altered, deformed, amended or distorted, or with a false mention of the name of the publisher or phonogram, film, videogram or software producer; (3) any person who in any way or by any means reproduces, disposes of, condenses, mutilates or otherwise transforms a literary, scientific or artistic work without the express prior authorization of the owners thereof; (4) any person who reproduces phonograms, videograms, software or cinematographic works without the express prior authorization of the owner, or transports, stores, stocks, distributes, imports, sells, offers for sale, acquires for sale or distribution or in any way deals in such reproductions. Paragraph. If either the material embodiment or title page of or the introduction to the literary work, phonogram, videogram, software or cinematographic work uses the name, business style, logotype or distinctive mark of the lawful owner of rights, the foregoing sanctions shall be increased by up to half.