Library for model-based design of image processing algorithms on FPGAs
Luis Manuel Garcés-Socarrás

Instituto Superior Politécnico José Antonio Echeverría

https://orcid.org/0000-0002-4164-3673

Santiago Sánchez-Solano

Instituto de Microelectrónica de Sevilla

Piedad Brox-Jiménez

Instituto de Microelectrónica de Sevilla

https://orcid.org/0000-0003-1059-5338

Alejandro José Cabrera-Sarmiento

Instituto Superior Politécnico José Antonio Echeverría
Abstract
This paper describes a library (XSGImgLib) that includes parameterizable blocks to implement low-level image processing tasks on FPGAs. A modelbased design technique provided by Xilinx System Generator (XSG) has been used to design the blocks, which implement point operation (binarization) and neighborhood operations (linear and non-linear filtering) in grayscale images. The blocks are parameterizable for input/output data precision, window size, normalization strategy, and implementation options (area versus speed optimization). The paper includes the implementation results obtained after fixing these options and exemplifies the combination of several blocks of the library to build a complete design for image segmentation purposes.

|Abstract = 9 veces | PDF (ESPAÑOL (ESPAÑA)) = 8 veces|
Downloads
Download data is not yet available.
References
D. Bailey. Design for Embedded Image Processing on FPGAs. 1st ed. Ed. John Wiley & Sons (Asia) Pte Ltd. Solaris South Tower, Queenstown, Singapore. 2011. pp. 72-74, 231-261, 264-271.
C. Johnston, D. Bailey, P. Lyons. "A Visual Environment for Real-Time Image Processing in Hardware." EURASIP Journal on Embedded Systems, Vol. 2006. pp. 1-8.
M. Wnuk. "Remarks on Hardware Implementation of Image Processing Algorithms." International Journal of Applied Mathematics and Computer Science. Vol. 18. 2008. pp. 105-110.
Datasheet of IMSA110 Image And Signal Processing Sub-System. SGS-Thomson Microelectronics, pp. 1-27. 1992. [Online] Available: http://www.datasheetcatalog. com. Accessed: Nov 4th, 2010.
K. Benkrid, S. Belkacemi. Design and implementation of a 2D convolution core for video applications on FPGAs. 3rd International Workshop on Digital and Computational Video, 2002. DCV 2002. Proceedings, Clearwater Beach. Florida, USA. 2002. pp. 85-92.
K. Benkrid, D. Crookes, J. Smith, A. Benkrid. High Level Programming for FPGA Based Image and Video Processing using Hardware Skeletons. 9th Annual IEEE Symposium on Field-Programmable Custom Computing Machines. Rohnert Park. California, USA. 2001. pp. 1-8.
C. Chakrabarti. "High sample rate array architectures for median filters." IEEE Transactions on Signal Processing. Vol. 42. 1994. pp. 707-712.
G. Szedo. "Two-dimensional rank-order filter by using max-min sorting network." Xilinx Application Notes. Vol. 953. 2006. pp. 1-17.
Documentation of Xilinx, User Guides. Xilinx Sytem Genetaror for DSP Reference Guide. 2010. pp. 44-47, 51-54, 75, 86-88, 116-119, 207-210, 223, 22. [Online] Available: http://www.xilinx.com/tools/sysgen.htm Accessed: Nov 21st. 2011.
T. Saidani, D. Dia, W. Elhamzi, M. Atri, R. Tourki. "Hardware Co-Simulation For Video Processing Using Xilinx System Generator." Proceedings of the World Congress on Engineering 2009. Vol. 1. 2009. pp. 3-7.
A. Sánchez, R. Alvarez, S. Sánchez. "Architecture for filtering images using Xilinx system generator." International Journal of Mathematics and Computer in Simulation. Vol. 1. 2007. pp. 101-107.
R. González, R. Woods, Digital image processing. 2nd ed. Ed. Prentice Hall. Upper Saddle River, NJ, USA. 2002. pp. 66-70, 116-134, 205-208, 283-302, 308-313, 519-560.
P. Soille. Morphological Image Analysis: Principles and Applications. 2nd ed. Ed. Springer-Verlag. Berlin Heldelberg, Germany. 1999. pp. 1-4, 6-8, 17-26, 63- 70, 80, 105-109, 267-268, 319.
A. Nelson. Implementation of image processing algorithms on FPGA hardware. Master Thesis, Vanderbilt University. Tennessee, United States of America. 2000. pp. 11-22, 28-39.
A. Adario, E. Roehe, S. Bampi. Dynamically reconfigurable architecture for image processor applications. Proceedings 1999 Design Automation Conference (Cat. No. 99CH36361). New Orleans, LA, USA. 1999. pp. 623-628.
R. Turney. "Two-Dimensional Linear Filtering". Xilinx Application Notes. Vol. 933. 2007. pp. 1-8.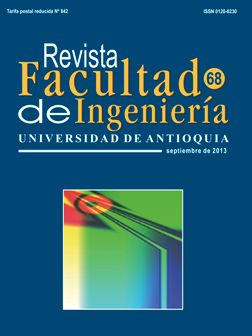 How to Cite
Garcés-Socarrás L. M., Sánchez-Solano S., Brox-Jiménez P., & Cabrera-Sarmiento A. J. (2013). Library for model-based design of image processing algorithms on FPGAs. Revista Facultad De Ingeniería Universidad De Antioquia, (68), 36-47. Retrieved from https://revistas.udea.edu.co/index.php/ingenieria/article/view/17039
Copyright (c) 2018 Revista Facultad de Ingeniería
This work is licensed under a Creative Commons Attribution-NonCommercial-ShareAlike 4.0 International License.
Authors can archive the pre-print version (i.e., the version prior to peer review) and post-print version (that is, the final version after peer review and layout process) on their personal website, institutional repository and / or thematic repository

Upon acceptance of an article, it will be published online through the page https://revistas.udea.edu.co/index.php/ingenieria/issue/archive in PDF version with its correspondent DOI identifier
The Revista Facultad de Ingeniería -redin- encourages the Political Constitution of Colombia, chapter IV
Chapter IV Sanctions 51
The following shall be liable to imprisonment for two to five years and a fine of five to 20 times the legal minimum monthly wage: (1) any person who publishes an unpublished literary or artistic work, or part thereof, by any means, without the express prior authorization of the owner of rights; (2) any person who enters in the National Register of Copyright a literary, scientific or artistic work in the name of a person other than the true author, or with its title altered or deleted, or with its text altered, deformed, amended or distorted, or with a false mention of the name of the publisher or phonogram, film, videogram or software producer; (3) any person who in any way or by any means reproduces, disposes of, condenses, mutilates or otherwise transforms a literary, scientific or artistic work without the express prior authorization of the owners thereof; (4) any person who reproduces phonograms, videograms, software or cinematographic works without the express prior authorization of the owner, or transports, stores, stocks, distributes, imports, sells, offers for sale, acquires for sale or distribution or in any way deals in such reproductions. Paragraph. If either the material embodiment or title page of or the introduction to the literary work, phonogram, videogram, software or cinematographic work uses the name, business style, logotype or distinctive mark of the lawful owner of rights, the foregoing sanctions shall be increased by up to half.