Evaluation of different sources of carbon and nitrogen in the production of rennet from Mucor miehei
Keywords:
Mucor miehei, microbial rennet, enzymatic activity, average of culture, milk serum, corn flour
Abstract
The kinetics of biomass production and rennet from fungi Mucor miehei using culture media with alternative substrates as a source of carbon and nitrogen was studied in order to improve the enzymatic activity. An initial screening was performed in order to select the feasibility of each by-product and from these results the crossed effects of the best sources of carbon and nitrogen over enzymatic productivity were evaluated through an experimental factorial 22 design. It allowed us to propose an alternative culture media viable for the rennet production at industrial scale. The fermentations were carried out in a laboratory batch reactor, at 37° C, pH between 6.3-6.5 and 250 rpm. The best culture media was established as that which contained whey both as a source of carbon and nitrogen (media 1) and whey as a source of carbon and corn flour as a source of nitrogen (media 2). Maximum Rennet strength achieved (FC) was 1333.704 at 90 h in media 1 and 1069.71 at 85 h in media 2.
|Abstract = 19 veces | PDF (ESPAÑOL (ESPAÑA)) = 12 veces|
Downloads
Download data is not yet available.
References
A. Wiseman. Manual de Biotecnología de las enzimas. Zaragoza. Ed. Acribia.1991. pp. 444.
C. Ratledge, B. Kristiansen. Basic Biotechnology. Cambridge University Press. New York. 2a. ed. 2001. pp. 396.
C. P. Sánchez; J. M. Escobar, A. Rodríguez de Stouvenel. "Características de la producción de la renina microbiana de Mucor miehei en un proceso de alimentación por lote". Revista Colombiana de Biotecnología. Vol. 2. 1999. pp. 28-34.
US. Patent 505.688, DE 22-9-81 A1. Procedimiento de obtención de renina microbiana de alta actividad coagulante de leche y baja actividad proteolítica. Gist-Brocadest N.V. Holanda.
J. Escobar, S. M. Barnett. "Some kinetic studies and effects of agitation and consumption rates on the synthesis of Mucor miehei acid protease". Enzyme and Microbial Technology. Vol. 15. 1993. pp.1009-1013.
J. Escobar, S. M. Barnett. "Synthesis of acid protease from Mucor miehei: Integration of production a recovery". Process Biochemistry. Vol. 530. 1995. pp 695-700.
S. Seker, H. Beyenal, F Ayhan, A. Tanyolac. "Production of microbial rennin from Mucor miehei in a continuosly fed fermenter". Enzyme and Microbial Technology. Vol. 23. 1998. pp.469-474.
S. Seker, H. Beyenal, A. Tanyolac. "Modeling milk clotting activity in the continuous production of microbial rennet from Mucor miehei". Journal of Food Science. Vol. 64.1999. pp. 525-529.
S. Cárcamo, L. Vélez. Producción de renina a partir de Mucor miehei en un reactor tipo batch. Trabajo de grado Ingeniería Química. Universidad del Antioquia. Facultad de Ingeniería. Medellín. 2003. pp 16-17, 29-31.
M. Peñuela, G. Vargas, A.M. Torres, R. Ríos. "Evaluación de medios de cultivo preparados a partir de suero de leche enriquecido, para la producción de ácido láctico, con Lactobacillus plantarum y Lactobacillus casli" Revista Facultad de Ingeniería. Vol. 24. 2001. pp. 35-39.
G. Garcia da Silveira, G. Monteiro de Oliveira, E. J. Ribeiro, R. Monti, J. Contiero "Microbial rennet produced by Mucor miehei in solid-state and submerged fermentation". Brazilian archives of biologyand technologyJournal. Vol. 48. 2005.pp. 931-937.
A. Scragg. "Biotecnología para ingenieros: sistemas biológicos en procesos biotecnológicos". Ed. Limusa. México. 1997. pp. 191-223
G. L. Miller. "Use of dinitrosalicylic acid reagent for determination of reducing sugar". Analitical Chemistry. Vol. 31. 1959. pp. 426.
O. H. Lowry, N.J. Rossebrough, A.L. Farr, R.J. Randall "Protein measurement with the Folin phenol reagent". Journal Biological Chemistry. Vol. 193. 1951. 265-275.
A.G. Rand, C.A. Ernstrom. "Effect of pH and NaCl on activation of prorennin". Journal DairyScience. Vol. 47. 1964. pp. 1181-1187.
Anson. (1938) http//mazinger.sisib.uchile.cl/reposito¬rio/lb/ciencias_químicas_y_farmaceuticas/schmidth02/parte08/09.html. Consultada el 17 de junio de 2007
H. J. Morris, L. Borges, C. E. Martínez, A. Almarales, R.T. Abdala "Composición bioquímica y propiedades bioestimulantes de un hidrolizado proteíco de la microalga Chlorella vulgaris (Chlorophyta, Chlorophyceae)". Revista Cubana de Química. Vol. 13. 2001. pp. 28-36.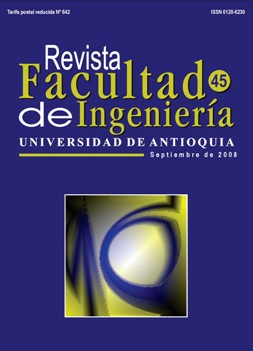 Downloads
How to Cite
Sánchez, C., Gómez, N., & Osorio , A. (2013). Evaluation of different sources of carbon and nitrogen in the production of rennet from Mucor miehei. Revista Facultad De Ingeniería Universidad De Antioquia, (45), 17–26. Retrieved from https://revistas.udea.edu.co/index.php/ingenieria/article/view/17962
License
Revista Facultad de Ingeniería, Universidad de Antioquia is licensed under the Creative Commons Attribution BY-NC-SA 4.0 license. The material published in the journal can be distributed, copied and exhibited by third parties if the respective credits are given to the journal. No commercial benefit can be obtained and derivative works must be under the same license terms as the original work.

w