Biomechanical analysis of damaged intervertebral disc using reflective photoelasticity
Keywords:
Photoelastic analysis, stress distribution, lumbar section, damaged intervertebral disc
Abstract
This paper presents an experimental evaluation of the structural integrity of the lumbar section (L2-L3-L4) considering a damaged intervertebral disc. In this study, porcine specimens were used due to the similarity of the mechanical properties of those of the human spine. The lumbar section L2-L3-L4 was tested under compression. Five cases were analyzed; in the first one, the lumbar section consisted of healthy intervertebral discs. For the other four cases, the disc located between L2 and L3 was divided into four quadrants: front, back, left and right. For each of these cases, a damage condition was induced by making an incision from the annular fibers to the pulpous nucleus, covering each quadrant; the back elements (pedicles and facet joint) were removed and only the vertebral bodies and discs were tested. As a damaged intervertebral disc is unable to properly perform its mechanical function, the load transferred from L2 to L3 through the disc is no longer optimal. The actual stress field on L3, considering the damaged disc, was obtained using reflective photoelasticity for each one of the previously mentioned study cases. The results show that the induced damage in the intervertebral discs increases the stresses on L3 considerably when compared to the case of an undamaged disc, being the most critical when the damage is located in the back quadrant of the disc. In the other three cases, the damaged disc does not reduce the 
|Abstract = 81 veces | PDF = 92 veces|
Downloads
Download data is not yet available.
References
L. Moreno, G. Gonzalez, L. Galan and S. Espinosa, "Cirugía fallida del disco intervertebral lumbar: Etiología", Rev. Mex. Ortop. Traum., vol. 9, no. 1, pp. 21- 23, 1995.
J. McCulloch, "Focus issue on lumbar disc herniation: Macro and microdiscectomy", Spine, vol. 21, no. 24, pp. 45S-56S, 1996.
W. Caspar, B. Campbell, D. Barbier, R. Kretschmmer and Y. Gotfried, "The Caspar microsurgical discectomy and comparison with a conventional standard lumbar disc procedure", Neurosurgery, vol. 28, no. 1, pp. 78- 86, 1991.
M. Wenger, L. Mariani, A. Kalbarckzyk and U. Gröger, "Long Term outcome of 104 patients after lumbar sequestrectomy according to Williams", Neurosurgery, vol. 49, no. 2, pp. 329-334, 2001.
M. Savitz, "Lumbar disk disease: Controversies in Neurosurgery", Mt. Sinai J. Med., vol. 58, no. 2, pp. 95- 96, 1991.
F. Nykvist, M. Hurme, H. Alaranta and M. Kaitsaari, "Severe Sciatica: a 13-year follow-up of 342 patients", Eur. Spine J., vol. 4, no. 6, pp. 335-338, 1995.
P. Donceel and M. Du Bois, "Fitness for work after surgery for lumbar disc herniation: a retrospective study", Eur. Spine J., vol. 7, no. 1, pp. 29-35, 1998.
J. Dickey, G. Dumas and D. Bednar, "Comparison of porcine and human lumbar spine flexion mechanics", Veterinary and Comparative Orthopaedics and Traumatology, vol. 16, no. 1, pp. 44-49, 2003.
A. Nachemson and J. Evans, "Some mechanical properties of the third human lumbar interlaminar ligament (ligamentum flavum)", J. Biomech., vol. 1, no. 3, pp. 211-220, 1968.
D. Espino, J. Meakin, D. Hukins and J. Reid, "Stochastic finite element analysis of biological systems: Comparison of a simple intervertebral disc model with experimental result", Comput. Method. Biomec., vol. 6, no. 4, pp. 243-248, 2003.
F. Phillips, J. Reuben and F. Wetzel, "Intervertebral disc degeneration adjacent to a lumbar fusion. An experimental rabbit model", J. Bone Joint Surg. Br., vol. 84, no. 2, pp.289-294, 2002.
M. Naohisa et al., "Outcome of one-level posterior lumbar interbody fusion for spondylolisthesis and postoperative intervertebral disc degeneration adjacent to the fusion", Spine, vol. 25, no. 14, pp. 1837- 1842, 2000.
G. Ghiselli, J. Wang, N. Bhatia, W. Hsu and E. Dawson, "Adjacent segment degeneration in the lumbar spine", J. Bone Joint Surg., vol. 86, no. 7, pp. 1497-1503, 2004.
C. Aultman, J. Drake, J. Callaghan and S. McGill, "The effect of static torsion on the compressive strength of the spine: an in vitro analysis using a porcine spine model", Spine, vol. 29, no. 15, pp. E304-E309, 2004.
A. White y M. Panjabi, Clinical Biomechanics of the Spine, 2nd ed. Philadelphia, USA: Lippincott Williams & Wilkins, 1990.
A. Baranto et al., "Vertebral fractures and separations of endplates after traumatic loading of adolescent porcine spines with experimental-induced disc degeneration", Clin. Biomech., vol. 20, no. 10, pp. 1046- 1054, 2005.
M. Adams, D. McMillan, T. Green and P. Dolan, "Sustained loading generates stress concentrations in lumbar intervertebral discs", Spine, vol. 21, no. 4, pp. 434-438, 1996.
H. Ranu, "Measurement of pressures in the nucleus and within the annulus of the human spinal disc: due to extreme loading", Proc. Inst. Mech. Eng. H., vol. 204, no. 3, pp. 141-146, 1990.
K. Sato, S. Kikuchi and T. Yonezawa, "In vivo intradiscal pressure measurement in healthy individuals and in patients with ongoing back problems", Spine, vol. 24, no. 23, pp. 2468-2474, 1999.
X. Wang and G. Dumas, "Evaluation of effects of selected factors on inter-vertebral fusion – a simulation study", Med. Eng. Phys., vol. 27, no. 3, pp. 197-207, 2005.
H. Mathews, J. Lehuec, T. Friesem, T. Zdeblick and L. Eisermann, "Design rationale and biomechanics of Maverick Total Disc arthroplasty with early clinical results", Spine J., vol. 4, no. 6, pp. 268S-275S, 2004.
J. Zigler, "Lumbar spine arthroplasty using the ProDisc II", Spine J., vol. 4, no. 6, pp. 260S-267S, 2004.
A. Fantigrossi, F. Galbusera, M. Raimondi, M. Sassi and M. Fornari, "Biomechanical analysis of cages for posterior lumbar interbody fusion", Med. Eng. Phys., vol. 29, no. 1, pp. 101-109, 2006.
S. Trincat, G. Edgard-Rosa, G. Geneste and T. Marnay, "Two-level lumbar total disc replacement: Functional outcomes and segmental motion after 4 years", Orthopaedics & Traumatology: Surgery & Research, vol. 101, no. 1, pp. 17-21, 2015.
A. Meir, B. Freeman, R. Fraser and S. Fowler, "Ten-year survival and clinical outcome of the AcroFlex lumbar disc replacement for the treatment of symptomatic disc degeneration", Spine J., vol. 13, no. 1, pp. 13-21, 2013.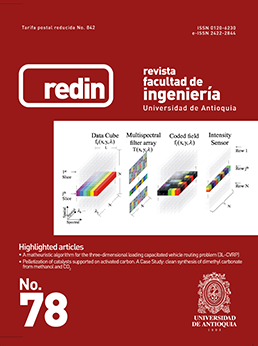 How to Cite
Rodriguez Cañizo R. G., Hernández Gómez L. H., Fuerte Hernández A., Merchán Cruz E. A., González Rebatu A., & Tamayo Meza P. A. (2016). Biomechanical analysis of damaged intervertebral disc using reflective photoelasticity. Revista Facultad De Ingeniería Universidad De Antioquia, (78), 73-79. https://doi.org/10.17533/udea.redin.n78a10
Copyright (c) 2016 Revista Facultad de Ingeniería Universidad de Antioquia
This work is licensed under a Creative Commons Attribution-NonCommercial-ShareAlike 4.0 International License.
Authors can archive the pre-print version (i.e., the version prior to peer review) and post-print version (that is, the final version after peer review and layout process) on their personal website, institutional repository and / or thematic repository

Upon acceptance of an article, it will be published online through the page https://revistas.udea.edu.co/index.php/ingenieria/issue/archive in PDF version with its correspondent DOI identifier
The Revista Facultad de Ingeniería -redin- encourages the Political Constitution of Colombia, chapter IV
Chapter IV Sanctions 51
The following shall be liable to imprisonment for two to five years and a fine of five to 20 times the legal minimum monthly wage: (1) any person who publishes an unpublished literary or artistic work, or part thereof, by any means, without the express prior authorization of the owner of rights; (2) any person who enters in the National Register of Copyright a literary, scientific or artistic work in the name of a person other than the true author, or with its title altered or deleted, or with its text altered, deformed, amended or distorted, or with a false mention of the name of the publisher or phonogram, film, videogram or software producer; (3) any person who in any way or by any means reproduces, disposes of, condenses, mutilates or otherwise transforms a literary, scientific or artistic work without the express prior authorization of the owners thereof; (4) any person who reproduces phonograms, videograms, software or cinematographic works without the express prior authorization of the owner, or transports, stores, stocks, distributes, imports, sells, offers for sale, acquires for sale or distribution or in any way deals in such reproductions. Paragraph. If either the material embodiment or title page of or the introduction to the literary work, phonogram, videogram, software or cinematographic work uses the name, business style, logotype or distinctive mark of the lawful owner of rights, the foregoing sanctions shall be increased by up to half.