Validation of a methodology to determine Benzene, Toluene, Ethylbenzene, and Xylenes concentration present in the air and adsorbed in activated charcoal passive samplers by GC/ FID chromatography
Keywords:
validation, activated charcoal, volatile organic compounds (VOC's), BTEX, GC/FID, BTEX in air
Abstract
This article shows the validation of the analytical procedure which allows determining concentrations of Benzene (B), Toluene (T), Ethylbenzene (E), and Xylenes (X) -compounds known as BTEX- present in the air and adsorbed by over activated charcoal by GC-FID using the (Fluorobenzene) internal standard addition as quantification method. In the process, reference activated charcoal was employed for validation and coconut -base granular charcoal (CGC) for the construction of passive captors used in sample taken in external places or in environmental air. CGC material was selected from its recovering capacity of BTEX, with an average of 89.1% for all analytes. In this research, BTEX presence in air samples, taken in a road of six lines and characterized for having heavy traffic, in Medellín city (Antioquia, Colombia), was analyzed. Samplers employed were located in pairs per point (in 7 transversal strips of the east, central, and west sidewalk), at heights ranging from 2.50 and 3.00 meters, at the floor level, inside a special housing for their protection. The number of total stations was twenty-one (21) in 3 kilometers, with exposition times of 28 days. Analytes desorption procedure was carried out with carbon disulfide as an extraction solvent, and in the chromatograhic analysis of gases this was performed (by triplicate) using a flame ionization detector (FID). An HP-INNOWAX chromatographic column was also used. Ultra-pure Helium, 99.99% purity, was used as carrier gas and in quantification was performed (by triplicate) in the liquid extract in terms of concentration (μg/mL). The research allowed validating the methodology, obtaining recovery percentages ranging between 75.0 % and 98.2 % for all analytes, and quantification limits in μg/mL were 0.279; 0.337; 0.349; 0.391; 0.355; and 0.356 for benzene, toluene, ethylbenzene, p-xylene, m-xylene, and o-xylene, respectively, and it was proven that the validated method was a selective, specific, linear, accurate, and exact method.
|Abstract = 425 veces | PDF = 294 veces|
Downloads
Download data is not yet available.
References
A. Buczynska et al., "Atmospheric BTEX-concentrations in an area with intensive street traffic", Atmospheric Environment, vol. 43, pp. 311-318, 2009.
A. Hinwood et al., "Risk factors for increased BTEX exposure in four Australian cities", Chemosphere, vol. 66, no. 3, pp. 533-541, 2007.
M. Lacasaña, B. González, M. Rodríguez and D. Daponte, "Evaluación de la exposición de BTEX en el campo de Gibraltar", Escuela Andaluza de Salud Pública, Granada, Spain, Report, Jun. 2008.
G. Demirel, O. Özden, T. Döğeroğlu and E. Gaga, "Personal exposure of primary school children to BTEX, NO2 and ozone in Eskişehir, Turkey: Relationship with indoor/outdoor concentrations and risk assessment", Science of the Total Environment, vol. 473-474, pp. 537- 548, 2014.
S. Lee, M. Chiu, K. Ho, S. Zou and X. Wang, "Volatile organic compounds (VOCs) in urban atmosphere of Hong Kong", Chemosphere, vol. 48, no. 3, pp. 375-382, 2002.
Agency for Toxic Substances and Disease Registry (ATSDR), Toxicological Profile for Benzene. Atlanta, USA: U.S. Department of Health and Human Services, Public Health Service, 2007.
J. Acevedo, "", M.S. thesis, Universidad San Francisco de Quito, Quito, Ecuador, 2006.
M. Fernandes, L. Brickus, J. Moreira, and J. Cardoso, "Atmospheric BTX and polyaromatic hydrocarbons in Rio de Janeiro, Brazil", Chemosphere, vol. 47, no. 4, pp. 417-425, 2002.
Y. Kerchich and R. Kerbachi, "Measurement of BTEX (Benzene, Toluene, Ethybenzene, and Xylene) Levels at Urban and Semirural Areas of Algiers City Using Passive Air Samplers", J. Air Waste Manage. Assoc., vol. 62, no. 12, pp. 1370-1379, 2012.
H. Pfeffer, "Ambient air concentrations of pollutants at traffic-related sites in urban areas of North RhineWestphalia, Germany", Science of the Total Environment, vol. 146-147, pp. 263- 273, 1994.
C. Sánchez, R. Quijano, E. Molina, C. Rubiano and G. Londoño, "Fortalecimiento de la red de monitoreo de calidad del aire en el Valle de Aburrá con medidores pasivos", Revista Gestión y Ambiente, vol. 11, no. 1, pp. 67-84, 2008.
K. Elke, E. Jermann, J. Begerow and L. Dunemann, "Determination of benzene, toluene, ethylbenzene and xylenes in indoor air at environmental levels using diffusive samplers in combination with headspace solid-phase microextraction and high-resolution gas chromatography-flame ionization detection", Journal Chromatography A, vol. 826, no. 2, pp. 191-200, 1998.
Occupational Safety & Health Administration (OSHA), Benzene, OSHA Method ORG-12, 1980. [Online]. Available: https://www.osha.gov/dts/sltc/methods/organic/org012/org012.html. Accessed on: Jun. 27 2013.
I. Zenkevich and E. Makarov, "Chromatographic quantitation at losses of analyte during sample preparation: Application of the modified method of double internal standard", Journal of Chromatography A, vol. 1150, no. 1-2, pp. 117-123, 2007.
L. Huber, Validation of Analytical Methods. Germany: Agilent Technologies, 2010.
American Public Health Association (APHA), American Water Works Association (AWWA) and Water Environment Federation (WEF), Standard Methods for the Examination of Water and Wastewater, 22nd ed. Washington, D.C., USA: APHA, 2012.
United States Environmental Protection Agency (EPA), "Passive Samplers for Investigations of Air Quality: Method Description, Implementation, and Comparison to Alternative Sampling Methods", U.S. Environmental Protection Agency (EPA), Washington, D.C., USA, Engineering Issue Paper, EPA 600-R-14-434, Dec. 2014.
P. Eller, NIOSH manual of analytical methods, 4th ed. Cincinnati, USA: National Institute for Occupational Safety and Health (NIOSH), 2003.
M. Ras, F. Borrull and R. Marcé, "Sampling and preconcentration techniques for determination of volatile organic compounds in air samples", TrAC Trends in Analytical Chemistry, vol. 28, no. 3, pp. 347- 361, 2009.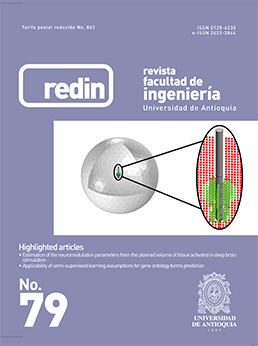 Downloads
How to Cite
Gallego-Díez, M. L., Correa-Ochoa, M. A., & Saldarriaga-Molina, J. C. (2016). Validation of a methodology to determine Benzene, Toluene, Ethylbenzene, and Xylenes concentration present in the air and adsorbed in activated charcoal passive samplers by GC/ FID chromatography. Revista Facultad De Ingeniería Universidad De Antioquia, (79), 138–149. https://doi.org/10.17533/udea.redin.n79a13
License
Copyright (c) 2016 Revista Facultad de Ingeniería Universidad de Antioquia
This work is licensed under a Creative Commons Attribution-NonCommercial-ShareAlike 4.0 International License.
Revista Facultad de Ingeniería, Universidad de Antioquia is licensed under the Creative Commons Attribution BY-NC-SA 4.0 license. https://creativecommons.org/licenses/by-nc-sa/4.0/deed.en
You are free to:
Share — copy and redistribute the material in any medium or format
Adapt — remix, transform, and build upon the material
Under the following terms:
Attribution — You must give appropriate credit, provide a link to the license, and indicate if changes were made. You may do so in any reasonable manner, but not in any way that suggests the licensor endorses you or your use.
NonCommercial — You may not use the material for commercial purposes.
ShareAlike — If you remix, transform, or build upon the material, you must distribute your contributions under the same license as the original.
The material published in the journal can be distributed, copied and exhibited by third parties if the respective credits are given to the journal. No commercial benefit can be obtained and derivative works must be under the same license terms as the original work.