Picking Routing Problem with K homogenous material handling equipment for a refrigerated warehouse
Rodrigo Andres Gómez-Montoya

Universidad Nacional de Colombia

Alexander Alberto Correa-Espinal

Universidad Nacional de Colombia

https://orcid.org/0000-0002-3154-8365

José Daniel Hernandez-Vahos

Universidad Nacional de Colombia
Keywords:
Picking, PSO (Particle SwarmOptimization) discrete, geneticalgorithm, refrigerated warehouse
Abstract
This paper aims at formulating a Picking Routing Problem with K homogenousmaterial handling equipment for a refrigerated warehouse (PRPHE). Discrete particleswarm optimization (PSO) and genetic algorithm (GA) metaheuristics are developed andvalidated for solving PRPHE. The discrete PSO is a novel approach to solving cold routingpicking problems, which has not been detected in the scientific literature and is considered acontribution to the state of the art. The main difference between classical and discrete PSOis the structure and algebraic formulation of the positions and velocities of the particles,which are discrete rather than continuous under our approach. A full factorial design wasdeveloped with the following four factors: picking routing metaheuristic (PRM), depot, pickinglist size (PLS) and homogeneous material handling equipment (MHE). Based on the resultsof the experimental analysis, we identified that GA metaheuristics generated better solutionsthan discrete PSO for PRPHE. These statistical results demonstrated that GA metaheuristicsproduced time savings of between 22.89 and 86.75 seconds per set of cold picking routes,as well as an increase in the operational efficiency of between 1.98 and 2.81%, as comparedwith PSO discrete. Finally, it should be noted that this paper is one of the first in tacklingpicking routing in a refrigerated warehouse, thereby contributing to knowledge in this field.
|Abstract = 82 veces | PDF = 74 veces|
Downloads
Download data is not yet available.
References
D. Battini, M. Calzavara, A. Persona and F. Sgarbossa,"A comparative analysis of different paperless pickingsystems", Industrial Management & Data Systems, vol.115, no. 3, pp. 483-503, 2015.
D. Battini, M. Calzavara, A. Persona and F. Sgarbossa,"Order picking system design: the storage assignmentand travel distance estimation (SA&TDE) joint method",International Journal of Production Research, vol. 53, no.4, pp. 1077-1093, 2015.
S. Henn, "Algorithms for on-line order batching in anorder picking warehouse", Computers & OperationsResearch, vol. 39, no. 11, pp. 2549-2563, 2012.
C. Ban et al., "Design of an Inventory ManagementSystem for Refrigerated Warehouses on MobileEnvironments", in Future Information CommunicationTechnology and Applications, 1st ed., H. Jung, J. Kim, T.Sahama and C. Yang (eds). Amsterdam, Netherlands:Springer, 2013, pp. 773-782.
B. Menéndez, E. Pardo, A. Duarte, A. Ayuso and E.Molina, "General Variable Neighborhood Searchapplied to the picking process in a warehouse",Electronic Notes in Discrete Mathematics, vol. 47, pp.77-84, 2015.
O. Kulak, Y. Sahin and M. Taner, "Joint order batchingand picker routing in single and multiple-cross-aisle warehouses using cluster-based Tabu searchalgorithms", Flexible Services and ManufacturingJournal, vol. 24, no. 1, pp. 52-80, 2012.
W. Lu, D. McFarlane, V. Giannikas and Q. Zhang, "Analgorithm for dynamic order-picking in warehouseoperations", European Journal of Operational Research,vol. 248, no. 1, pp. 107-122, 2016.
J. Pan, P. Shih and M. Wu, "Order batching in a pick-and-pass warehousing system with group geneticalgorithm", Omega, vol. 57, pp. 238-248, 2015.
A. Bonassa and C. Cunha, "The order-picking routingproblem for low-level order picker in a warehouse",Gestão & Produção, vol. 18, no. 1, pp. 105-118, 2011.
F. Chen, H. Wang, Y. Xie and C. Qi, "An ACO-basedonline routing method for multiple order pickers withcongestion consideration in warehouse", Journal ofIntelligent Manufacturing, vol. 27, no. 2, pp. 389-408,2014.
S. Henn and G. Wäscher, "Tabu search heuristics forthe order batching problem in manual order pickingsystems", European Journal of Operational Research,vol. 222, no. 3, pp. 484-494, 2012.
L. Liu, X. Gao and Q. Song, "Research of VRP Model withSemi-soft Time Window Constraints", Open Cybernetics& Systemics Journal, vol. 9, pp. 1083-1087, 2015.
B. Yang et al., "Routing with time-windows for multipleenvironmental vehicle types", Computers & IndustrialEngineering, vol. 89, pp. 150-161, 2015.
M. Lin, K. Chin, K. Tsui and T. Wong, "Genetic baseddiscrete particle swarm optimization for Elderly DayCare Center timetabling", Computers & OperationsResearch, vol. 65, pp. 125-138, 2016.
J. Kennedy and R. Eberhart, "A discrete binary versionof the particle swarm algorithm", in InternationalConference on Systems, Man, and Cybernetics,Computational Cybernetics and Simulation, Orlando,USA, 1997, pp. 4104-4108.
V. Kachitvichyanukul, P. Sombuntham and S.Kunnapapdeelert, "Two solution representationsfor solving multi-depot vehicle routing problem withmultiple pickup and delivery requests via PSO",Computers & Industrial Engineering, vol. 89, pp. 125-136, 2015.
S. Talukder, "Mathematical modelling and applicationsof particle swarm optimization", M.S. thesis, BlekingeInstitute of Technology, Karlskrona, Sweden, 2011.
T. Vidal, T. Crainic, M. Gendreau and C. Prins, "A hybridgenetic algorithm with adaptive diversity managementfor a large class of vehicle routing problems with time-windows", Computers & Operations Research, vol. 40,no. 1, pp. 475-489, 2013.
A. Mohtashami, "A novel dynamic genetic algorithm-based method for vehicle scheduling in cross dockingsystems with frequent unloading operation", Computers& Industrial Engineering, vol. 90, pp. 221-240, 2015.
J. Pan, P. Shih, M. Wu and J. Lin, "A storage assignmentheuristic method based on genetic algorithm for a pick-and-pass warehousing system", Computers & IndustrialEngineering, vol. 81, pp. 1-13, 2015.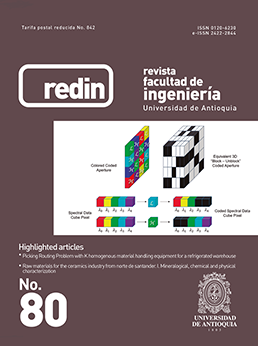 How to Cite
Gómez-Montoya R. A., Correa-Espinal A. A., & Hernandez-Vahos J. D. (2016). Picking Routing Problem with K homogenous material handling equipment for a refrigerated warehouse. Revista Facultad De Ingeniería Universidad De Antioquia, (80), 9-20. Retrieved from https://revistas.udea.edu.co/index.php/ingenieria/article/view/25566
Copyright (c) 2016 Revista Facultad de Ingeniería Universidad de Antioquia
This work is licensed under a Creative Commons Attribution-NonCommercial-ShareAlike 4.0 International License.
Authors can archive the pre-print version (i.e., the version prior to peer review) and post-print version (that is, the final version after peer review and layout process) on their personal website, institutional repository and / or thematic repository

Upon acceptance of an article, it will be published online through the page https://revistas.udea.edu.co/index.php/ingenieria/issue/archive in PDF version with its correspondent DOI identifier
The Revista Facultad de Ingeniería -redin- encourages the Political Constitution of Colombia, chapter IV
Chapter IV Sanctions 51
The following shall be liable to imprisonment for two to five years and a fine of five to 20 times the legal minimum monthly wage: (1) any person who publishes an unpublished literary or artistic work, or part thereof, by any means, without the express prior authorization of the owner of rights; (2) any person who enters in the National Register of Copyright a literary, scientific or artistic work in the name of a person other than the true author, or with its title altered or deleted, or with its text altered, deformed, amended or distorted, or with a false mention of the name of the publisher or phonogram, film, videogram or software producer; (3) any person who in any way or by any means reproduces, disposes of, condenses, mutilates or otherwise transforms a literary, scientific or artistic work without the express prior authorization of the owners thereof; (4) any person who reproduces phonograms, videograms, software or cinematographic works without the express prior authorization of the owner, or transports, stores, stocks, distributes, imports, sells, offers for sale, acquires for sale or distribution or in any way deals in such reproductions. Paragraph. If either the material embodiment or title page of or the introduction to the literary work, phonogram, videogram, software or cinematographic work uses the name, business style, logotype or distinctive mark of the lawful owner of rights, the foregoing sanctions shall be increased by up to half.