Modelación de versiones de objetos complejos de datos
Ana María García-Pérez

Universidad Central de las Villas

Luisa González-González

Universidad Central de las Villas

Abel Rodriguez-Morffi

Universidad Central de las Villas

Ionel Muñoz-Jiménez

Universidad Central de las Villas
Abstract
Los requerimientos impuestos por las aplicaciones CAD/ CAM, CASE, multimedia, etc. hacen aconsejable el diseño de sistemas que permitan modelar estas clases de problemas de una manera más natural que con los sistemas actuales para procesamiento de datos. En este sentido existen diversas tendencias de investigación, entre las que podemos citar el desarrollo de nuevos modelos de datos y arquitecturas que den soporte a estos objetivos. En particular, se usan frecuentemente los modelos basados en objetos complejos de datos, aún sin madurez suficiente. La mayoría de los sistemas actualmente disponibles resultan ser extensiones de los lenguajes de programación orientados a objetos para permitir la persistencia de estos objetos complejos.
|Abstract = 14 veces | PDF (ESPAÑOL (ESPAÑA)) = 8 veces|
Downloads
Download data is not yet available.
References
[ 1] Batini, C., Ceri, S. and Navathe, S. ( 1991 ). Conceptual Database Design. Benjamin/Cummings.
U liman, J. ( 1989). Principies of Database and Knowledge-Based Systems, Vol. 1. Rockville MD: Computer Science Press.
Bertino, E. and Martina, L. Object-Oriented Database Systems: concepts and architectures. ( 1993). Addison­Wesley Publishing Co.
James O. Coplien ( 1994). Software design: the emerging patterns. C++ REPORT, July-August, 1994. Vol. 6 No. 6 pp 18-22;66-67
S. Koshafian, M.J. Franklin. M.J. Carey (1990). Storage Management far Persistent Complex Objects. INFORMATION SYSTEMS, Vol. 15 No. 3 pp. 303-320.
M. Borhany, J.P. Barthes. P. Anota, F. Gaillard (1993). A synthesis of the versioning problems in object­oriented engineering systems. In Proceedings of the IFI P, Compiegne, 1993.
C.J. Date ( 1 994 ). Oh, Oh relational: toward an O-O/Relational rapprochement. Data base Programm ing & Design. Oct. 1994 Vol 7 No. 1 O pp 23-27
Joe Celko ( 1994). SQL in the city of steel. DBMS, July 1994, Vol. 7 No. 8 pp 17-21
C. Comafard ( 1994). Version Control is not optional, it's required. PC WEEK. Nov. 7, 1994 Vol 11 No. 44 p. 24
Pehong Chen, Michael A. Harrison (1988). Multiple representation document development. IEEE COMPUTER. January 1988 pp 15-31
C.J. Date ( 1993). Introducción a los Sistemas de Bases de Datos Vol l 5a. ed, Addison-Wesley Iberoamericana, 1993.
John G. Hughes ( 1991 ). Object-Oriented Databases. Prentice-Hall International, C.A.R. Hoare series ed. 1991
Dave S. Straube, M. Tamer Ozsu (19990). Queries and query processing in O-O Database. Systems ACM TRANSACTIONS ON INFORMATION SYSTEMS. Vol. 8 No. 4 Oct. 1990 pp. 337-430.
Luisa M. Gonzales (1994). SAID: Sistema Integrado de Ayuda al Diseño. Tesis en Opción al Grado de Doctor en Ciencias Técnicas. Universidad Central de Las Villas.
Ana M. García Pérez (1995). Diseño de una solución para el manejo de versiones del sistema SIADI. UCLV.
Randy H. Katz (1990). Toward a unified framework for version modelling in engineering databases. ACM COMPUTING SURVEYS, Vol. 22 No. 4 Dec. 1990, pp. 375-408.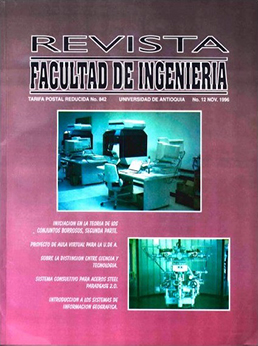 How to Cite
García-Pérez A. M., González-González L., Rodriguez-Morffi A., & Muñoz-Jiménez I. (2016). Modelación de versiones de objetos complejos de datos. Revista Facultad De Ingeniería Universidad De Antioquia, (12-13), 38-44. Retrieved from https://revistas.udea.edu.co/index.php/ingenieria/article/view/325620
Copyright (c) 2018 Revista Facultad de Ingeniería
This work is licensed under a Creative Commons Attribution-NonCommercial-ShareAlike 4.0 International License.
Authors can archive the pre-print version (i.e., the version prior to peer review) and post-print version (that is, the final version after peer review and layout process) on their personal website, institutional repository and / or thematic repository

Upon acceptance of an article, it will be published online through the page https://revistas.udea.edu.co/index.php/ingenieria/issue/archive in PDF version with its correspondent DOI identifier
The Revista Facultad de Ingeniería -redin- encourages the Political Constitution of Colombia, chapter IV
Chapter IV Sanctions 51
The following shall be liable to imprisonment for two to five years and a fine of five to 20 times the legal minimum monthly wage: (1) any person who publishes an unpublished literary or artistic work, or part thereof, by any means, without the express prior authorization of the owner of rights; (2) any person who enters in the National Register of Copyright a literary, scientific or artistic work in the name of a person other than the true author, or with its title altered or deleted, or with its text altered, deformed, amended or distorted, or with a false mention of the name of the publisher or phonogram, film, videogram or software producer; (3) any person who in any way or by any means reproduces, disposes of, condenses, mutilates or otherwise transforms a literary, scientific or artistic work without the express prior authorization of the owners thereof; (4) any person who reproduces phonograms, videograms, software or cinematographic works without the express prior authorization of the owner, or transports, stores, stocks, distributes, imports, sells, offers for sale, acquires for sale or distribution or in any way deals in such reproductions. Paragraph. If either the material embodiment or title page of or the introduction to the literary work, phonogram, videogram, software or cinematographic work uses the name, business style, logotype or distinctive mark of the lawful owner of rights, the foregoing sanctions shall be increased by up to half.