Cianuro, oro y medio ambiente en la minería de nordeste antioqueño
Keywords:
contaminación, cianuro de sodio, minería de oro, Segovia, toxicidad, medición de cianuro, impacto ambiental, cianuración, detoxificación.
Abstract

Hace 50 años se viene utilizando el cianuro de sodio en el proceso de extrac­ción del oro asociado a los minerales explotados en el municipio de Segovia, departamento de Antioquia. La extracción del oro se hace mediante cianuración por percolación, en 72 de las 76 plantas, y por agitación, en 4. Las arenas se descargan al suelo en zonas urbanas o directamente a las quebradas, sin nin­gún tratamiento previo y tienen contenidos de NaCN que superan hasta en l.000 veces la cantidad establecida por ley, de una parte por millón (ppm); ello genera un problema de contaminación del suelo y de las quebradas. En este artículo se hace un análisis del problema y se presentan los métodos para determinar el contenido de cianuro de sodio (NaCN) en las arenas, diferen­ciando las tres formas de cianuro que se presentan, se incluye un resumen del estudio de la toxicidad del cianuro en especies acuáticas y una propuesta para la detoxificación de las arenas mediante métodos químicos y biológicos.
|Abstract = 70 veces | PDF (ESPAÑOL (ESPAÑA)) = 39 veces|
Downloads
Download data is not yet available.
References
Áh arcz, lvonne. Rese1ias municipales de nuestra A111ioc¡11ia. Medcllín, 1989. Editorial Imprenta Depar­tamental.
Quamrul, A. M. et al. Deroxiflcation of spent heaps 1t·ith hydrogen peroxide. Reno USA, 1989. AIME World Gold 89 conference. pp. 270-272.
Ahif. W. er al. Biological assessment of environmental impact of dredged maJerial in Chemis/ly and Biology of so/id Wasre. USA, 1987. pp. 127-142.
Brodie, M. . et al. "Selectíon and sizing of sall1)ling system". En: Design and insta/lar ion of commirwtion circuirs. society of Mining Engineers. 1982. pp. 667-683.
Castranas, H. M. et al. Cyanide detoxification of a gold mine tailings pond with H202. USA, 1988. Process of Randol Gold Conference Sco11sdale. 88 p.
Connell. D. W. et al. Chemistry and Toxicology of pollution. New York: John Willey & Sons, lnc. 1984. 442 p.
Córdoba, D. Toxicología. Medellín, 1994. Impresión L Yieco e hijas. 456 p.
Doudoroff, P. et al. Acute toxicity ro fish of solutions containing complex metal cyanides. in relation to concentrations of molecular hydrocyanis acids. Trans. Am. Fish soc. 1976. pp. 6-22.
Griffiths, A. Degussa corporation. personal commuoication, 1989.
Habashi, F. "One hundred years of Cyanidation". London, 1980. En: Bulletin of CJM (905) pp. 108-114.
Hruscka, Félix. Guía ambiental para el manejo del cianuro. Perú, 1998.
Instituto Geográfico Agustín Codazzi (IGAC). Pro­piedades fisicas de los suelos. Bogotá: IGAC 1980, 395 p.
Instituto Tecnológico Geomioero de España. Con­taminación y depuración de suelos. Madrid. 1995. 330 p.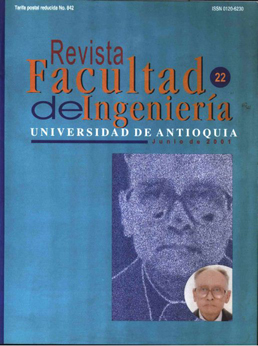 Downloads
How to Cite
Montoya, C. A. (2001). Cianuro, oro y medio ambiente en la minería de nordeste antioqueño. Revista Facultad De Ingeniería Universidad De Antioquia, (22), 43–49. Retrieved from https://revistas.udea.edu.co/index.php/ingenieria/article/view/325947
License
Revista Facultad de Ingeniería, Universidad de Antioquia is licensed under the Creative Commons Attribution BY-NC-SA 4.0 license. The material published in the journal can be distributed, copied and exhibited by third parties if the respective credits are given to the journal. No commercial benefit can be obtained and derivative works must be under the same license terms as the original work.