Efecto de la presión selectiva en el arranque de un reactor anaerobio horizontal donde se utiliza PVC como soporte
Darío Gallego-S

Universidad Nacional de Colombia

Rubén A. Agudelo-G

Universidad de Antioquia.
Keywords:
Biodegradación anaerobia, metanogénesis, clo­ruro de polivinyl, reactor biológico con lecho de soporte, adherencia de bacterias en material de soporte, reactores de lodo anaerobio en lecho fijo, reactor anaerobio de lodo inmovilizado de flujo horizontal,
Abstract
La aclimatación anaerobia del lodo (original), proveniente de la planta aerobia para el tratamiento de aguas residuales domésticas del municipio de El Retiro (PTAR), entregó la muestra cruda con una Actividad Metanogénica Específica (AME) (g DQOCH/g SSV/d) de 0,053; ésta removió en cinco días el 80% de la demanda química de oxígeno (DQO) a partir de 1.000 mg/1. La variación en la AME en relación con la del original (0,06), indica que no se obtiene un lodo de las mejores condiciones anaerobias.
Al comparar la AME del lodo crudo inmovilizado (0,052) y sin inmovilizar, se concluye que tal proceso no produjo efectos favorables en este caso; pero los resultados de la inmovilización de la muestra cruda y modificada (muestra cru­da después de ser sometida a presión selectiva), indican que en esta última sí existen efectos positivos; el alto valor de la AME de la muestra modificada inmovilizada (O, 112), permite decir que la combinación de la presión selectiva y la inmovilización resultaron adecuadas para mejorar el lodo de la PTAR.
Del proceso de arranque y operación de los reactores anaerobios horizontales (HAIS) con lodo crudo y modificado inmovilizado en Polyvinil Cloruro (PVC), variando el tiempo de retención hidráulico (TRH) y alimentando sustrato en poco más o menos 800 mg/1 de DQO, se puede decir según las desviaciones estándar en los valores temporales de los parámetros evaluados que aunque no hay com­pleta estabilidad de los reactores, sí hay tendencia a ésta en el último que se ha citado. Parece que en el tiempo de cada ensayo no se desarrolló la biomasa metanogénica necesaria. Los resultados en este caso dan la base para proponer la relación mi de biogás producido/g de DQO consumida para evaluar el rendi­miento y comportamiento de los reactores en futuros estudios de arranque.
Los resultados de los análisis espaciales en las variables de control, después de que finalizó la etapa de arranque, realizados en los reactores HAJS con el lodo crudo y modificado inmovilizados, indican que finalmente se consiguieron con­diciones de operación aceptables y más favorables en el que usó la muestra mo­dificada. Los rendimientos en la remoción de la DQO, de 67 y 84% respectiva­mente y la estabilidad mejoraron en relación con lo reportado en el arranque.
|Abstract = 17 veces | PDF (ESPAÑOL (ESPAÑA)) = 5 veces|
Downloads
Download data is not yet available.
References
Pahila, R. and Freeman, A. A new continuos Biofilm Bioreactor for Inmovilized oil-Degrading Filamento11S Fungi Biotechnology and Bioengineering. Vol. 49. pp. 20-25. 1996.
Lazarova, V. and Manen, J. "Biofilm Characterization and Activ ity Analys is in Water and Wastewater Treatment". Review Paper. Wat. Res. Vol. 29. No. 10. pp. 2.227-2.245. 1995.
Kuroda, M. et al. "Methanogenic Bacteria adhered to sol id supports". Wat. Res. Vol. 22. No. 5. pp. 653-656. 1998.
Characklis. W. G. et al. "Dynamics of Biofilm Processes: Methods". Water Res. Vol. 16. pp. 1.207- 1.216. 1982.
Bryers, J. and Characklis, W. "Early Fouling Biofilm Formation in a Turbulent Flow System: Overall Kinetics". Wat Research. Vol. 15. pp. 483-491. 1981.
Zarnariolli, D.M. et al "Definición de pentaclorofenol (PCP) en el reactor uaeróblco horizontal de lecho fijo (RAHLF)". V Taller y Seminario Latinoamericano. Tratamiento anaerobio de aguas residuales. Viña del Mar Chile. pp. 1-6. 1998.
Zaiat, M. et al. "Spatial and temporal variations of monitoring performance parameters in horizontal-flow anaerobic immobilized sludge (HAIS) reactor treating synthetic substrate". Wat. Res. Vol. 31. No. 7. pp. 1. 760- 1. 766. 1997.
Joo-Hwa, T. "Performance of Anaerobic Packed-Bed System with Different Media Characteristic". Wat. Sci. Tech. Vol. 34. No. 5-6. pp. 453-459. 1996.
Samson, R. et al. "Inmobilized Cells Systems in anaerobic digestion processes". En; Tyagi, R. d. Wastewater treatment by Inmobilized Ce//. C.R.C. Press. pp. 153-190. 1990.
Verrier, D. et al. Initial adhesion of Methanogenic bacteria to polymers. Biotech. Letrers. Vol. 9. No. 10. pp. 735-740. 1987.
Foresti, E. et al. Horizontal-Flow anaerobic immobilized sludge (HAIS) reactor for paper industry wastewater treatment. 501" Pardue Industrial Waste Conference Proceedings. Ann Arbor Press, /ne. Cheisea. Michigan 48118. Printed in U.S.A. pp. 421-425. 1995.
Novaes, R. F. "Microbiology of Anaerobic Digestion". Wat. Sci. Tech. Vol. 18. No. 12. pp. 1-14. 1986.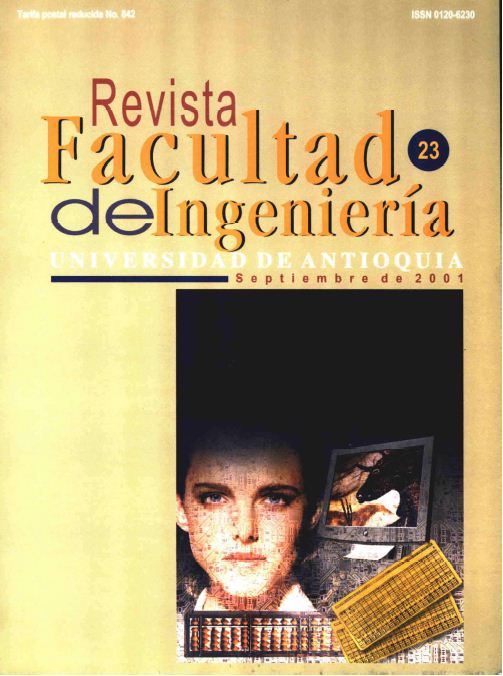 How to Cite
Gallego-S D., & Agudelo-G R. A. (2001). Efecto de la presión selectiva en el arranque de un reactor anaerobio horizontal donde se utiliza PVC como soporte. Revista Facultad De Ingeniería Universidad De Antioquia, (23), 14-29. Retrieved from https://revistas.udea.edu.co/index.php/ingenieria/article/view/326310
Copyright (c) 2001 Revista Facultad de Ingeniería
This work is licensed under a Creative Commons Attribution-NonCommercial-ShareAlike 4.0 International License.
Authors can archive the pre-print version (i.e., the version prior to peer review) and post-print version (that is, the final version after peer review and layout process) on their personal website, institutional repository and / or thematic repository

Upon acceptance of an article, it will be published online through the page https://revistas.udea.edu.co/index.php/ingenieria/issue/archive in PDF version with its correspondent DOI identifier
The Revista Facultad de Ingeniería -redin- encourages the Political Constitution of Colombia, chapter IV
Chapter IV Sanctions 51
The following shall be liable to imprisonment for two to five years and a fine of five to 20 times the legal minimum monthly wage: (1) any person who publishes an unpublished literary or artistic work, or part thereof, by any means, without the express prior authorization of the owner of rights; (2) any person who enters in the National Register of Copyright a literary, scientific or artistic work in the name of a person other than the true author, or with its title altered or deleted, or with its text altered, deformed, amended or distorted, or with a false mention of the name of the publisher or phonogram, film, videogram or software producer; (3) any person who in any way or by any means reproduces, disposes of, condenses, mutilates or otherwise transforms a literary, scientific or artistic work without the express prior authorization of the owners thereof; (4) any person who reproduces phonograms, videograms, software or cinematographic works without the express prior authorization of the owner, or transports, stores, stocks, distributes, imports, sells, offers for sale, acquires for sale or distribution or in any way deals in such reproductions. Paragraph. If either the material embodiment or title page of or the introduction to the literary work, phonogram, videogram, software or cinematographic work uses the name, business style, logotype or distinctive mark of the lawful owner of rights, the foregoing sanctions shall be increased by up to half.