Supply chain design using a modified IWD algorithm
Keywords:
supply chain design, water drop intelligence, Pareto frontier
Abstract
The Intelligent Water Drop (IWD) algorithm is inspired by the movement of real water drops in a river. A water drop could find an optimum path to a lake or sea by interacting with the conditions of its surroundings. In the process of reaching such destination, the water drops interact with the river bed while they move through it. Similarly, the supply chain problem can be modelled as a flow of supply, manufacturing, and delivery stages that must be completed to produce a finished product and then to deliver it to the end user. The problem is to select one option that carries out the stage, e.g. for a supply stage, many suppliers could supply the component represented by it. As each stage is characterised by its time and cost, multi--objective optimisation algorithm is used to minimise the time to market and production cost, simultaneously. Focusing on this analogy, this paper proposes an approach to the supply chain problem using a multi--objective extension to the intelligent water drops algorithm. Artificial water drops, flowing through the supply chain, will simultaneously minimise the production cost and the time to market of every product in a generic BOM by using the concept of Pareto optimality. A widely-used notebook supply chain in literature is solved. We provide some performance metrics of the solution and compare the Pareto set computed by the proposed algorithm with the one returned by exhaustive enumeration.
|Abstract = 262 veces | PDF = 224 veces|
Downloads
Download data is not yet available.
References
S. C. Graves and S. P. Willems, Optimizing the Supply Chain Configuration for New Products, 2001. [Online]. Available: http://web.mit.edu/sgraves/www/papers/Supply%20Chain%20Configuration%20June%202004. pdf. Accessed on: Jul. 25, 2017.
J. Magretta, "The power of virtual integration: an interview with Dell Computer's Michael Dell," Harvard Bus. Riview, vol. 76, no. 2, pp. 73–84, 1998.
K. Cottrill, "Reforging the supply chain," J. Bus. Strategy, vol. 18, no. 6, pp. 35–39, 1997.
H. L. Lee and C. Billington, "Material Management in Decentralized Supply Chains," Oper. Res., vol. 41, no. 5, pp. 835–847, 1993.
T. P. Harrison, "Global supply chain design," Inf. Syst. Front., vol. 3, no. 4, pp. 413–416, 2001.
S. C. Graves and S. P. Willems, "Optimizing the supply chain configuration for new products," Manage. Sci., vol. 51, no. 8, pp. 1165–1180, 2005.
S. C. Graves and S. P. Willems, "Supply chain design: safety stock placement and supply chain configuration," in Supply Chain Management: Design, Coordination and Operation, 1st ed., A. G. de Kok and S. C. Graves (eds). Amsterdam, Holland: Elsevier, 2003, pp. 95–132.
G. Q. Huang, X. Y. Zhang, and L. Liang, "Towards integrated optimal configuration of platform products, manufacturing processes, and supply chains," J. Oper. Manag., vol. 23, no. 3–4, pp. 267–290, 2005.
J. Wang and Y. Shu, "A possibilistic decision model for new product supply chain design," Eur. J. Oper. Res., vol. 177, no. 2, pp. 1044–1061, 2007.
G. Guillen, F. D. Mele, M. Bagajewicz, A. Espuña, and L. Puigjaner, "Multiobjective supply chain design under uncertainty," Chem. Eng. Sci., vol. 60, no. 6, pp. 1535– 1553, 2005.
A. Muriel and D. Simchi, "Supply chain design and planning - Applications of optimization techniques for strategic and tactical models," in Supply Chain Management: Design, Coordination and Operation, 1st ed., A. G. de Kok and S. C. Graves (eds). City, country: Elsevier, 2003, pp. 15–93.
P. Kouvelis, M. J. Rosenblatt, and C. L. Munson, "A mathematical programming model for global plant location problems: Analysis and insights," IIE Trans., vol. 36, no. 2, pp. 127–144, 2004.
P. Tsiakis and L. G. Papageorgiou, "Optimal production allocation and distribution supply chain networks," Int. J. Prod. Econ., vol. 111, no. 2, pp. 468–483, 2008.
A. Amiri, "Designing a distribution network in a supply chain system: Formulation and efficient solution procedure," Eur. J. Oper. Res., vol. 171, no. 2, pp. 567– 576, 2006.
C. Chandra, M. Everson, and J. Grabis, "Evaluation of enterprise-level benefits of manufacturing flexibility," Omega, vol. 33, no. 1, pp. 17–31, 2005.
T. van der Vaart and D. P. van Donk, "A critical review of survey-based research in supply chain integration," Int. J. Prod. Econ., vol. 111, no. 1, pp. 42–55, 2008.
J. P. C. Kleijnen, "Supply chain simulation tools and techniques: A survey," Int. J. Simul. Process Model., vol. 1, no. 1–2, pp. 82–89, 2005.
H. Shah, "Problem solving by intelligent water drops," in IEEE Congress on Evolutionary Computation (CEC), Singapore, Singapore, 2007, pp. 3226–3231.
H. Duan, S. Liu, and J. Wu, "Novel intelligent water drops optimization approach to single UCAV smooth trajectory planning," Aerosp. Sci. Technol., vol. 13, no. 8, pp. 442–449, 2009.
Y. Hendrawan and H. Murase, "Neural-Intelligent Water Drops algorithm to select relevant textural features for developing precision irrigation system using machine vision," Comput. Electron. Agric., vol. 77, no. 2, pp. 214–228, 2011.
S. R. Rayapudi, "An Intelligent Water Drop Algorithm for Solving Economic Load Dispatch Problem," Int. J. Electr. Electron. Eng., vol. 5, no. 10, pp. 1373–1379, 2011.
E. Lesnaia, I. Vasilescu, and S. Graves, The Complexity of Safety Stock Placement in General-Network Supply Chains, 2005. [Online]. Available: http://web.mit.edu/sgraves/www/papers/Lesnaia%20SMA%2005.pdf. Accessed on: Jul. 25, 2017.
E. G. Talbi, Metaheuristics: From design to implementation, 1st ed. New Jersey, USA: Wiley, 2009.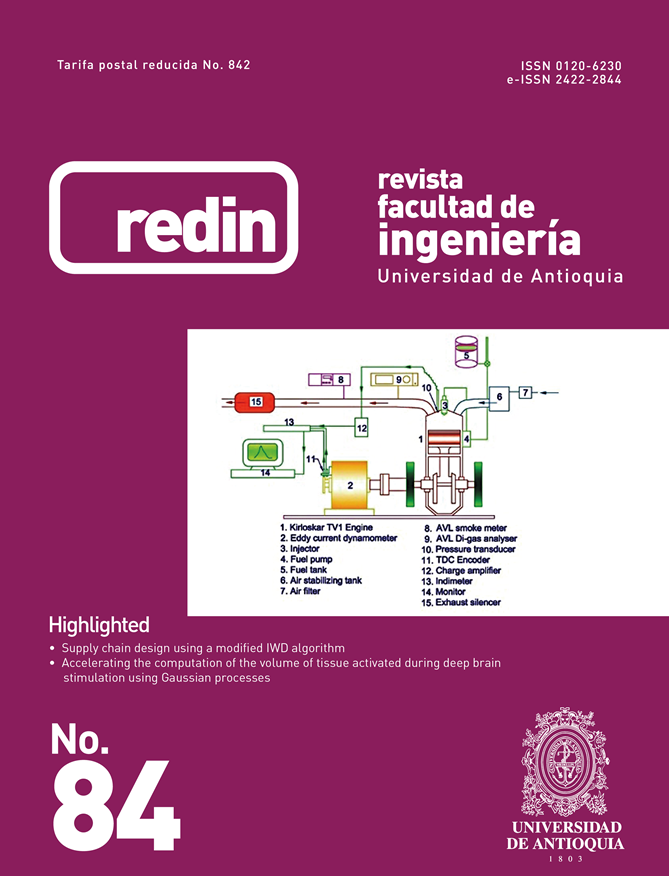 Downloads
How to Cite
Moncayo-Martínez, L. A. (2017). Supply chain design using a modified IWD algorithm. Revista Facultad De Ingeniería Universidad De Antioquia, (84), 9–16. https://doi.org/10.17533/udea.redin.n84a02
License
Copyright (c) 2017 Revista Facultad de Ingeniería Universidad de Antioquia
This work is licensed under a Creative Commons Attribution-NonCommercial-ShareAlike 4.0 International License.
Revista Facultad de Ingeniería, Universidad de Antioquia is licensed under the Creative Commons Attribution BY-NC-SA 4.0 license. https://creativecommons.org/licenses/by-nc-sa/4.0/deed.en
You are free to:
Share — copy and redistribute the material in any medium or format
Adapt — remix, transform, and build upon the material
Under the following terms:
Attribution — You must give appropriate credit, provide a link to the license, and indicate if changes were made. You may do so in any reasonable manner, but not in any way that suggests the licensor endorses you or your use.
NonCommercial — You may not use the material for commercial purposes.
ShareAlike — If you remix, transform, or build upon the material, you must distribute your contributions under the same license as the original.
The material published in the journal can be distributed, copied and exhibited by third parties if the respective credits are given to the journal. No commercial benefit can be obtained and derivative works must be under the same license terms as the original work.