Refractive index desensitized optical fiber temperature sensor
Keywords:
fiber optic, temperature sensor, Michelson interferometer, refractive index desensitized
Abstract
An in-line fiber-optic sensor for temperature measurements in environments prone to refractive indices changes is presented. The sensing probe is composed of a single-mode/single-mode optical fiber, arranged in an interferometric configuration. This interferometer was coated by the sputtering technique using gold. The temperature measurement was carried out by monitoring the shift of the interference pattern as surrounding temperature rose. It was found that the interference pattern was sensitive to temperature but was not affected by changes in the refractive index of the external medium. This behavior broadens the range of environments in which the sensor can be deployed.
|Abstract = 423 veces | PDF = 133 veces|
Downloads
Download data is not yet available.
References
A. D. Magdum and A. Agashe, "Monitoring and controlling the industrial motor parameters remotely using LabVIEW," in Recent Trends in Electronics, Information Communication Technology (RTEICT), IEEE International Conference on, Bangalore, India, 2016, pp. 189–193.
British Standards Institution - BSI, Explosive atmospheres. Equipment. General requirements, BS EN 60079-0:2012+A11:2013, 2012.
A. McMillan, Electrical installations in hazardous areas, 1st ed. Butterworth-Heinemann, 1998.
S. J. Mihailov, "Fiber Bragg grating sensors for harsh environments," Sensors, vol. 12, no. 2, pp. 1898–1918, 2012.
Y. J. Rao, "In-fibre Bragg grating sensors," Measurement science and technology, vol. 8, no. 4, p. 355, 1997.
B. H. Lee, Y. H. Kim, K. S. Park, J. B. Eom, M. J. Kim, B. S. Rho, and H. Y. Choi, "Interferometric fiber optic sensors," Sensors, vol. 12, no. 3, pp. 2467–2486, 2012.
J. M. Hsu, J. Z. Chen, and W.-H. Zheng, "Highly Sensitive Temperature Fiber Sensor Based on Mach-Zehnder Interferometer," Fiber and Integrated Optics, vol. 35, no. 5–6, pp. 230–238, 2016.
T. Zhu, D. Wu, M. Liu, and D.-W. Duan, "In-line fiber optic interferometric sensors in single-mode fibers," Sensors, vol. 12, no. 8, pp. 10430–10449, 2012.
H. Sun, S. Yang, J. Zhang, Q. Rong, L. Liang, Q. Xu, G. Xiang, D. Feng, Y. Du, Z. Feng, X. Qiao, and M. Hu, "Temperature and refractive index sensing characteristics of an MZI-based multimode fiber-dispersion compensation fiber-multimode fiber structure," Optical Fiber Technology, vol. 18, no. 6, pp. 425–429, 2012.
Z. Tian and S. S.-H. Yam, "In-line single-mode optical fiber interferometric refractive index sensors," Journal of Lightwave Technology, vol. 27, no. 13, pp. 2296–2306, 2009.
M. A. Calle Casas, Y. Cardona Maya, C. Isaza, and P. Torres, "In-Line Fiber-Optic Viscometer for Internal Combustion Engine Lubricant Oils," in Frontiers in Optics, 2014, p. FTu2B–2.
D. Wu, T. Zhu, K. S. Chiang, and M. Deng, "All single-mode fiber Mach–Zehnder interferometer based on two peanut-shape structures," Journal of Lightwave Technology, vol. 30, no. 5, pp. 805–810, 2012.
M. Yang and J. Dai, "Review on optical fiber sensors with sensitive thin films," Photonic Sensors, vol. 2, no. 1, pp. 14–28, 2012.
A. Paar, "Viscopedia." 2012. [Online]. Available: http://www.viscopedia.com/viscosity-tables/substances/engine-oil/, Accessed on: Feb. 02,2017.
A. W. Snyder and J. Love, Optical waveguide theory, 1st ed. London, England: Ed. Springer, 1983.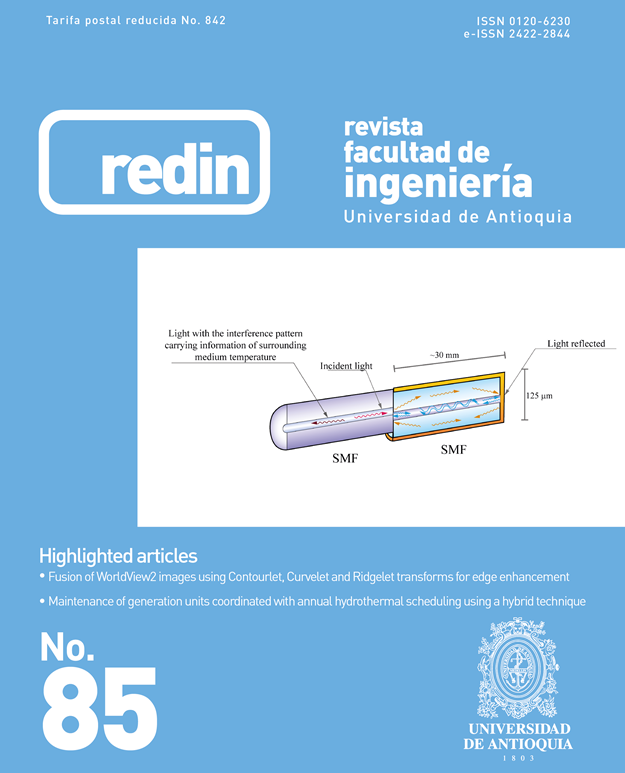 Downloads
How to Cite
Cardona-Maya, Y., & Botero-Cadavid, J. F. (2017). Refractive index desensitized optical fiber temperature sensor. Revista Facultad De Ingeniería Universidad De Antioquia, (85), 86–90. https://doi.org/10.17533/udea.redinn85a08
License
Copyright (c) 2018 Revista Facultad de Ingeniería Universidad de Antioquia
This work is licensed under a Creative Commons Attribution-NonCommercial-ShareAlike 4.0 International License.
Revista Facultad de Ingeniería, Universidad de Antioquia is licensed under the Creative Commons Attribution BY-NC-SA 4.0 license. https://creativecommons.org/licenses/by-nc-sa/4.0/deed.en
You are free to:
Share — copy and redistribute the material in any medium or format
Adapt — remix, transform, and build upon the material
Under the following terms:
Attribution — You must give appropriate credit, provide a link to the license, and indicate if changes were made. You may do so in any reasonable manner, but not in any way that suggests the licensor endorses you or your use.
NonCommercial — You may not use the material for commercial purposes.
ShareAlike — If you remix, transform, or build upon the material, you must distribute your contributions under the same license as the original.
The material published in the journal can be distributed, copied and exhibited by third parties if the respective credits are given to the journal. No commercial benefit can be obtained and derivative works must be under the same license terms as the original work.