Reduction process of low-grade nickel laterite agglomerates using different carbonaceous materials
Keywords:
Chemical properties, Chemical process, Nickel minerals, Organic compounds, Reducing gas
Abstract
Lateritic nickel ores need to be reduced to obtain direct reduced iron and nickel alloy. During processing of lateritic nickel ores in rotary kilns, there is a great loss of fines of ores due to degradation during transport into the reactor. These fines contain substantial amounts of nickel and iron, which could be recovered if they are agglomerated and fed back to the process. It is important to note that the processing of minerals with smaller particle sizes yields more efficient reduction processes because there is more surface area for the reducing agent to react with the mineral particles. This work involves the agglomeration of lateritic ore with a nickel content of 1.78%. Briquettes of 10 g were manufactured with the addition of various carbonaceous materials, such as coal, molasses, and coke, with a ratio of carbon/oxygen = 1. These samples were subjected to temperatures of 1100 °C to reduce the iron and nickel oxides present. The reduction percentages were obtained and the products were analyzed by X-ray diffraction (XRD), atomic absorption, thermogravimetry, and scanning electron microscopy to observe the effectiveness of the reducing agent. The highest reduction percentages (95%) were obtained when molasses was used as the reducing agent.
|Abstract = 170 veces | PDF = 175 veces|
Downloads
Download data is not yet available.
References
A. D. Dalvi, W. G. Bacon, and R. C. Osborne, "The past and the future of nickel laterites," in PDAC 2004 International Convention, Trade Show & Investors Exchange, Ontario, Canada, 2004, pp. 1–27.
G. Li, T. Shi, M. Rao, T. Jiang, and Y. Zhang, "Beneficiation of nickeliferous laterite by reduction roasting in the presence of sodium sulfate," Miner. Eng., vol. 32, pp. 19–26, May 2012.
U. de Planeacion Minero energética UPME, Niquel en Colombia. Bogotá, Colombia: UPME, 2009.
Y. Tanaka, T. Ueno, K. Okumura, and S. Hayashi, "Reaction behavior of coal rich composite iron ore hot briquettes under load at high temperatures until 1400°c," ISIJ Int., vol. 51, no. 8, pp. 1240–1246, 2011.
M. Liu, X. Lv, E. Guo, P. Chen, and Q. Yuan, "Novel process of ferronickel nugget production from nickel laterite by semi-molten state reduction," ISIJ Int., vol. 54, no. 8, pp. 1749–1754, 2014.
Z. Yu., M. Wen, L. Yan, and X. Qian, "A green process for recovering nickel from nickeliferous laterite ores," Trans. Nonferrous Met. Soc. China, vol. 20, no. 1, pp. s65–s70, May 2010.
P. Ji, K. Hyun, and J. Sung, "Use of oxidation roasting to control nio reduction in ni-bearing limonitic laterite," Minerals Engineering, vol. 71, pp. 205–215, Feb 2015.
D. H. Huang, J. L. Zhang, C. C. Lin, and R. Mao, "Production of ferro-nickel granules from nickel laterite ore/coal composite briquettes by direct reduction," Beijing Keji Daxue Xuebao/Journal Univ. Sci. Technol. Beijing, vol. 33, no. 12, pp. 1442–1447, Dec 2011.
F. Peñaloza and D. Speciale-Fay, "Obtención de dri a partir de briquetas autoreductoras de concentrado de mineral de laterita ferruginosa," B.Sc thesis, Universidad Central de Venezuela, Caracas, Venezuela, 2004.
A. Janwong, "The agglomeration of nickel laterite ore," Ph.D. dissertation, University of Utah, Logan, Utah, United States., 2012.
I. Quaicoe, A. Nosrati, W. Skinner, and J. Addai, "Agglomeration and column leaching behaviour of goethitic and saprolitic nickel laterite ores," Minerals Engineering, vol. 65, pp. 1–8, Oct 2014.
I. Quaicoe, A. Nosrati, W. Skinner, and Addai, "Agglomeration behaviour and product structure of clay and oxide minerals," Chem. Eng. Sci., vol. 98, pp. 40–50, Jul 2013.
A. Nosrati, J. Addai, and D. J. Robinson, "Drum agglomeration behavior of nickel laterite ore: Effect of process variables," Hydrometallurgy, vol. 125–126, pp. 90–99, Aug 2012.
M. R. et al, "Reductive roasting of nickel laterite ore with sodium sulfate for fe-ni production. part i: Reduction/sulphidation characteristics," Sep. Sci. Technol., vol. 51, no. 8, pp. 1408–1420, Mar 2016.
R. Elliott, C. A. Pickles, and J. Peacey, "erronickel particle formation during the carbothermic reduction of a limonitic laterite ore," Miner. Eng., vol. 100, pp. 166–176, Jan 2017.
S. C. Díaz, A. Garcés, O. J. Restrepo, M. A. Lara, and J. E. Camporredondo, "Thermodynamic analysis of the reduction process of colombian lateritic nickel ore," Rev. Metal., vol. 51, pp. 1–8, Dec 2015.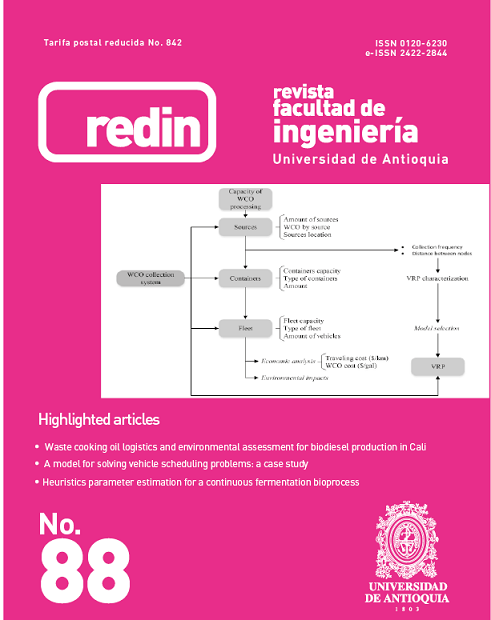 How to Cite
Díaz-Bello S. C., Restrepo-Baena O. J., & Forero-Pinilla Álvaro H. (2018). Reduction process of low-grade nickel laterite agglomerates using different carbonaceous materials. Revista Facultad De Ingeniería Universidad De Antioquia, (88), 67-74. https://doi.org/10.17533/udea.redin.n88a07
Copyright (c) 2018 Revista Facultad de Ingeniería Universidad de Antioquia
This work is licensed under a Creative Commons Attribution-NonCommercial-ShareAlike 4.0 International License.
Authors can archive the pre-print version (i.e., the version prior to peer review) and post-print version (that is, the final version after peer review and layout process) on their personal website, institutional repository and / or thematic repository

Upon acceptance of an article, it will be published online through the page https://revistas.udea.edu.co/index.php/ingenieria/issue/archive in PDF version with its correspondent DOI identifier
The Revista Facultad de Ingeniería -redin- encourages the Political Constitution of Colombia, chapter IV
Chapter IV Sanctions 51
The following shall be liable to imprisonment for two to five years and a fine of five to 20 times the legal minimum monthly wage: (1) any person who publishes an unpublished literary or artistic work, or part thereof, by any means, without the express prior authorization of the owner of rights; (2) any person who enters in the National Register of Copyright a literary, scientific or artistic work in the name of a person other than the true author, or with its title altered or deleted, or with its text altered, deformed, amended or distorted, or with a false mention of the name of the publisher or phonogram, film, videogram or software producer; (3) any person who in any way or by any means reproduces, disposes of, condenses, mutilates or otherwise transforms a literary, scientific or artistic work without the express prior authorization of the owners thereof; (4) any person who reproduces phonograms, videograms, software or cinematographic works without the express prior authorization of the owner, or transports, stores, stocks, distributes, imports, sells, offers for sale, acquires for sale or distribution or in any way deals in such reproductions. Paragraph. If either the material embodiment or title page of or the introduction to the literary work, phonogram, videogram, software or cinematographic work uses the name, business style, logotype or distinctive mark of the lawful owner of rights, the foregoing sanctions shall be increased by up to half.