Doppler spectrum measurements of vehicular radio channels using a narrowband sounder
Keywords:
Doppler, measurements, vehicular communications, wireless propagation
Abstract
This paper describes the implementation of a narrowband sounder for Doppler power spectrum (DPS) measurements of vehicular communication channels. The narrowband channel sounder is implemented using general purpose equipment, making such measurement platform easy to replicate for didactic and research purposes. To demonstrate the practical value of this framework, a measurement campaign was conducted to obtain empirical information about the spectral characteristics of vehicle-to-vehicle (V2V) and vehicle-to-infrastructure (V2I) multipath radio channels in the 700 MHz band. The collected data were processed to compute the average Doppler shift and the Doppler spread of the measured channels. The obtained results show that the spectral properties of frequency-dispersive vehicular radio channels can be effectively analyzed using narrowband sounding principles.
|Abstract = 364 veces | PDF = 214 veces| COVER LETTER = 0 veces| COVER LETTER = 0 veces| HIGHLIGHTED = 0 veces| RESPONSE LETTER = 0 veces|
Downloads
Download data is not yet available.
References
G. Rafiq and et al., "What's new in intelligent transportation systems?: An overview of european projects and initiatives," IEEE Vehicular Technology Magazine, vol. 8, no. 4, pp. 45–69, Dec. 2013.
P. Papadimitratos, A. de la Fortelle, K. Evenssen, R. Brignolo, and S. Cosenza, "Vehicular communication systems: Enabling technologies, applications, and future outlook on intelligent transportation."
J. B. Kenney, "Dedicated short-range communications (DSRC) standards in the United States," Proceedings of the IEEE, vol. 99, no. 7, pp. 1162–1182, Jul. 2011.
G. Karagiannis and et al., "Vehicular networking: A survey and tutorial on requirements, architectures, challenges, standards and solutions," IEEE Communications Surveys & Tutorials, vol. 13, no. 4, pp. 584–616, Fourth 2011.
IEEE 802.11p, Amendment to Standard for Information Technology-Telecommunications and Information Exchange Between Systems-Local and Metropolitan Area Networks-Specific requirements - Part 11: Wireless LAN Medium Access Control (MAC) and Physical Layer (PHY) Specifications-Amendment 7: Wireless Access in Vehicular Environment. IEEE, 2010.
ARIB STD-T109, 700 MHz Band Intelligent Transport Systems. ARIB, 2013.
C. X. Wang, X. Cheng, and D. I. Laurenson, "Vehicle-to-vehicle channel modeling and measurements: Recent advances and future challenges," IEEE Communications Magazine, vol. 47, no. 11, pp. 96–103, Nov. 2009.
C. Mecklenbräuker and et al., "Vehicular channel characterization and its implications for wireless system design and performance," Proceedings of the IEEE, vol. 99, no. 7, pp. 1189–1212, Jul. 2011.
W. Viriyasitavat, M. Boban, H. M. Tsai, and A. Vasilakos, "Vehicular communications: Survey and challenges of channel and propagation models," IEEE Vehicular Technology Magazine, vol. 10, no. 2, pp. 55–66, June 2015.
L. Bernadó, T. Zemen, F. Tufvesson, A. Molisch, and C. F. Mecklenbräuker, "The (in)validity of the WSSUS assumption in vehicular radio channels," in Proc. of the 23rd IEEE International Symposium on Personal, Indoor, and Mobile Radio Communications (PIMRC'12), Sidney, Australia, Sep. 2012, pp. 1757–1762.
L. Bernadó, T. Zemen, F. Tufvesson, A. Molisch, and C. F. Mecklenbräuker, "Delay and doppler spreads of nonstationary vehicular channels for safety-relevant scenarios," IEEE Transactions on Vehicular Technology, vol. 63, no. 1, pp. 82–93, Jan. 2014.
C. A. Gutiérrez and et al., "Geometry-based statistical modeling of non-WSSUS mobile-to-mobile rayleigh fading channels," IEEE Transactions on Vehicular Technology, vol. 67, no. 1, pp. 362–377, Jan. 2018.
W. Dahech, M. Pätzold, C. A. Gutiérrez, and N. Youssef, "A non-stationary mobile-to-mobile channel model allowing for velocity and trajectory variations of the mobile stations," IEEE Transactions on Wireless Communications, vol. 16, no. 3, pp. 1987–2000, March 2017.
T. Abbas and et al., "Simulation and measurement-based vehicle-to-vehicle channel characterization: Accuracy and constraint analysis," IEEE Transactions on Antennas and Propagation, vol. 63, no. 7, pp. 3208–3218, July 2015.
L. Cheng, B. Henty, D. D. Stancil, F. Bai, and P. Mudalige, "A fully mobile, GPS enabled, vehicle-to-vehicle measurement platform for characterization of the 5.9 GHz DSRC channel," in Proc. of the 2007 IEEE Antennas and Propagation Society International Symposium, June 2007, pp. 2005–2008.
R. Sevlian, C. Chun, I. Tan, A. Bahai, and K. Laberteaux, "Channel characterization for 700 MHz DSRC vehicular communication," Journal of Electrical and Computer Engineering, vol. 2010, pp. 1–9, 2010.
H. Fernández, L. Rubio, V. M. Rodrigo, and J. Reig, "Path loss characterization for vehicular communications at 700 MHz and 5.9 GHz under LOS and NLOS conditions," IEEE Antennas and Wireless Propagation Letters, vol. 13, pp. 931–934, 2014.
C. A. Gómez-Vega, C. A. Gutiérrez, J. J. Jaime, and J. Vázquez, "Doppler power spectrum measurements of vehicular channels in the 700 mhz band," in 2018 IEEE Colombian Conference on Communications and Computing (COLCOM), May 2018, pp. 1–6.
M. Pätzold, Mobile Radio Channels, 2nd ed. Chichester, UK: John Wiley and Sons, 2011.
A. Molisch, Wireless Communications. Chichester, UK: John Wiley and Sons, 2005.
N. Costa and S. Haykin, Multiple-Input Multiple-Output Channel Models: Theory and Practice, 1st ed. John Wiley and Sons, 2010.
A. Molisch, F. Tufvesson, J. Karedal, and C. Mecklenbräuker, "A survey on vehicle-to-vehicle propagation channels," IEEE Wireless Communications, vol. 16, no. 6, pp. 12–22, Dec. 2009.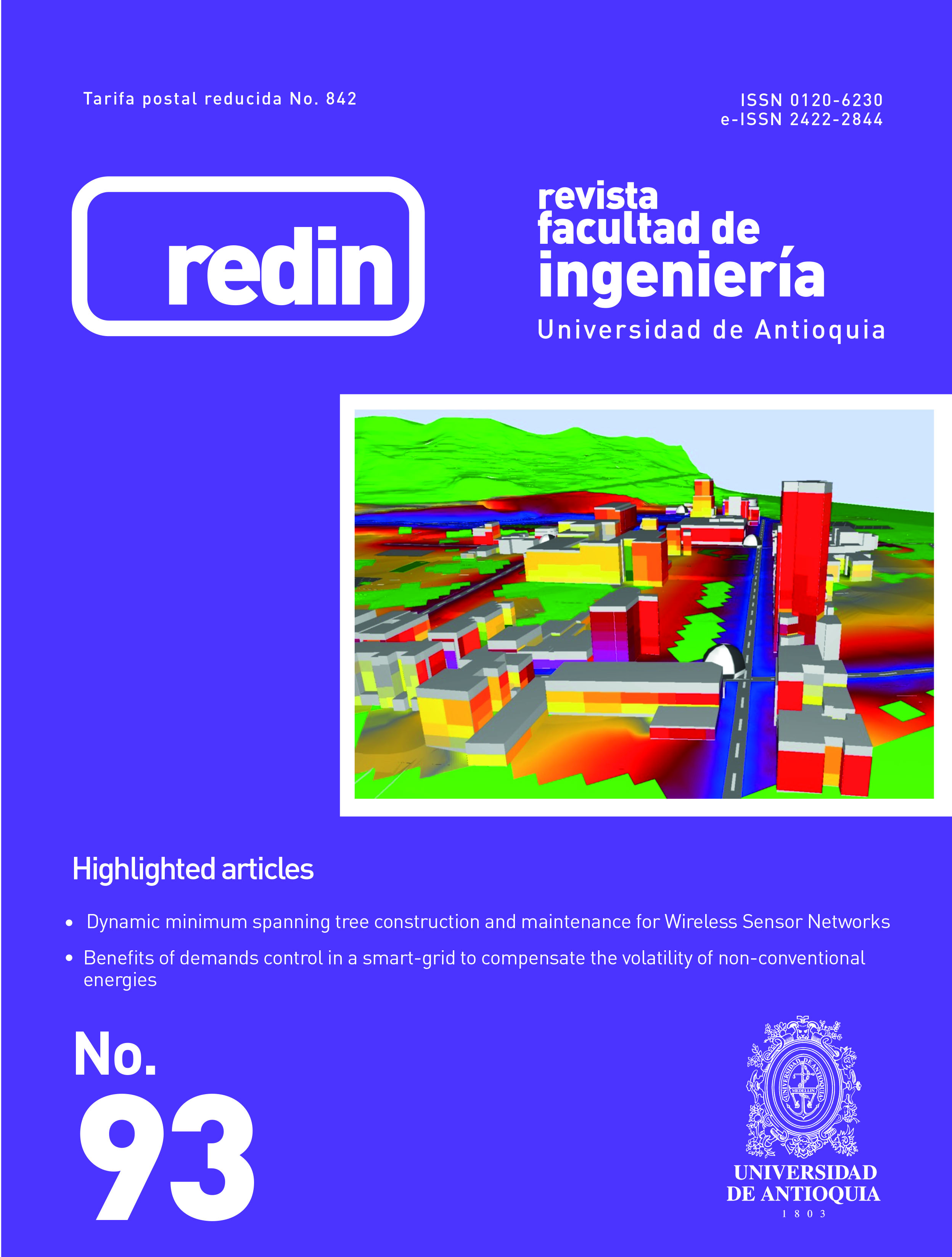 Copyright (c) 2019 Revista Facultad de Ingeniería Universidad de Antioquia
This work is licensed under a Creative Commons Attribution-NonCommercial-ShareAlike 4.0 International License.
All the texts included in the Revista Facultad de Ingenieria Universidad de Antioquia -redin- are protected by copyrights. According to the law, their reproduction through any means, physical or electronic, without written consent by the Editorial Committee is forbidden.  Complete texts of the articles will be fully and publically available, which means that they can be read, downloaded, copied, distributed, printed, searched for, or linked to. The opinions expressed in the published articles specifically belong to the authors and are not necessarily the same of the Editorial Committee or of the School of Engineering Management.