Towards the design and implementation of a Smart City in Bogotá, Colombia
Keywords:
Community, Innovation, Georeferentiation, Society, Virtuality
Abstract
With the aim of improving the citizens quality of life; the study, design and development of smart cities have been worked in different parts of the world and Colombia is not excluded. Accordingly, this document presents the advances in the implementation of a platform prototype for joining smart developments in some universities from Bogotá-Colombia. First of all, some aspects to consider in the development of a Smart City are presented. Later, the importance of virtual environments and noise studies, the drain gratings to avoid flooding by rain and the use of the bicycle as an alternative means of transport is also shown.
|Abstract = 530 veces | PDF = 407 veces|
Downloads
Download data is not yet available.
References
(2014) Smart city framework - guide customer service to establishing strategies for smart cities and communities. The British Standards Institution. Accessed Feb. 05, 2013. [Online]. Available: https://bit.ly/1fH2zj4
(2014) Bases del plan nacional de desarrollo 2014-2018. Departamento Nacional de Planeación. Accessed Mar. 04, 2013. [Online]. Available: https://bit.ly/1ttlCA5
Consejo Nacional de Política Económica y Social. (2016, Dec. 26) Documento CONPES. [Online]. Available: https://bit.ly/13gbViS
G. Crespi, A. Maffioli, and M. Meléndez, "Public support to public support to colombian COLCIENCIAS ́ experience," Inter-American DevelopmentBank,Washington,EEUU,Tech.Rep.IDB-TN-264,Apr. 2011.
C. Colldahl, S. Frey, and J. E. Kelemen, "Smart cities: Strategic sustainable development for an urban world," M.S. thesis, School of Engineering Blekinge Institute of Technology, Karlskrona, Sweden, 2013.
J. Mortensen, F. J. Rohde, K. R. Kristiansen, M. Kanstrup-Clausen, and M. Lubanski, Danish Smart Cities: Sustainable Living in an Urban World . Copenhagen, Denmark: Copenhagen Cleantech Cluster, 2012.
O. Salcedo, L. F. Pedraza, and C. A. Hernandez, "Intelligent semaphore model for the city of bogotá," Engineering , vol. 11, no. 2, pp. 61–69, 2006.
R.G.Hollands,"Willtherealsmartcitypleasestandup? intelligent, progressive or entrepreneurial?" City , vol. 12, no. 3, pp. 303–320, Dec 2008.
M. T. Andersen and S. Bhandari, "Assessment and normative guidance of the collective mindset maturity regarding open data in smart cities," M.S. thesis, Aalborg University, Copenhagen, Denmark, 2015.
R. P. Dameri and C. Rosenthal, Smart City How to Create Public and Economic Value with High Technology in Urban Space ,1sted. Springer International Publishing, 2014.
T.NamandT.A.Pardo,"Conceptualizingsmartcitywithdimensions of technology, people, and institutions," in 12 th Annual International Conference on Digital Government Research , New York, EE.UU, 2011, pp. 282–291.
D. Toppeta, "The smart city vision: How innovation and ict can build smart, "liveable", sustainable cities," Think! The Innovation Knowledge Foundation, Tech. Rep. 005/2010, Oct. 2010.
R. Giffinger and et al ., "Smart cities - ranking of european medium-sized cities," Centre of Regional Science, Vienna UT, Vienna, Austria, Tech. Rep., Oct. 2007.
D. Satterthwaite, "Cities' contribution to global warming: Notes on the allocation of greenhouse gas emissions," Environment and Urbanization , vol. 20, no. 2, pp. 539–550, Oct 2008.
M. Hernández, S. Ortiz, and C. E. Vasco, "Informe de la mision de sabios, colombia: al filo de la oportunidad," Consejeria presidencial paraeldesarrolloinstitucional,PresidenciadelaRepublica,Bogotá, Colombia, Tech. Rep., 1996.
I. García, G. Palacios, R. Lacuesta, and J. Lloret, "ABSCEV: An agent-based simulation framework about smart transportation for reducing waiting times in charging electric vehicles," Computer Networks , vol. 138, pp. 119–135, Jun 2018.
Ministerio De Ambiente, Vivienda y Desarrollo Territorial. (2006, Apr. 07) Resolución 0627. [Online]. Available: https://bit.ly/2F9nrCY
C. Asensio, "Acoustics in smart cities," Appl. Acoust. , vol. 117, no. Part B, pp. 191–262, Feb 2017.
P. Bellucci, L. Peruzzi, and G. Zambon,"LIFE DYNAMAP project: The case study of rome," Appl. Acoust. , vol. 117, no. Part B, pp. 193–206, Feb 2017.
A. Agha, R. Ranjan, and W. S. Gan, "Noisy vehicle surveillance camera: A system to deter noisy vehicle in smart city," Appl. Acoust. , vol. 117, no. Part B, pp. 236–245, Feb 2017.
Normas de la Empresa de Acueductos y alcantarillado de Bogotá (E.A.A.B) , NORMA NS-047 Versión 4,1 (Sumideros), Empresa de Acueducto y Alcantarillados de Bogotá, Bogotá, Colombia, 2007.
(2009) Movilidad en bicicleta en bogotá. Camara de comercio de Bogotá. Accessed Aug. 01, 2015. [Online]. Available: https://bit.ly/2f4ij2y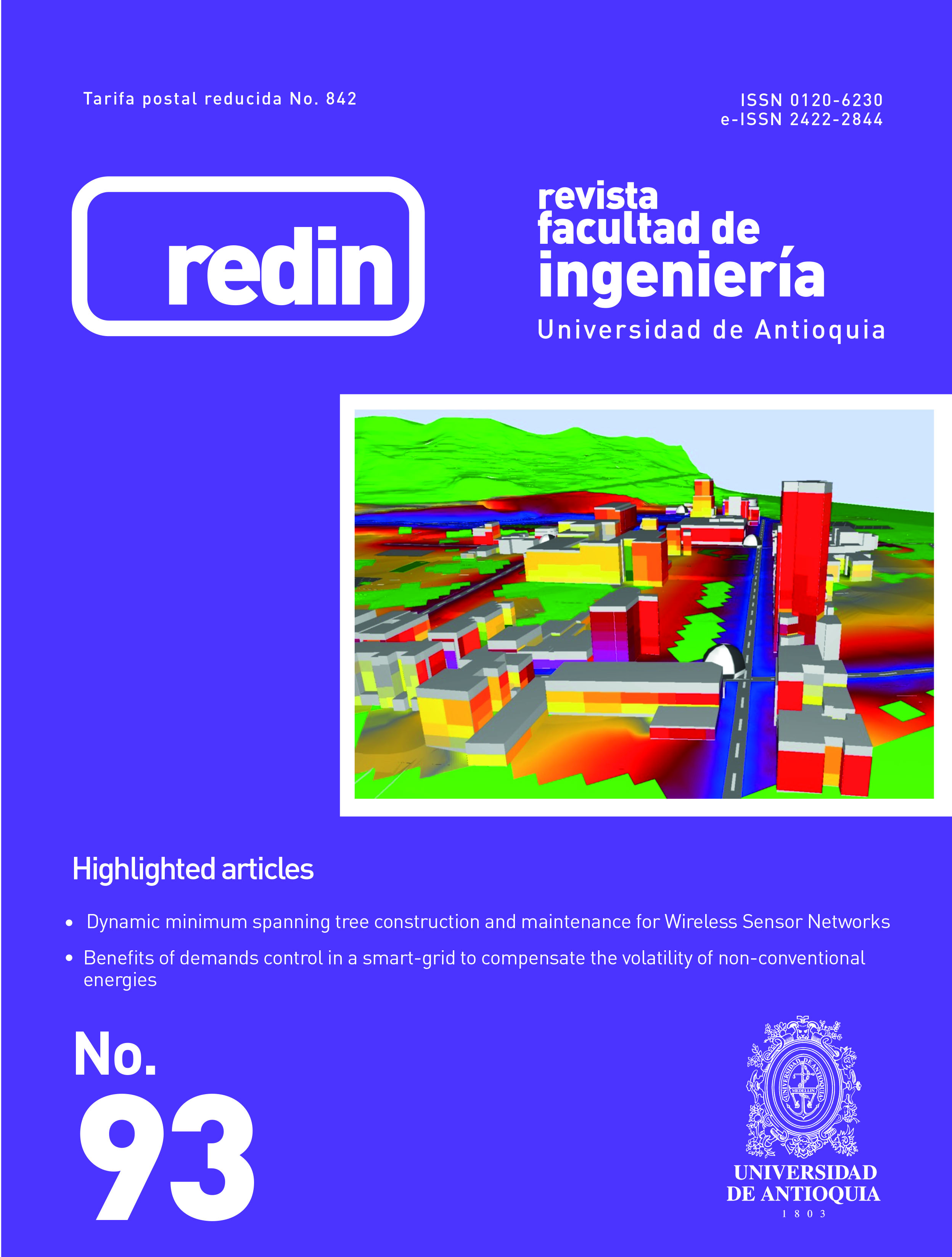 How to Cite
Ochoa-Guevara N. E., O. Díaz C., Dávila-Sguerra M., Herrera-Martínez M., Acosta-Agudelo O., Ríos-Suárez J. A., Munar-Rodríguez A. P., Álzate-Acuña G. A., & López-García A. C. (2019). Towards the design and implementation of a Smart City in Bogotá, Colombia. Revista Facultad De Ingeniería Universidad De Antioquia, (93), 41-56. https://doi.org/10.17533/udea.redin.20190407
Copyright (c) 2019 Revista Facultad de Ingeniería Universidad de Antioquia
This work is licensed under a Creative Commons Attribution-NonCommercial-ShareAlike 4.0 International License.
Authors can archive the pre-print version (i.e., the version prior to peer review) and post-print version (that is, the final version after peer review and layout process) on their personal website, institutional repository and / or thematic repository

Upon acceptance of an article, it will be published online through the page https://revistas.udea.edu.co/index.php/ingenieria/issue/archive in PDF version with its correspondent DOI identifier
The Revista Facultad de Ingeniería -redin- encourages the Political Constitution of Colombia, chapter IV
Chapter IV Sanctions 51
The following shall be liable to imprisonment for two to five years and a fine of five to 20 times the legal minimum monthly wage: (1) any person who publishes an unpublished literary or artistic work, or part thereof, by any means, without the express prior authorization of the owner of rights; (2) any person who enters in the National Register of Copyright a literary, scientific or artistic work in the name of a person other than the true author, or with its title altered or deleted, or with its text altered, deformed, amended or distorted, or with a false mention of the name of the publisher or phonogram, film, videogram or software producer; (3) any person who in any way or by any means reproduces, disposes of, condenses, mutilates or otherwise transforms a literary, scientific or artistic work without the express prior authorization of the owners thereof; (4) any person who reproduces phonograms, videograms, software or cinematographic works without the express prior authorization of the owner, or transports, stores, stocks, distributes, imports, sells, offers for sale, acquires for sale or distribution or in any way deals in such reproductions. Paragraph. If either the material embodiment or title page of or the introduction to the literary work, phonogram, videogram, software or cinematographic work uses the name, business style, logotype or distinctive mark of the lawful owner of rights, the foregoing sanctions shall be increased by up to half.