Mechanical, thermo dynamical and environmental comparison of engines using natural gas and gasoline
John Ramiro Agudelo Santamaría

Universidad de Antioquia

Iván Darío Bedoya Caro

Universidad de Antioquia

https://orcid.org/0000-0001-6909-9131

Ricardo Moreno Sánchez

Universidad de Antioquia
Keywords:
natural gas, petrol, combustion, fuel consumption, emissions
Abstract
This paper shows experimental results of a Toyota Hilux 2400 swept volume, compression ratio 9:1 engine, operating with La Guajira natural gas and petrol. Also shows a thermodynamic study of those fuels in a normalized, variable compression ratio ASTM-CFR monocylinder engine. When using natural gas, Hilux engine increases its fuel consumption around 20% for the same power. Volumetric efficiency increases 10% and CO emissions decrease around 40%. When comparing thermodynamic parameters in CFR engine operating at a compression ratio of 9:1, it was found a 12,5% decrease in indicated power and 17% in maximum combustion pressure, which is proportional to temperature diminish of around 20%. Convective heat transfer coefficient decreases around 28% respect to petrol. First laminar combustion phase is duplicated when using the same spark advance as petrol, nevertheless this is maintained almost constant when spark is advance 15º over petrol spark advance.
|Abstract = 16 veces | PDF (ESPAÑOL (ESPAÑA)) = 13 veces|
Downloads
Download data is not yet available.
References
Agudelo, John R. et al. "Influencia de la configuración del kit de conversión en el desempeño mecánico-ambiental de un motor de encendido provocado bicombustible". Revista Facultad de Ingeniería, Nº. 31. Universidad de Antioquia. 2004.
Castaño, Diego y G. Patiño. "Estudio de los factores que inciden en el desempeño de motores de encendido provocado (mep) convertidos a gas natural". Monografía Universidad de Antioquia. 2003.
Acevedo, Carlos. "Estudio sobre la influencia de la composición química de los principales gases naturales colombianos sobre el rendimiento de la conversión y el desempeño mecánico de los motores a gas en Colombia". Monografía Universidad de Antioquia. 2003.
Prueba piloto de Gas Natural Vehicular —GNV— UPME. Contrato Nº. 173. Bogotá, Dic,. 1998.
Agudelo, John R. et al. "Influencia de la tecnología de conversión sobre el comportamiento de motores de gasolina convertidos a gas natural". En Revista Ingeniería y Desarrollo. Nº. 11. Universidad del Norte. Barranquilla, Colombia. Enero-julio 2002, pp. 28-41.
Evans, R. L. y Blaszcczzyk, J. "A comparative study of the perfomance and exhaust emissions of a spark ignition engine fuelled by natural gas and gasoline". Journal of Power and Energy, Instn Mech Engrs, Vol. 211 Part D, 1997, pp. 39-47.
Montgomery, Douglas. Diseño y análisis de experimentos. Grupo Editorial Iberoamérica. México. 1991. pp. 589.
Agudelo, J. R. et al. "Aplicación de herramientas informáticas al diagnóstico de la combustión en motores". En Revista Facultad de Ingeniería. Nº. 22. Universidad de Antioquia. Colombia. Junio de 2001. pp. 106-115.
Heywood, John B., Internal combustion engine fundamentals, McGraw-Hill, Nueva York. 1988.
Muñoz T., Manuel y Francisco Payri. Motores de combustión interna alternativos. Sección de publicaciones de la ETSII de la Universidad Politécnica de Madrid. 1985.
Yoseffi D, et al. "A comparison of the relative effects of fuel composition and ignition energy on the early stages of combustion in a natural gas spark ignition engine using simulation., Proc. Inst. Mech. Engrs., Part D, Journal of Automobile Engineering (2000), 214 (D), pp. 383-393.
Jones, A. L y R. L Evans. "Comparison of burning rates in a natural-gas-fueled spark ignition engine". Transaction of the ASME, Journal of engineering for gas turbine and power. Vol. 107. Octubre de 1985. pp. 908-913.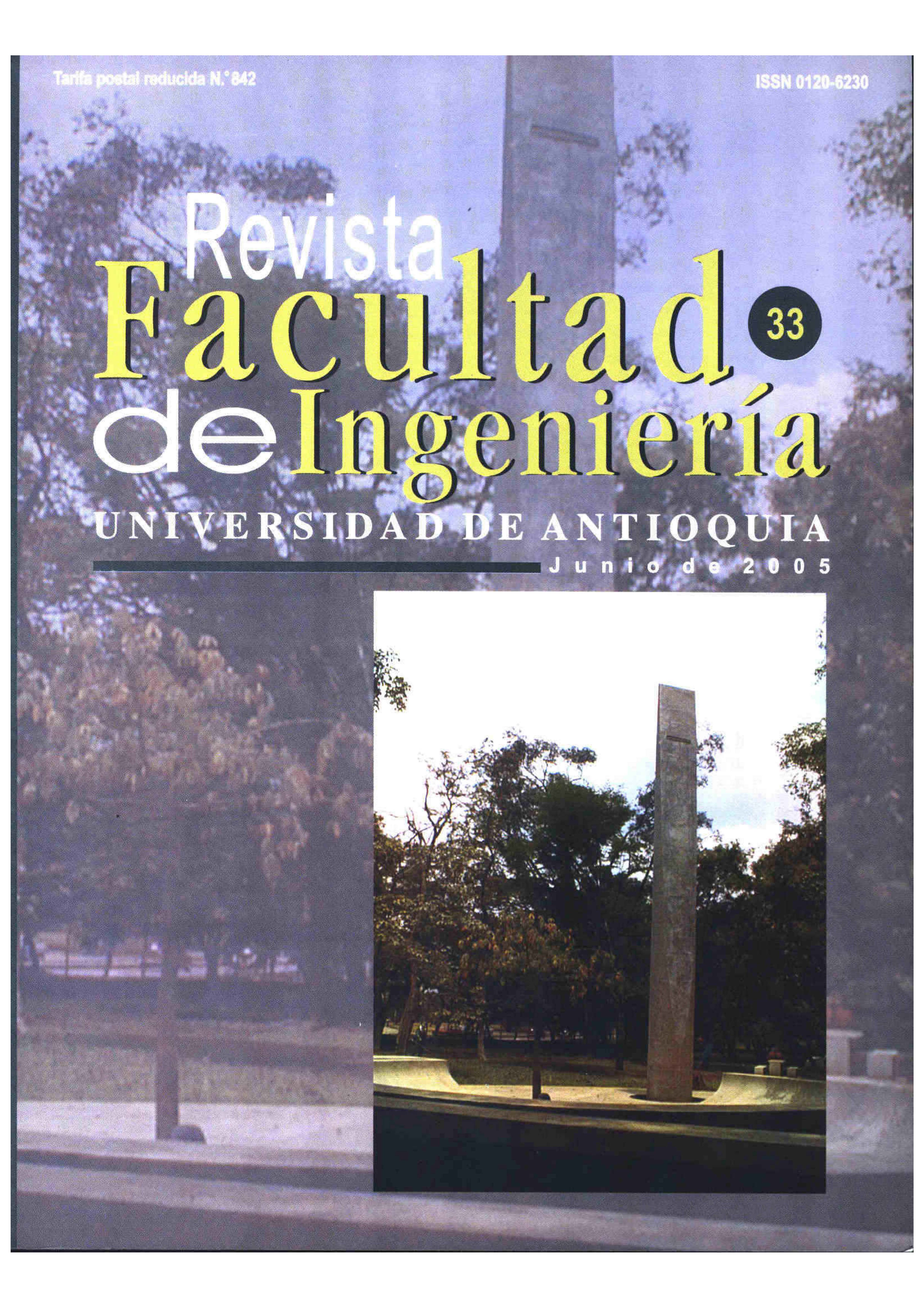 How to Cite
Agudelo Santamaría J. R., Bedoya Caro I. D., & Moreno Sánchez R. (2005). Mechanical, thermo dynamical and environmental comparison of engines using natural gas and gasoline. Revista Facultad De Ingeniería Universidad De Antioquia, (33), 29-41. Retrieved from https://revistas.udea.edu.co/index.php/ingenieria/article/view/344302
Copyright (c) 2005 Revista Facultad de Ingeniería Universidad de Antioquia
This work is licensed under a Creative Commons Attribution-NonCommercial-ShareAlike 4.0 International License.
Authors can archive the pre-print version (i.e., the version prior to peer review) and post-print version (that is, the final version after peer review and layout process) on their personal website, institutional repository and / or thematic repository

Upon acceptance of an article, it will be published online through the page https://revistas.udea.edu.co/index.php/ingenieria/issue/archive in PDF version with its correspondent DOI identifier
The Revista Facultad de Ingeniería -redin- encourages the Political Constitution of Colombia, chapter IV
Chapter IV Sanctions 51
The following shall be liable to imprisonment for two to five years and a fine of five to 20 times the legal minimum monthly wage: (1) any person who publishes an unpublished literary or artistic work, or part thereof, by any means, without the express prior authorization of the owner of rights; (2) any person who enters in the National Register of Copyright a literary, scientific or artistic work in the name of a person other than the true author, or with its title altered or deleted, or with its text altered, deformed, amended or distorted, or with a false mention of the name of the publisher or phonogram, film, videogram or software producer; (3) any person who in any way or by any means reproduces, disposes of, condenses, mutilates or otherwise transforms a literary, scientific or artistic work without the express prior authorization of the owners thereof; (4) any person who reproduces phonograms, videograms, software or cinematographic works without the express prior authorization of the owner, or transports, stores, stocks, distributes, imports, sells, offers for sale, acquires for sale or distribution or in any way deals in such reproductions. Paragraph. If either the material embodiment or title page of or the introduction to the literary work, phonogram, videogram, software or cinematographic work uses the name, business style, logotype or distinctive mark of the lawful owner of rights, the foregoing sanctions shall be increased by up to half.