Determination of the gaseous emission of toxic substances in the "Curva de Rodas" sanitary landfill in Medellín
Francisco Fernando García Rentería

Universidad del Magdalena

Rubén Alberto Agudelo García

Universidad de Antioquia
Keywords:
landfill gas, NMOC, VOC, sanitary landfill, emision, simulates
Abstract
Results of the investigation conducted at the sanitary landfill Curva de Rodas, aimed to determine the emission and migration of toxic substances are presented. Traces of bencene, toluene, hexane, vinyl chloride and xilene were found. Concentrations of these substances were, however, below threshold limits at the landfill and below detectable limits in the air of populated areas adjacent to the sanitary landfill.
|Abstract = 23 veces | PDF (ESPAÑOL (ESPAÑA)) = 22 veces|
Downloads
Download data is not yet available.
References
Jeuaseelan, S. "A simple Mathematical model for anaerobic digestion process". Wat. Sci. Tech. Vol. 35. N.º 8. 1997.pp. 185-191.
Cicerone, R. J. et al. "Seasonal variation of methane flux from a Califronian rice paddy". J. Geophys. Res. N.º 88. 1983.pp. 11022-11024.
Eliassen, R. "Decomposition of Landfills". American Journal of Public Health, Vol. 32. N.º 3. 1942.
Craner, J. "Toxic gases emitted from landfills". Rachel's hazardous waste news. No . 226. 1991.
Agudelo R. y F. García. "Producción de biogás en rellenos sanitarios de residuos sólidos urbanos". Cuaderno Ambiental. N.º 1. 2000. pp. 64-73.
EPA. "Regulatory package for new source performance standards and III(d) Guidelines for municipal solid waste air emissions". Public docket No. A-88-09 (proposed May 1991). Research triangle park, NC. U.S. Environmental protection agency. 1991.
Bingermer, H. G. et al. "The production of methane from solid wastes". J. Geophys. Rs. N.º 92. 1987. pp. 2181-2187.
EPA. Compilation of air pollutant emission factors. AP-42, 5th ed., Supplement C. office of air quality planning and standards. Research triangle park, NC. U.S. Environmental protection agency. 1997.
Landg, R. J. T. A. Herrera, D. P. Chang, y G. Tchobanoglous, Trace organic constituents in landfill gas, preparado para California wasted management boar. Departament of civil engineering, University of California - Davis, Davis, CA. Noviembre de 1987.
Roy Albert, et al. Review and evaluation of the monument street (baltimore) landfill [pu/cees report #154]. (Princeton, NJ: Center for energy and environmental studies, school of engineering/applied science, Princeton University, 1983.
CRANER, J. A. Monitoring air emissions of volatile organic pollutants from landfills: A technical and policy analysis and the design, construction, and operation of a landfill air sampling system. (Princeton, NJ: Chemistry Department, Princeton University. 1984.
California Air Resources Board. "Evaluation Test on a Landfill Gas-Fired Flare at the BKK Landfill Facility". West Covina, CA, ARB-SS-87-09, July 1986.
Bruce Kunkel. "Manual del Usuario Air Force Toxic" Chemical Dispersion Model (AFTOX). 1993.
Barlaz, M A. "Mass-balance analysis of anaerobically decomposd refuse". J. Envir. Enger. Asce, Vol. 115. N.º 6. 1989. pp. 1088-1102.
"Criteria for municipal solid waste landfills". 40 CFR Part 258, Vol. 56. N.º 196, October 9, 1991.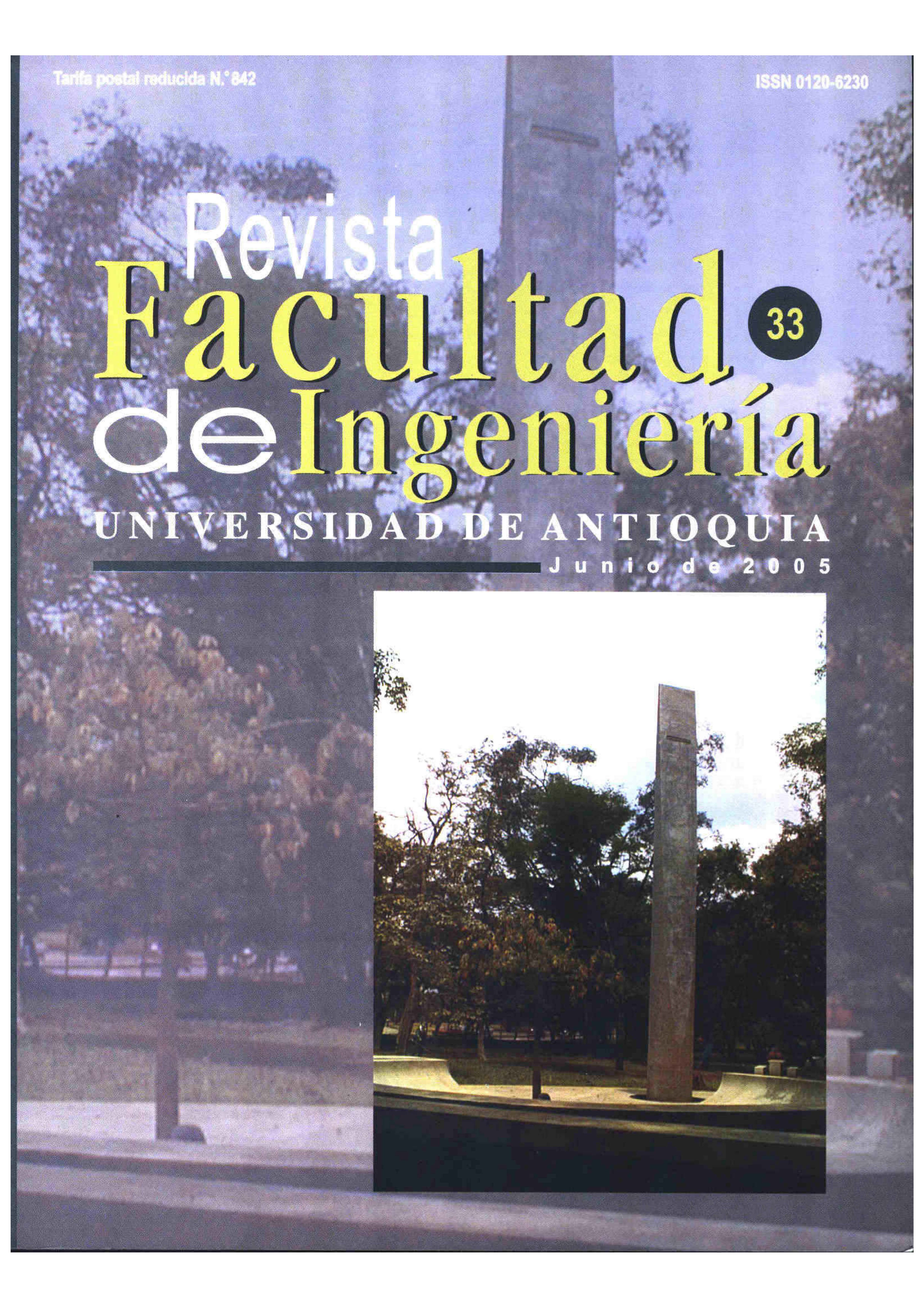 How to Cite
García Rentería F. F., & Agudelo García R. A. (2005). Determination of the gaseous emission of toxic substances in the "Curva de Rodas" sanitary landfill in Medellín. Revista Facultad De Ingeniería Universidad De Antioquia, (33), 70-83. Retrieved from https://revistas.udea.edu.co/index.php/ingenieria/article/view/344307
Copyright (c) 2005 Revista Facultad de Ingeniería Universidad de Antioquia
This work is licensed under a Creative Commons Attribution-NonCommercial-ShareAlike 4.0 International License.
Authors can archive the pre-print version (i.e., the version prior to peer review) and post-print version (that is, the final version after peer review and layout process) on their personal website, institutional repository and / or thematic repository

Upon acceptance of an article, it will be published online through the page https://revistas.udea.edu.co/index.php/ingenieria/issue/archive in PDF version with its correspondent DOI identifier
The Revista Facultad de Ingeniería -redin- encourages the Political Constitution of Colombia, chapter IV
Chapter IV Sanctions 51
The following shall be liable to imprisonment for two to five years and a fine of five to 20 times the legal minimum monthly wage: (1) any person who publishes an unpublished literary or artistic work, or part thereof, by any means, without the express prior authorization of the owner of rights; (2) any person who enters in the National Register of Copyright a literary, scientific or artistic work in the name of a person other than the true author, or with its title altered or deleted, or with its text altered, deformed, amended or distorted, or with a false mention of the name of the publisher or phonogram, film, videogram or software producer; (3) any person who in any way or by any means reproduces, disposes of, condenses, mutilates or otherwise transforms a literary, scientific or artistic work without the express prior authorization of the owners thereof; (4) any person who reproduces phonograms, videograms, software or cinematographic works without the express prior authorization of the owner, or transports, stores, stocks, distributes, imports, sells, offers for sale, acquires for sale or distribution or in any way deals in such reproductions. Paragraph. If either the material embodiment or title page of or the introduction to the literary work, phonogram, videogram, software or cinematographic work uses the name, business style, logotype or distinctive mark of the lawful owner of rights, the foregoing sanctions shall be increased by up to half.