Osmoregulation of juvenile marine goliath grouper (Epinephelus itajara) in low-salinity water
Abstract
Summary
Background: goliath grouper (Epinephelus itajara) is an economically valuable marine species and an excellent candidate for domestication for aquaculture purposes. If this grouper can osmoregulate in lowsalinity water, its cultivation can provide socio-economic benefits, for both coastal communities and the mainland agricultural sector. Objective: to evaluate the osmoregulatory capacity of juvenile goliath grouper when exposed to low-salinity water. Methods: juvenile goliath grouper (Epinephelus itajara) were either directly or gradually transferred from seawater to freshwater to test osmoregulatory ability. Body weight was assessed during acclimation and blood samples were taken to measure total osmolality and electrolytes. Results: all fish survived the transfer to freshwater and were maintained for up to 12 days after termination of the acclimation trials which lasted 72 hours. Juvenile goliath grouper were hyposmotic (342-462 mosmol/kg) to seawater and hyperosmotic (272-292 mosmol/kg) to freshwater. The gills and kidneys were found to have principal roles in the osmoregulatory processes. Numerous chloride cells were found on superficial regions of the gill filament epithelium, most likely serving to eliminate the excess of electrolytes while in seawater. The kidneys had numerous nephrons to make urine and retain electrolytes while in freshwater. Conclusions: these observations lead to the conclusions that juvenile goliath grouper have the ability to osmoregulate in freshwater and should be considered a marine euryhaline species. Such adaptability opens for consideration the possibility that goliath grouper could be successfully farmed in brackish water or even in freshwater.
Key words: chloride cells, conservation aquaculture, euryhaline, nephrons, salinity tolerance.
Resumen
Antecedentes: el mero guasa Epinephelus itajara es una especie marina de gran valor comercial y un excelente candidato a domesticar con fines acuícolas. Si el mero guasa puede osmoregular en agua de baja salinidad, su cultivo puede proporcionar beneficios socio económicos, tanto para las comunidades costeras, como al sector agropecuario en tierra firme. Objetivo: evaluar el efecto en la osmoregulación de juveniles de mero guasa expuestos a aguas de baja salinidad. Métodos: juveniles de mero guasa mantenidos en agua de mar fueron transferidos directamente o de manera gradual a agua dulce para poner a prueba su capacidad osmorreguladora. Durante el proceso de aclimatación se les evaluó el peso corporal y se extrajo sangre para medir la osmolalidad total y electrolitos. Resultados: todos los peces sobrevivieron la transferencia al agua dulce y durante 12 días más, después de la finalización de los ensayos de aclimatación que tuvieron una duración de 72 horas. Juveniles de mero guasa fueron hiposmóticos (342-462 mosmol/kg) respecto al agua de mar e hiperosmóticos (272-292 mosmol/kg) respecto al agua dulce. La histología de branquias y riñones reveló que estos órganos son de gran importancia en los procesos osmorregulatorios. Un gran número de células de cloruro fueron localizadas como parte del epitelio de los filamentos branquiales; estas células trabajan para librar al cuerpo del exceso de electrolitos mientras los peces se encuentran en el mar. En el riñón se observaron numerosas nefronas y túbulos colectores para la formación de orina y retención de electrolitos; tejidos esenciales si estos peces permanecen en agua dulce. Conclusión: estas observaciones llevan a la conclusión de que los juveniles de mero guasa tienen la capacidad de osmorregular en agua dulce y debe ser considerada una especie marina eurihalina. Tal adaptabilidad supone la posibilidad de que el mero guasa podría ser cultivado en agua salobre o incluso en agua dulce. 
Palabras clave: acuicultura de conservación, células de cloruro, eurihalino, nefronas, tolerancia a la salinidad.
Resumo 
Antecedentes: o peixe garoupa Epinephelus itajara é uma espécie marinha de muito valor comercial a qual seria ótimo ter domesticada para sua produção industrial na aquicultura. Se o peixe garoupa pode osmoregular em água de baixa salinidade, sua cultura pode proporcionar benefícios socioeconômicos, tanto para as comunidades costeiras, quanto para o sector agrícola no interior do continente. Objetivo: avaliar a osmoregulação de juvenis do peixe garoupa expostos a águas de baixa salinidade. Métodos: juvenis do peixe Garoupa mantidos no mar foram transferidos direta ou gradualmente para água doce testando assim sua capacidade osmorregulatória. Durante o processo de aclimatização, foi avaliado o peso corporal e amostras de sangue foram coletadas para medir a osmolalidade total e alguns eletrólitos. Resultados: todos os peixes sobreviveram à transferência para água doce 12 dias mais após a conclusão dos estudos de aclimatação que se fizeram durante um período de 72 horas. Juvenis do peixe garupa foram hiposmoticos (342-462 mosmol/kg) com respeito à água marinha e hiperosmóticos (272-292 mosmol/kg) com respeito à água doce. Histologia das brânquias e os rins revelaram que estes órgãos são de grande importância nos processos de osmoregulaçao. Um grande número de células de cloreto foi localizado como parte do epitélio dos filamentos branquiais; estas células trabalham no organismo para livrar o corpo do excesso de eletrólitos enquanto os peixes estão no mar. Nos rins foram observados numerosos néfrons e ductos recoletores para a formação de urina e retenção de eletrólitos; tecidos essenciais no caso de que estes peixes permaneçam em água doce. Conclusão: estas observações levam à conclusão de que os juvenis do peixe garupa tem a capacidade de osmoregular em água doce e deve ser considerado uma espécie marinha eurialina. A adaptabilidade deste peixe em água doce supõe a possibilidade de que o peixe garupa poderia ser cultivado nesta água em criadouros no interior do continente. 
Palavras chave: aqüicultura de conservação, células de cloreto, eurialina, néfrons, tolerância à salinidade.
|Abstract = 46 veces | PDF = 18 veces| | HTML = 24 veces|
Downloads
Download data is not yet available.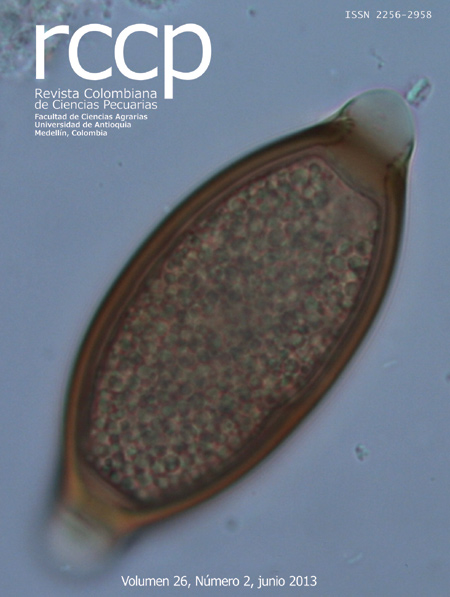 How to Cite
García, L. N., Sierra, C. L., Perez, J., Esquivel, F., & Chapman, F. A. (2013). Osmoregulation of juvenile marine goliath grouper (Epinephelus itajara) in low-salinity water. Revista Colombiana De Ciencias Pecuarias, 26(2), 127–135. https://doi.org/10.17533/udea.rccp.324822
Section
Original research articles
License
The authors enable RCCP to reprint the material published in it.
The journal allows the author(s) to hold the copyright without restrictions, and will allow the author(s) to retain publishing rights without restrictions.