Distribution and prevalence of transmissible venereal tumor in the Colombian canine population
Antony Arcila-Villa

AnSc, MSc, Universidad de Antioquia - Medellín, Colombia

Carmen Dussán-Lubert

Francisco Pedraza-Ordoñez
Abstract
Abstract
Background: Canine transmissible venereal tumor (CTVT) is perhaps the oldest known canine neoplasia. It is spread by cell allogeneic transplantation among susceptible animals. It is globally distributed, mainly in urban areas with high populations of stray dogs. Objective: To estimate the current distribution and prevalence of CTVT in Colombia. Methods: After analyzing the literature, we obtained epidemiological information on CTVT from 152 veterinarians in five Colombian regions via an electronic form (using Google Forms). This analysis confirmed that CTVT is endemic in the inhabited regions of Colombia and is highly prevalent in the Andean region, the most populated region in the country. Results: For the reported cases of CTVT, no significant differences were found in terms of animal gender, reproductive status, or origin. An association was found between the number of CTVT cases and concomitant infectious diseases. Results also showed that vincristine is the most effective therapy for CTVT and resistance is not a serious problem in Colombia. Conclusion: Our results confirm that CTVT is endemic in the country, coinciding with global analysis of the factors that enable the continued existence of the disease, and implies that stray dogs are the reservoir. Accordingly, we recommend that canine control policies be introduced in Colombia.
Keywords: Chemotherapy resistance, epidemiology, survey, transmissible cancer, tumoral biology.
Resumen
Antecedentes: el tumor venéreo transmisible canino (TVTC) es quizá la neoplasia más antigua del canino. Se transmite por un transplante alogénico entre los animales susceptibles. Su distribución es mundial, principalmente en áreas urbanas con alta población de perros callejeros. Objetivo: estimar la actual distribución y prevalencia de TVTC en Colombia. Métodos: en este estudio, además de revisar la literatura, se obtuvo información epidemiológica del TVTC de 152 veterinarios en cinco regiones de Colombia, mediante formulario electrónico (usando Google Forms). Resultados: este análisis confirma que TVTC es endémico en las regiones habitadas de Colombia y es altamente prevalente en la región Andina, la región más poblada del país. Para los casos reportados, no se encontraron diferencias significativas respecto al género de los animales afectados, su estado reproductivo o su origen. Se encontró una asociación entre los casos de TVTC y las enfermedades infecciosas concomitantes. Los resultados muestran que la vincristina es la terapia más efectiva contra el TVTC y el fenómeno de resistencia no es un problema serio en Colombia. Conclusión: los resultados confirman que el TVTC es endémico en el país lo cual coincide con el análisis global de los factores que permiten que la enfermedad continúe existiendo, e implica que los perros callejeros son el reservorio de la enfermedad. En consecuencia, se recomienda que se implementen políticas de control de caninos callejeros en Colombia.
Palabras clave: biología tumoral, cáncer transmisible, encuesta, epidemiología, resistencia a la quimioterapia.
Resumo
Antecedentes: o tumor venéreo transmissível canino (TVTC) é talvez a neoplasia mais antiga dos caninos. É transmitido por um transplante alogênico entre animais susceptíveis. Sua distribuição é mundial, principalmente em áreas urbanas com altas populações de cães de rua. Objetivo: estimar a atual distribuição e prevalencia de CTVT colombiano. Métodos: neste estudo, além de uma revisão da literatura, informação epidemiológica de TVTC foi obtido de 152 veterinários em cinco regiões da Colômbia, por meio de um formulário eletrônico (usando o Google Forms). Resultados: esta análise confirma que TVTC é endêmica nas regiões habitadas da Colômbia é altamente prevalente na região andina, a região mais populosa. Para os casos relatados, não houve diferenças significativas em relação ao sexo dos animais afetados, o seu estado reprodutivo nem do sua origem. Uma associação entre os casos de TVTC e doenças infecciosas concomitantes foi encontrada. Os resultados amostram que a vincristina é terapia mais eficaz contra o TVTC e o fenómeno de resistência não é um problema grave na Colômbia. Conclusão: os resultados confirmam que a TVTC é endémico no país, o qual coincide com a análise global dos fatores que permitem que a doença continue existindo e implica que os cães de rua são o reservatório da doença. Consequentemente, recomenda-se que políticas de controle sejam implementadas para cães de rua na Colômbia.
Palavras-chave:
biologia tumoral, câncer transmissível, epidemiologia, pesquisa, resistência à quimioterapia.
|Abstract = 454 veces | PDF = 913 veces|
Downloads
Download data is not yet available.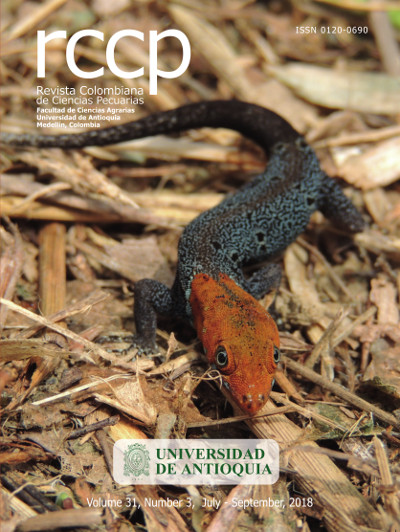 Section
Original research articles
The authors enable RCCP to reprint the material published in it.
The journal allows the author(s) to hold the copyright without restrictions, and will allow the author(s) to retain publishing rights without restrictions.