Agricultura de precisión: una contribución a la gestión de los agronegocios desde la modelación
Mario Cerón-Muñoz

Universidad de Antioquia

Dursun Barrios
Abstract
Nueva agricultura, ¿nuevas tecnologías? La incursión de nuevas tecnologías está cambiando constantemente la industria agropecuaria en el mundo. De hecho, muchas de las tecnologías usadas en los sistemas de producción son variaciones de: 1) "tecnologías duras" usadas en otros sectores como la automovilística, la robótica, la electrónica y de empresas dedicadas a la automatización y al sensoramiento remoto y 2) "tecnologías blandas" de las ciencias sociales y políticas, del benchmarking y del empresarismo. Si se logra la articulación de estas tecnologías sería posible el crecimiento del sector agropecuario, buscando la sostenibilidad económica, ambiental, productiva y social. Por lo tanto, en los sistemas de producción y de su entorno cobran fuerza los conceptos de agricultura de precisión, de antropología rural y la gestión empresarial. El objetivo de esta conferencia es mostrar una mirada a las ciencias agrarias frente a los desafíos del siglo XXI, desde la visión del análisis estructural de la agricultura de precisión mediante el uso de tecnologías duras y blandas, sin desconocer el papel que juega el "ser" y el "recurso natural".
Downloads
Download data is not yet available.
References
Adrian AM, Shannon HN, Mask PL. Procedures perceptions and attitudes toward precision agriculture technologies. Comput Electron Agr 2005; 48:256-271. https://doi.org/10.1016/j.compag.2005.04.004
Barragán J, Castillo J, Villalpando P Guerra P. Estrategias de retención de empleados efcientes: Importancia estratégica de la fidelización de los empleados en organizaciones internacionales. InnOvaciOnes de NegOciOs 2009; 6:33–43
Barrios D, Restrepo-Escobar FJ, Cerón-Muñoz MF. Adopción tecnológica en agronegocios lecheros. Livestock Res Rural Dev 2019; 31: Article #116. http://www.lrrd.org/lrrd31/8/cero31116.html
Barrios D, Restrepo-Escobar FJ, Cerón-Muñoz MF.nAntecedentes sobre gestión tecnológica como estrategia de competitividad en el sector lechero colombiano. Livestock Res Rural Dev 2016; 28: Article #125. http://www.lrrd.org/lrrd28/7/barr28125.html
Fan Y, Chen J, Shirkey G, John R, Wu SR, Hogeun P, Shao Ch. Applications of structural equation modeling (SEM) in ecological studies: an updated review. Ecol Process 2016; 5:19. https://doi.org/10.1186/s13717-016-0063-3
Ferrández-Pastor FJ, García-Chamizo JM, Nieto-Hidalgo M, Mora-Martínez J. Precision agriculture design method using a distributed computing architecture on internet of things context. Sensors 2018; 18: 1731. https://doi.org/10.3390/s18061731
Gaitán JJ, Bran D, Oliva G, Maestre FT, Aguiar MR, Jobbágy E, Buono G, Ferrante D, Nakamatsu V, Ciari G, Salomone J, Massara V. La riqueza de especies vegetales y la cobertura de arbustos atenúan los efectos de la sequía en el funcionamiento del ecosistema en los pastizales patagónicos. Biol Letón 2014;https://doi.org/10.1098/rsbl.2014.0673
Jones JW, Antle JM, Basso B, Boote KJ, Conant RT, Foster I, Godfray HCJ, Herrero M, Howitt RT, Janssen S, KeatingBA, Muñoz-Carpena R, Porter CH, Rosenzweig C, Wheeler TR. Toward new generation of agricultural system data, models, and knowledge products: State of agricultural system sicence. Agr Syst 2017; 155:269-288
Lindblom J, Lundström, C, Ljung M, Jonsson A. Promoting sustainable intensifcation in precision agriculture: review of decision support systems development and strategies. Precision Agric 2017; 18: 309. https://link.springer.com/article/10.1007/s11119-016-9491-4
Quevedo HI, Rodríguez LY, Hernández APM, Freire RE, La aplicación de la Agricultura de Precisión: su impacto social. Revista Ciencias Técnicas Agropecuarias 2006; 15: 42-44. http://www.redalyc.org/articulo.oa?id=93215309
Robledo P. No es sufciente con una gestión de procesos. albaTIAN innovation consulting. Blog 2017; Access date:20-07-2019] URL: https://albatian.com/es/blog/no-es-sufcientecon-una-gestion-de-procesos/
Rodríguez HH, Ramírez CJ, Restrepo LF. Factores que influencian la adopción de tecnología de gestión en producción lechera. Temas Agrarios 2015; 20:36-46. http://revistas.unicordoba.edu.co/index.php/temasagrarios/article/view/746/1048
Schulze C, Spilke J, Lehner W. Data modeling for precision dairy farming within the competitive feld of operational and analytical tasks. Comput Electron Agr 2007; 59:39-55. https://doi.org/10.1016/j.compag.2007.05.001
Swamidass P, Anand N. What top management thinks about the benefts of hard and soft manufacturing technologies. IEEE T Eng Manage 2004; 51:462 - 471. DOI: 10.1109 /TEM.2004.835090
Taramuel J, Barrios D, Cerón-Muñoz M. Adopción tecnológica en sistemas de producción de leche del resguardo indígena de Cumbal en el departamento de Nariño, Colombia. Livestock Res Rural Dev 2019. 31: Article #59. http://www.lrrd.org/lrrd31/4/ceron31059.html
Vásquez-Jaramillo C, Barrios, D, Cerón-Muñoz MF. Estudio exploratorio de la calidad de vida en el trabajo de ordeñadores de sistemas de producción de leche. Arch Zootec 2018; 67: 228-233. 2018. https://www.uco.es/ucopress/az/index.php/az/article/view/3658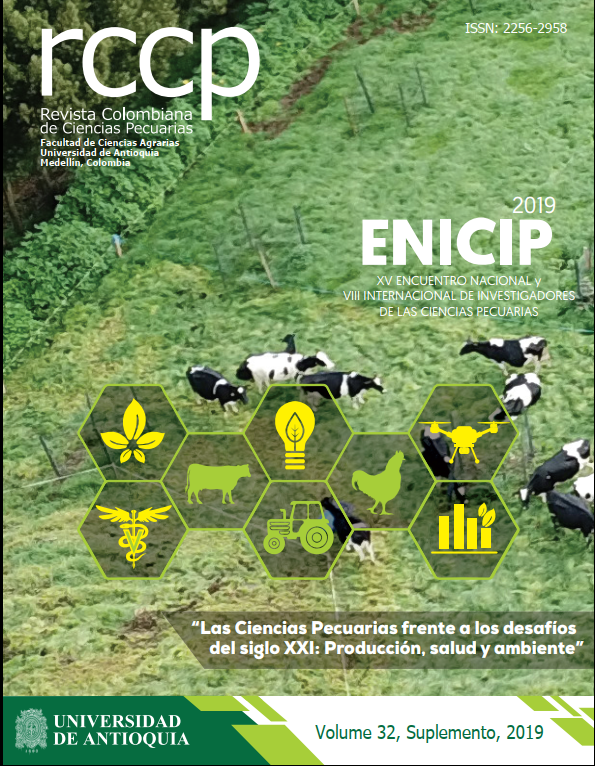 Section
Conferencias magistrales
The authors enable RCCP to reprint the material published in it.
The journal allows the author(s) to hold the copyright without restrictions, and will allow the author(s) to retain publishing rights without restrictions.