Presence of Helicobacter spp. in dental tartar and gastric mucosa, and its relationship with EGUS in horses from a public slaughterhouse
Angélica M Zuluaga-Cabrera

Universidad de Antioquia

Camilo Jaramillo-Morales

Corporación Universitaria Lasallista

José R Martínez-Aranzales

Universidad de Antioquia
Keywords:
Gastritis, horse, mucosa, PCR, post-mortem, stomach, tartar, ulcer
|Abstract = 78 veces | PDF = 70 veces|
Downloads
Download data is not yet available.
References
Barbosa A, Silva JC, Nogueira AM, Paulino-Júnior E, Miranda CR. Higher incidence of Gastrospirillum sp. in swine with gastric ulcer of the pars oesophagea. Vet Pathol 1995; 32(2):134-139. DOI: https://doi.org/10.1177/030098589503200206
Bezdekova B, Futas J. Helicobacter species and gastric ulceration in horses: a clinical study. Vet Med-Czech. 2009; 54(12):577-582. DOI: https://doi.org/10.17221/161/2009-VETMED
Cardona J, Paredes E, Fernández H. Characterization histopathological of gastritis associated to Helicobacter spp. presence in stomaches of horses. Rev MVZ Córdoba 2009; 14(2):1750-1755. [access December 15th, 2020] URL: http://www.scielo.org.co/pdf/mvz/v14n2/v14n2a12.pdf
Churro C, Valério E, Pereira P, Vasconcelos V. Applicability of the real-time PCR assay in the amplification of cyanobacterial DNA from preserved samples. Limnetica 2015; 34(1):173-186. DOI: https://doi.org/10.23818/limn.34.14
Contreras M, Morales A, García‐Amado M, De-Vera M, Bermúdez V, Gueneau P. Detection of Helicobacter-like DNA in the gastric mucosa of thoroughbred horses. Lett Appl Microbiol 2007; 45:553-557. DOI: https://doi.org/10.1111/j.1472-765X.2007.02227.x
Dong H, Ho H, Hwang H, Kim Y, Han J, Lee I, Cho S. Diversity of the gastric microbiota in thoroughbred racehorses having gastric ulcer. Microbiol Biotechnol 2016; 26(4):763-774. DOI: https://doi.org/10.4014/jmb.1507.07054
Figura N, Franceschi F, Santucci A, Bernardini G, Gasbarrini G, Gasbarrini A. Extragastric manifestations of Helicobacter pylori infection. Helicobacter 2010; 15(1):60-68. DOI: https://doi.org/10.1111/j.1523-5378.2010.00778.x
Hepburn RJ. Investigation into the presence of Helicobacter in the equine stomach by urease testing and polymerase chain reaction and further investigation into the application of the 13C-urea blood test to the horse. Virginia Polytechnic Institute, doctoral thesis, 2004. [access December 1st, 2020] URL: https://vtechworks.lib.vt.edu/handle/10919/33587
Hermanns W, Kregel K, Breuer W, Lechner J. Helicobacter-like organisms: histopathological examination of gastric biopsies from dogs and cats. J Comp Pathol 1995; 112(3):307-318. DOI: https://doi.org/10.1016/s0021-9975(05)80083-0
Husted L, Jensen T, Olsen S, Mølbak L. Examination of equine glandular stomach lesions for bacteria, including Helicobacter spp. by fluorescence in situ hybridisation. BMC Microbiol 2010; 10:84. DOI: https://doi.org/10.1186/1471-2180-10-84
Jalava K, On S, Vandamme P, Happonen I, Sukura A, Hänninen M. Isolation and identification of Helicobacter spp. from canine and feline gastric mucosa. Appl Environ Microbiol 1998; 64(10):3998-4006. DOI: https://doi.org/10.1128/AEM.64.10.3998-4006.1998
Lee A. Animal models for host pathogen interaction studies. Br Med Bull 1998; 54(1): 163-173. https://doi.org/10.1093/oxfordjournals.bmb.a011666
Montgomery E, Martin D, Peura D. Rapid diagnosis of Campylobacter pylori by Gram's stain. Am J Clin Pathol 1988; 90(5):606-609. DOI: https://doi.org/10.1093/ajcp/90.5.606
Moyaert H, Haesebrouck F, Dewulf J, Ducatelle R, Pasmans F. Helicobacter equorum is highly prevalent in foals. Vet Microbiol 2009; 133(1-2):190-192. DOI: https://doi.org/10.1016/j.vetmic.2008.06.004
Neiger R, Simpson K. Helicobacter infection in dogs and cats: facts and fiction. J Vet Intern Med 2000; 14(2):125-133. DOI: https://doi.org/10.1892/0891-6640(2000)014<0125:iidacf>2.3.co;2
Perkins G, den-Bakker H, Burton A, Erb H, McDonough S, McDonough P, et al. Equine stomachs harbor an abundant and diverse mucosal microbiota. Appl Environ Microbiol 2012; 78(8):2522-1532. DOI: https://doi.org/10.1128/AEM.06252-11
Recordati C, Gualdi V, Tosi S, Facchini RV, Pengo G, Luini M, Simpson KW, Scanziani E. Detection of Helicobacter spp. DNA in the oral cavity of dogs. Vet Microbiol 2007; 119(2-4):346-351. DOI: https://doi.org/10.1016/j.vetmic.2006.08.029
Scarano GA, Correia-de-Medeiros A, Marques MS, Chimenos E, de Castro R, Perdomo M. Detección de Helicobacter pylori en placa dental y en mucosa gástrica de pacientes sometidos a endoscopia digestiva. Acta Odontol Venez 2005; 43(2):13-118. [access December 1st, 2020] URL: http://ve.scielo.org/scielo.php?script=sci_arttext&pid=S0001-63652005000200003&lng=es&nrm=iso&tlng=es
Scott DR, Marcus EA, Shirazi-Beechey SSP, Murray MJ. Evidence of Helicobacter infection in the horse. Proceedings of the American Society of Microbiologists; 2001 20-24; Orlando, FL, USA. [access November 15th, 2020] URL: https://pubmed.ncbi.nlm.nih.gov/15973586/
Sykes BW, Hewetson M, Hepburn RJ, Luthersson N, Tamzali Y. European college of equine internal medicine consensus statement-equine gastric ulcer syndrome in adult horses. J Vet Intern Med 2015; 29(5):1288-1299. DOI: https://doi.org/10.1111/jvim.13578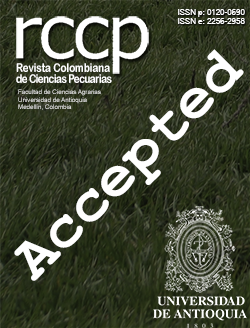 How to Cite
Zuluaga-Cabrera A. M., Jaramillo-Morales C., & Martínez-Aranzales J. R. (2021). Presence of Helicobacter spp. in dental tartar and gastric mucosa, and its relationship with EGUS in horses from a public slaughterhouse. Revista Colombiana De Ciencias Pecuarias. https://doi.org/10.17533/udea.rccp.v35n1a06
Section
Accepted manuscripts
Copyright (c) 2021 Revista Colombiana de Ciencias Pecuarias
This work is licensed under a Creative Commons Attribution-NonCommercial-ShareAlike 4.0 International License.
The authors enable RCCP to reprint the material published in it.
The journal allows the author(s) to hold the copyright without restrictions, and will allow the author(s) to retain publishing rights without restrictions.