Perspectivas e desafios dos dispositivos móveis para as bibliotecas universitárias brasileiras
Angel Freddy Godoy Viera

Universidade Federal de Santa Catarina

Gregório Varvakis

Loughborough University

Fabricio Foresti

Universidade Federal de Santa Catarina
Resumen
Pesquisa quantitativa documental realizada nas bibliotecas universitárias federais brasileiras para verificar o nível de adequação ao fenômeno móvel, através de um conjunto de variáveis que mostram quais ações as bibliotecas estão desenvolvendo para atender os usuários de dispositivos móveis. Foi observado o uso de aplicativos, a adaptação dos catálogos, uso de redes sociais, entre outras variáveis. Os resultados foram comparados com as 100 (cem) bibliotecas acadêmicas melhor avaliadas em 2014 nos EUA segundo o ranking nacional de universidades. Para este trabalho foi realizada pesquisa na base Scopus para identificar pesquisas relacionadas ao uso de plataformas móveis nos serviços de bibliotecas. Conclui que as bibliotecas brasileiras estão atuando de várias formas para atender a nova demanda móvel, mas é necessário atenção e ação na conversão dos serviços para criar novo modelo de relacionamento com os usuários baseado na mobilidade e ubiquidade.
Palavras-chave: Serviços de biblioteca, gestão de bibliotecas e recursos de informação, tecnologias da informação e comunicação – TICs, dispositivos móveis.
Perspectives and Challenges of Mobile Devices for Brazilian University Libraries
Abstract
Quantitative documental research conducted in brazilian federal university libraries to verify the adaptation to mobile phenomenon by some variables what showing libraries actions to meet the needs of mobile users. Were observed the apps use, catalogs adaptation, social networks and other variables. The results were compared with the best hundred (100) academic libraries evaluated in 2014 in EUA. For this research, It was search in Scopus to identify research related about the use of mobile platforms in the library services. Concludes that brazilian libraries working in many ways to meet the needs of mobile user, but still need to pay more attention and action to mobile services in order to create a new relationship model with library users across mobility and ubiquity.
Keywords
: Library services, library management and information resources, information and communication technologies - ICTs, mobile devices. 
Perspectivas y desafíos de los dispositivos móviles para las bibliotecas universitarias brasileñas
Resumen
Investigación cuantitativa documental realizada en las bibliotecas universitarias federales brasileñas para comprobar el nivel de adecuación al fenómeno móvil, a través de un conjunto de variables que aclaran las acciones que las bibliotecas están desarrollando para responder a los usuarios móviles. Se observó el uso de las aplicaciones, adaptación de catálogos, uso de redes sociales, entre otras variables. Los resultados se compararon con las 100 (cien) mejores bibliotecas académicas evaluadas en 2014 en los EE. UU., según el ranking de las universidades nacionales. Para este trabajo se llevó a cabo la investigación en Scopus para identificar la pesquisas relacionadas con el uso de plataformas móviles en el servicio de bibliotecas. Se llega a la conclusión de que las bibliotecas brasileñas están trabajando en diversas formas para atender la nueva demanda de usuarios móviles, pero necesitan atención y acción en la conversión de los servicios con el fin de crear un nuevo modelo de relación con los usuarios por medio de la movilidad y la ubicuidad.
Palabras clave
: servicios de biblioteca, gestión de bibliotecas y recursos de información, tecnologías de información y comunicación tic, dispositivos móviles.  
|Resumen = 2412 veces | PDF = 1878 veces| XML = 6 veces|
Descargas
La descarga de datos todavía no está disponible.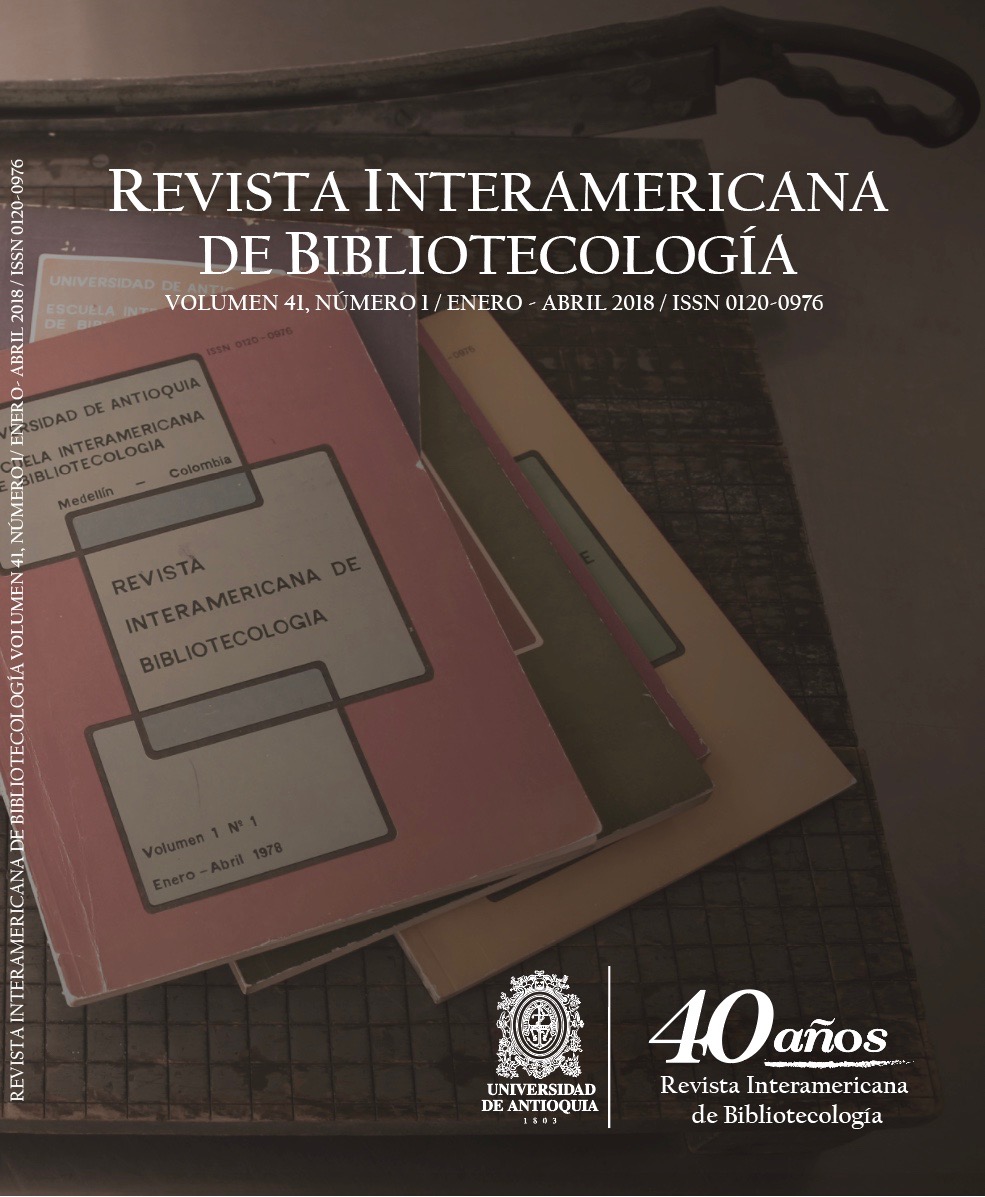 Cómo citar
Godoy Viera, A. F., Varvakis, G., & Foresti, F. (2018). Perspectivas e desafios dos dispositivos móveis para as bibliotecas universitárias brasileiras. Revista Interamericana De Bibliotecología, 41(1), 19-35. https://doi.org/10.17533/udea.rib.v41n1a03