El papel terapéutico de la oposición significante y el Fort-Da en el tratamiento de un niño diagnosticado con trastorno del espectro autista (TEA): un estudio de caso
Palabras clave:
autismo, psicoanálisis, fort-da, Lacan, vínculo
Resumen
Desde una perspectiva lacaniana, las intervenciones en casos de autismo deberían apuntar a introducir una ausencia simbólica que movilice el circuito del deseo. Se presenta el caso de un niño de dos años (Q) diagnosticado con trastorno del espectro autista y que asistía a un tratamiento lacaniano. Se introdujo el paradigma del fort-da (que usa un par de significantes para representar la presencia-ausencia) para abordar los problemas de vínculo, intención comunicativa y juego simbólico. Después del tratamiento, Q aprendió a usar su propio lenguaje y juego simbólico para regular y expresar la ansiedad y otras emociones en ausencia de su madre.
|Resumen = 392 veces | PDF (ENGLISH) = 214 veces|
Descargas
Los datos de descargas todavía no están disponibles.
Citas
American Psychological Association (2013). Diagnostic and statistical manual of mental disorders (DSM-5®). American Psychiatric Association.
Bion, W. R. (1984). Elements of psychoanalysis. London: Karnac Books.
Charman, T., Swettenham, J., Baron-Cohen, S., Cox, A., Baird, G., & Drew, A. (1997). Infants with autism: an investigation of empathy, pretend play, joint attention, and imitation. Developmental Psychology, 33(5), 781.
Cornet, J. P., & Vanheule, S. (2017). Évaluation de la prise en charge institutionnelle d'enfants atteints d'un trouble envahissant du développement [Evaluation of a therapy in institutional settings for children with pervasive developmental disorder]. L'Évolution Psychiatrique, 82(3), 687-702.
Durban, J. (2014). Despair and hope: on some varieties of countertransference and enactment in the psychoanalysis of ASD (autistic spectrum disorder) children. Journal of Child Psychotherapy, 40, 187-200.
Freud, S. (1920) Más allá del principio del placer [Beyond the pleasure principle]. In Obras completas [The Complete Works of Sigmund Freud]. Madrid: Biblioteca Nueva.
Gutiérrez-Peláez, M. (2014). El psicoanálisis de orientación lacaniana en el tratamiento del autismo [The Psychoanalysis of Lacanian Orientation in the Treatment of Autism]. Affectio Societatis, 11(21).
Lacan, J. (1964) Seminario 11. Los cuatro conceptos fundamentales del psicoanálisis [Seminar 11. The four fundamental concepts of psycho-analysis]. Buenos Aires: Paidós
Lacan, J. (1965) Le Séminaire 12. Problèmes cruciaux pour la psychanalyse [Seminar 12. Crucial problems for psychoanalysis]. Paris: Editions de l' Association Freudienne Internationnale.
Lacan, J. (1958). La dirección de la cura y los principios de su poder [The direction of the treatment and the principles of its power]. In: Escritos I [Writings I]. México: Siglo XXI Editores.
Laurent, E. (2008). La cifra del autismo [The digit of autism]. Le Nouvel Âne, 8. Available in http://virtualia.eol.org.ar/023/template.asp?Accion-lacaniana/La-cifra-del-autismo.html 08.
Laurent, E. (2013). La batalla del autismo: de la clínica a la política [The struggle of autism: from treatment to politics]. Buenos Aires: Grama Ediciones
Laynez-Rubio, C. (2012). Silencio y vínculo social [Silence and social bond]. Revista Letrahora, 11. Available in http://letrahora.com/index.php/2015/12/28/silencio-y-vinculo-social.
Lefort, R. & Lefort, R. (1998). Le symptôme charlatan [The speaking symptom]. Paris: Seuil
Lefort, R. & Lefort, R. (2003). La distinction de l ´autisme [The distinction of autism]. Paris: Seuil
Mahler, M., (1979). The selected papers of M. S. Mahler. Volume I .New York: Janson Aronson Press
Maleval, J. C. (1998). De l´autime de Kanner au syndrome d'Asperger [From Kanner's autism to the Asperger syndrome], L´Évolution Psychiatrique, 63, 293-309
Maleval, J.C. (2009). L´autiste et sa viox [The autist and his voice]. Paris: Seuil
Maleval, J. C., & Grollier, M. (2015). Extension du spectre de l'autisme [Expansion of the Autism Spectrum]. L'Évolution Psychiatrique, 80, 764-781.
Meltzer,,D. (1975). Explorations in autism: A psycho-analytical study. London: Karnac Books.
Oyarce-Cadiz, D., & Passone, S. M. (2016). Intersubjective approach to separation anxiety and their therapeutic implications. Affectio Societatis, 13, 13-25.
Pimenta, P. R., Santiago, J., & Santiago, A. L. (2016). Harmfulness of the autistic object to its indispensability for autism clinically in psychoanalysis. Ágora: Estudos em Teoria Psicanalítica, 19, 339-356.
Prigatano, G. P. (1986). Neuropsychological rehabilitation after brain injury. Oklahoma, OK: Johns Hopkins University Press
Prigatano, G. P. (1999). Principles of neuropsychological rehabilitation. New York, NY: Oxford University Press.
Prigatano, G. P. (2008). "Neuropsychological rehabilitation and psychodynamic psychotherapy" in Textbook of Clinical Neuropsychology, ed. J.E. Morgan & J.H.Ricker, London: Taylor & Francis, 985-995.
Prigatano, G. P., & Salas, C. E. (2017). "Psychodynamic psychotherapy after severe traumatic brain injury" In Neurobehavioural Disability and Social Handicap Following Traumatic Brain Injury, e.d. T.M. McMillan & R.L. Wood, New York, NY: Psychology Press, 188-201.
Singletary, W. M. (2015). An integrative model of autism spectrum disorder: ASD as a neurobiological disorder of experienced environmental deprivation, early life stress and allostatic overload. Neuropsychoanalysis, 17(2), 81-119.
Rhode, M. (2015). 'Paralysed associations': countertransference difficulties in recognising meaning in the treatment of children on the autistic spectrum. Journal of Child Psychotherapy, 41, 218-230.
Thurin, J. M., Thurin, M., Cohen, D., & Falissard, B. (2014). Approches psychothérapiques de l'autisme. Résultats préliminaires à partir de 50 études intensives de cas [Psychotherapeutic approaches for autism. Preliminary results from 50 intensive case studies]. Neuropsychiatrie de l'enfance et de l'adolescence, 62(2), 102-118.
Tustin, F. (1972). Autisme et psychose de l´enfant [Autism and infant psychosis]. Paris: Seuil
Tustin. F. (1992). Autisme et protection [Autism and protection]. Paris: Seuil
Vecchiato, M., Sacchi, C., Simonelli, A., & Purgato, N. (2016). Evaluating the efficacy of psychodynamic treatment on a single case of autism. A qualitative research. Research in Psychotherapy: Psychopathology, Process and Outcome, 19, 49-57.
Viloca, L., & Alcácer, B. (2014). La psicoterapia psicoanalítica con personas con trastorno autista. Una revisión histórica [Psychoanalytic psychotherapy with autism spectrum disorder. An historical review]. Temas de Psicoanálisis, 7, 1-29.
Vivanti, G. (2017). Individualizing and Combining Treatments in Autism Spectrum Disorder: Four Elements for a Theory-Driven Research Agenda. Current Directions in Psychological Science, 26(2), 114-119.
Winnicott, D. W. (1975). Through paediatrics to psycho-analysis: Collected papers. Philadelphia, PA, US: Brunner/Mazel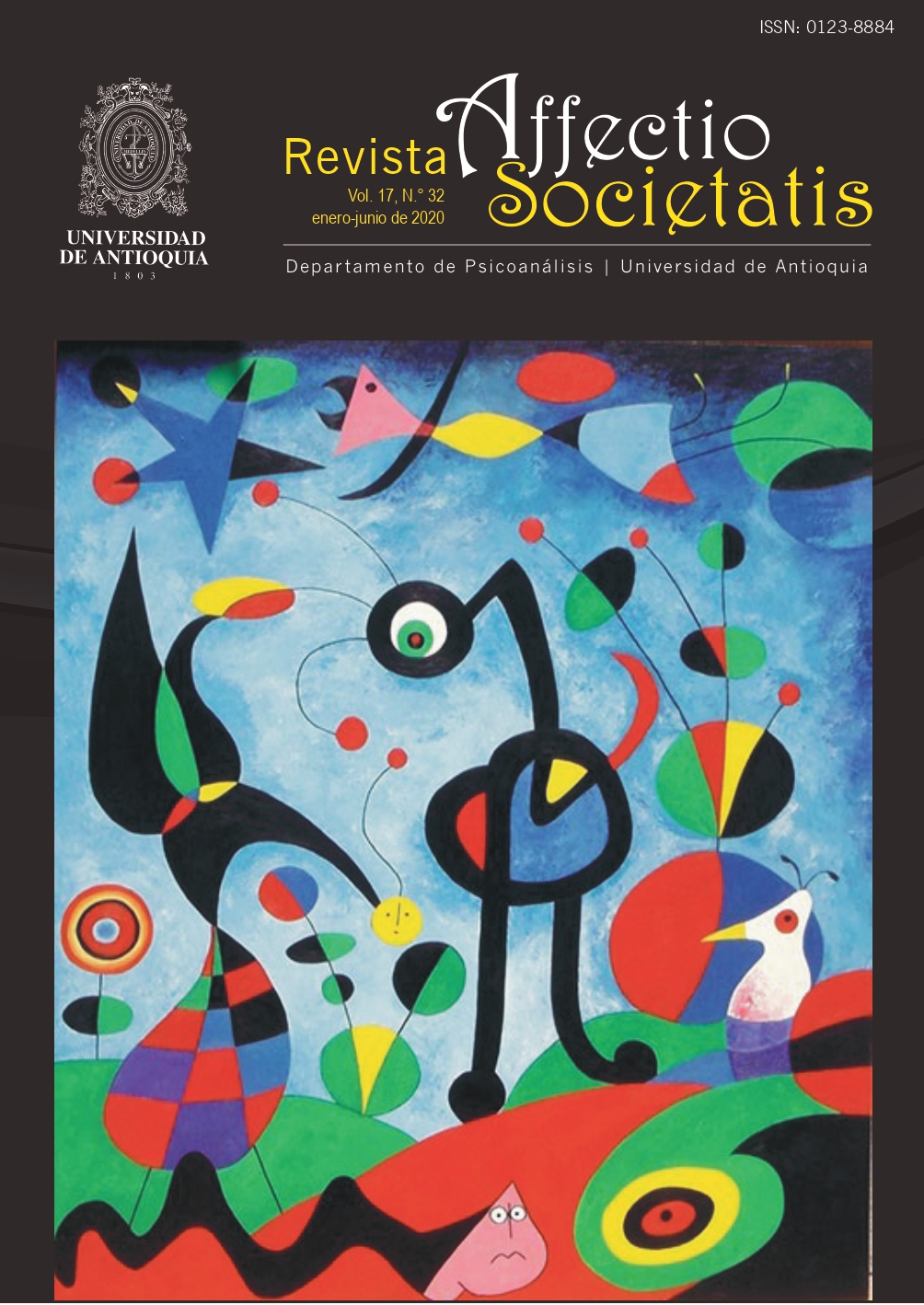 Descargas
Cómo citar
Fernández-Alcántara, M., Correa, C., Laynez-Rubio, C., Navas, J. F., Salas, C. E., & Cruz-Quintana, F. (2020). El papel terapéutico de la oposición significante y el Fort-Da en el tratamiento de un niño diagnosticado con trastorno del espectro autista (TEA): un estudio de caso. Affectio Societatis, 17(32), 86–104. https://doi.org/10.17533/udea.affs.v17n32a04
Sección
Artículos de Investigación
Licencia
Los autores autorizan a la Revista a publicar sus trabajos académicos no sólo en la página web de la misma, sino también en cualquier otro medio escrito o electrónico de ella, así como en las bases de datos a las cuales acceda la Revista. Affectio Societatis reconoce que los derechos morales y la decisión de publicar sus trabajos posteriormente en otros medios de publicación compete exclusivamente a los autores, en cuyo caso éstos último habrán de hacer expreso reconocimiento de los créditos debidos a Affectio Societatis.