Teaching humanization in undergraduate nursing course subjects
Keywords:
Humanization of assistance; education, nursing; education, higher; curriculum.
Abstract
Objective. To describe teaching on humanization in the subjects included in nursing curricula in São Paulo city (Brazil).
Method. Descriptive and cross-sectional study of subjects included in the curricula of all Higher Education Institutions (HEI) accredited by the Ministry of Education (Brazil) in São Paulo City. Humanization in nursing was defined as the encounter of subjectivities in and through the care act.
Results. Thirteen curricula were studied, totaling 588 subjects. Although 59% contained some term related to humanization, when assessing compatibility with the definition used in the study, findings showed: 3% full compatibility, 28% partial, 62% no compatibility and, in 7% of the subjects, comparison was impossible.
Conclusion. The undergraduate nursing subjects analyzed showed ambiguous intentionality as, although the majority contained some term related to humanization, only a minority was in accordance with the concept.
|Abstract = 121 veces | RESUMEN | RESUMO = 10 veces| | PDF (ENGLISH) = 21 veces| | HTML (ENGLISH) = 10 veces| | HTML (PORTUGUÊS) = 18 veces|
Downloads
Download data is not yet available.
References
(1) Casate JC, Corrêa AK. Humanização do atendimento em saúde: conhecimento veiculado na literatura brasileira de enfermagem. Rev Lat Am Enferm. 2005; 13(1):105-11.
(2) Deslandes SF. Humanização: revisitando o conceito a partir das contribuições as sociologia médica In: Deslandes SF (org.). Humanização dos cuidados em saúde: conceitos, dilemas e práticas. Rio de Janeiro: FIOCRUZ; 2006. p. 33-47.
(3) Howard J. Humanization and dehumanization of health care: a concept view. In: Howard J, Strauss A, editores. Humanizing health care. New York: John Wiley & Sons; 1975. p. 57-102.
(4) Silva RCL, Porto IS, Figueiredo, NMA. Reflexões acerca da assistência de enfermagem e o discurso de humanização em terapia intensiva. Esc Anna Nery Enferm. 2008;12(1):156-9.
(5) Teixeira GG, Chanes M. As estratégias de humanização da assistência ao parto utilizadas por hospitais ganhadores do prêmio galba de araújo: ações de mérito, ações premiadas. Mundo Saúde. 2003; 27(2):270-3.
(6) Caprara A. Uma abordagem hermenêutica da relação saúde-doença. Cad Saúde Pública. 2003;19(4): 923-31.
(7) Ayres JRCM. Cuidado: tecnologia ou sabedoria prática? Interface (Botucatu). 2000; 4(6):117-20.
(8) Baraúna T. Humanizar a ação, para humanizar o ato de cuidar. Mundo Saúde. 2003; 27(2):304-6.
(9) Martins MCFN. Humanização das relações assistenciais: a formação do profissional da saúde. São Paulo: Casa do Psicólogo; 2001.
(10) Brasil. Conselho Nacional de Educação. Câmara de Educação Superior. Resolução CNE/CES n. 3 de 7 de novembro de 2001: diretrizes curriculares nacionais do curso de graduação em enfermagem. Brasília; 2001.
(11) Brasil. Conselho Federal de Educação. Lei n. 9.394 de 20 de dezembro de 1996: Lei de Diretrizes e Bases da Educação Nacional. Brasília; 1996.
(12) Sacristán JG. O currículo: uma reflexão sobre a prática. 3rd ed. Porto Alegre: ArtMed; 2000.
(13) Schmidt ES. Currículo: uma abordagem conceitual e histórica. Publ Ci Hum, Ci Soc Apl, Ling, Letras e Artes. 2003; 11(1):59-69.
(14) Pinto JBT, Pepe AM. A formação do enfermeiro: contribuições e desafios à prática pedagógica. Rev Latino-am Enferm. 2007; 15(1):120-6.
(15) Rabuske EA. Antropologia filosófica: um estudo sistemático. 9thed. Petrópolis: Vozes; 2003.
(16) Lalande A. Vocabulário técnico e crítico da filosofia. 3rd ed. São Paulo: Martins Fontes; 1999.
(17) Abbagnano N. Dicionário de filosofia. 4th ed. São Paulo: Martins Fontes; 2000.
(18) Chauí M. Introdução à história da filosofia: dos pré-socráticos a Aristóteles. 2nd ed. São Paulo: Companhia das Letras; 2005. A técnica; v. 1, p. 141-5.
(19) Gandin D, Gandin LA. Temas para um projeto político-pedagógico. 7th ed. Petrópolis: Vozes; 2005.
(20) Vigotski LS. Pensamento e linguagem. 3rd ed. São Paulo: Martins Fontes; 2005.
(21) Sartre JP. O ser e o nada. 16th ed. São Paulo: Vozes; 2008.
(22) Farah OGD, Sá AC. Psicologia aplicada à enfermagem. Barueri: Manole; 2008.
(23) Heller A. O cotidiano e a história. 8th ed. São Paulo: Paz e Terra; 2008. Sobre os papéis sociais; p. 115-143.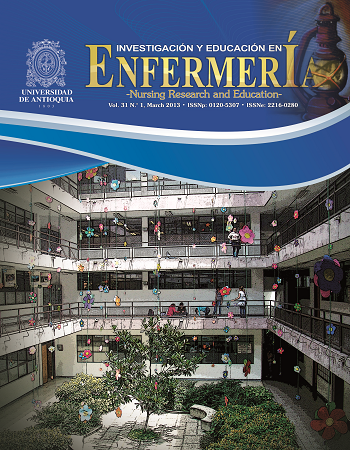 How to Cite
Vieira de Almeida, D., & Corrêa Chaves, E. (2013). Teaching humanization in undergraduate nursing course subjects. Investigación Y Educación En Enfermería, 31(1). https://doi.org/10.17533/udea.iee.15049
Section
ORIGINAL ARTICLES / ARTÍCULOS ORIGINALES / ARTIGOS ORIGINAIS
License
Derechos de propiedad / Direitos de Propriedade
English: If the article is accepted for publication, all copyright will be of exclusive property of Investigación y Educación en Enfermería. The text and the graphics included in the publication are exclusive responsibility of the authors and not necessarily reflect the thought of the Editorial Committee.
Español: Si el artículo es aprobado para publicación, todos los derechos son de propiedad de Investigación y Educación en Enfermería. El texto y las gráficas incluidas en la publicación son de exclusiva responsabilidad de los autores y no necesariamente refleja el pensamiento del Comité Editorial.
Português: Se o artigo for aceito para publicação, todos os direitos autorais serão de propriedade exclusiva de Investigación y Educación en Enfermería. O texto e os gráficos incluídos na publicação são de responsabilidade exclusiva dos autores e não refletem necessariamente o pensamento do Comitê Editorial.