Management of resources in nursing: beyond leadership
Delby Antonio Cano-Serna

RN. Universidad de Antioquia (UdeA), Colombia. email: deacase@hotmail.com

Natalia Andrea Correa Bolívar

RN. UdeA, Colombia. email: nandrea07@hotmail.com

Weimar Alexander Flórez Rendón

RN. UdeA, Colombia. email: weimaraflorez@gmail.com

Yaison Dorney Giraldo Giraldo

RN. UdeA, Colombia. email: yaisong@hotmail.com

Mónica Katerín Monsalve Cuervo

RN. UdeA, Colombia. email: monik2986@hotmail.com

Andrés Felipe Restrepo Otálvaro

RN. UdeA, Colombia. email: andresfelres@hotmail.com
Keywords:
Nursing; health economics; health public policy.
Abstract
This article reflects upon the reach of the contribution from nursing in the management and development of public policies for adequate assignment of resources that facilitate better healthcare in the Colombian population.
|Abstract = 24 veces | RESUMEN | RESUMO = 3 veces| PDF (ENGLISH) = 14 veces| HTML (ENGLISH) = 4 veces| HTML (ESPAÑOL) = 7 veces|
Downloads
Download data is not yet available.
References
(1) Gallego JM. El estado del arte de la Economía de la Salud. Informe final, Programa Jóvenes Investigadores del Comité para el Desarrollo de la Investigación CODI. Medellín: Universidad de Antioquia; 1998.
(2) Ramírez Gómez MC. Ocampo Rivera DC. Determinantes de servicios de salud en los adultos. Docentes del microcurrículo de Cuidado al Adulto. Medellín: Facultad de Enfermería de la Universidad de Antioquia; 2010.
(3) Organización Mundial de la Salud. Informe sobre la salud en el mundo 2010: La financiación de los sistemas de salud, el camino hacia la cobertura universal. Ginebra: OMS; 2010.
(4) Grupo de Economía de la Salud. Observatorio de la seguridad social: Crisis económica, reformas y salud. Medellín: Facultad de Ciencias Económicas de la Universidad de Antioquia; 2009.
(5) Consejo Internacional de Enfermeras, Organización Mundial de la Salud. La Comunidad de enfermería, políticas macroeconómicas y de finanzas públicas: Hacia una mejor comprensión. Ginebra: CIE-OMS; 2010.
(6) Sen A. ¿Por qué la equidad en salud? Rev Panam Salud Pública. 2002; 11(5-6):302-9.
(7) Organización Mundial de la Salud. Macroeconomía y salud: Actualización Aumento de las inversiones en resultados sanitarios para los pobres, segunda reunión consultiva sobre Macroeconomía y Salud [Internet].Washington: OMS; 2011 [cited 2012 May 10]. Available from: http://www.who.int/macrohealth/events/health_for_poor/en/executive_summary_es.pdf.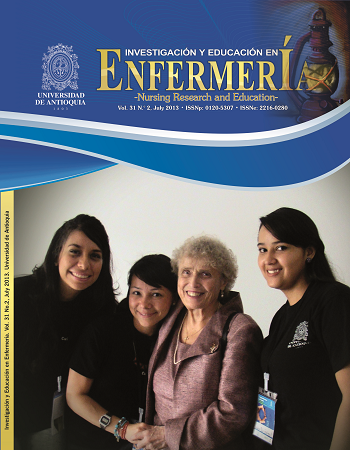 How to Cite
Cano-Serna D. A., Correa Bolívar N. A., Flórez Rendón W. A., Giraldo Giraldo Y. D., Monsalve Cuervo M. K., & Restrepo Otálvaro A. F. (2013). Management of resources in nursing: beyond leadership . Investigación Y Educación En Enfermería, 31(2). Retrieved from https://revistas.udea.edu.co/index.php/iee/article/view/16013
Section
REFLECTION ARTICLES / ARTÍCULO DE REFLEXION / ARTIGO DE REFLEXÃO
Derechos de propiedad / Direitos de Propriedade
English: If the article is accepted for publication, all copyright will be of exclusive property of Investigación y Educación en Enfermería. The text and the graphics included in the publication are exclusive responsibility of the authors and not necessarily reflect the thought of the Editorial Committee.
Español: Si el artículo es aprobado para publicación, todos los derechos son de propiedad de Investigación y Educación en Enfermería. El texto y las gráficas incluidas en la publicación son de exclusiva responsabilidad de los autores y no necesariamente refleja el pensamiento del Comité Editorial.
Português: Se o artigo for aceito para publicação, todos os direitos autorais serão de propriedade exclusiva de Investigación y Educación en Enfermería. O texto e os gráficos incluídos na publicação são de responsabilidade exclusiva dos autores e não refletem necessariamente o pensamento do Comitê Editorial.