Stress in mastectomized women
Keywords:
Breast neoplasms; mastectomy; stress, psychological; anxiety.
Abstract
Objective. To evaluate the stress level in women who have had mastectomy and analyze the relationship between stress and sociodemographic, clinical, and social support variables.
Methodology. Descriptive study carried out at Hospital de Santa Rita de Cássia, Vitória/Espírito Santo (Brazil) among 84 mastectomized women. We used a questionnaire to elicit sociodemographic information and instruments to evaluate stress (Lipp's Stress Symptom Inventory for Adults) and anxiety (State-Trait Anxiety Inventory]).
Results. A total of 69% of women had stress. Stress in the exhaustion phase was found in 57% of women, the resistance phase in 39%, alarm in 2%, and the near-exhaustion phase in 2%. Physical symptoms predominated (56%) over psychological symptoms (44%). Only 25% of participants had some type of social support. Of investigated variables, only the relationship of stress with anxiety traits was statistically significant. 
Conclusion. An important proportion of mastectomized women experienced stress. Nursing follow-up is essential to help these patients deal with the stress associated with breast cancer.
|Abstract = 234 veces | PDF (ENGLISH) = 34 veces| | HTML (ENGLISH) = 20 veces| | HTML (PORTUGUÊS) = 26 veces|
Downloads
Download data is not yet available.
References
(1) Ministério da Saúde (BR). Secretaria de Atenção à saúde. Instituto Nacional do Câncer. Coordenação de prevenção e vigilância de câncer. Estimativas 2010: incidência de Câncer no Brasil [Internet]. Rio de Janeiro; 2010 [cited 2012 Dec 9]. Available from: http://www.inca.gov.br/estimativa/2010.
(2) 2.Cantinelli FS, Camacho RS, Smaletz O, Gonsales BK, Braguittoni É, Rennó JA. Oncopsiquiatria no câncer de mama: considerações e respeito de questões do feminino. Rev Psiquiatr Clín. 2006; 33(3):124-33.
(3) Selye H. The stress of life. New York: Mc Graw Hill; 1956.
(4) Lipp MEN, Malagris LEN. O stress emocional e seu tratamento.In: Rangé B. Psicoterapias cognitivo-comportamentais: um diálogo com a Psiquiatria. 2nd Ed. Porto Alegre: Artméd; 2001. P. 475-90.
(5) Lipp MEN. O modelo quadrifásico do stress. In: Lipp MEN. (Editors). Mecanismos neuropsicofisiológicos do stress: teorias e aplicações clínicas. São Paulo: Casa do psicólogo; 2003.
(6) Lipp MEN, Tanganelli MS. Stress e Qualidade de Vida em Magistrados da Justiça do Trabalho. Psicol Reflex Crít. 2002; 15(3):537-48.
(7) Ferreira LRC, Martino MMF. Stress no cotidiano da equipe de enfermagem e sua correlação com o cronótipo. Estud Psicol. 2009; 26(1):65-72.
(8) Calais SL, Andrade LMB, Lipp MEN. Diferenças de Sexo e Escolaridade na Manifestação de Stress em Adultos Jovens. Psicol Reflex Crít. 2003; 16(2):257-63.
(9) Grun, TB. Stress e habilidades sociais em pacientes com câncer de laringe [Dissertation]. Campinas: Pontifícia Universidade Católica de Campinas - Mestrado em Psicologia do Centro de Ciências da Vida; 2009.
(10) Olympio PCAP. Níveis de imunoglobulina A salivar, ansiedade, estresse e depressão de mulheres mastectomizadas em uso de tamoxifeno [Dissertation]. Vitória: Universidade Federal do Espírito Santo - Mestrado em Saúde Coletiva; 2008.
(11) ABEP - Associação Brasileira de Empresas de Pesquisa. Critério de Classificação Econômica Brasil, 2010. Disponível em: <http://www.abep.org>.
(12) Lipp MEN. Manual do Inventário de Stress para adultos de LIPP. São Paulo: Casa do Psicólogo; 2000.
(13) Amorim MHC. A enfermagem e a psiconeuroimunologia no câncer de mama [Dissertation]. Rio de Janeiro: Universidade Federal do Rio de Janeiro - Escola de Enfermagem Ana Nery; 1999.
(14) Silva G. Processo de enfrentamento no período pós-tratamento do câncer de mama [Dissertation]. Ribeirão Preto: Universidade de São Paulo - Mestrado em Psicologia; 2005.
(15) Griffin IS, Fentiman M. Psychosocial problems following a diagnosis of breast câncer. Int J Clin Pract. 2002; 56(9):672-5.
(16) Thewes B, Butow P, Pendlesbury S. The psychosocial needs of breast cancer survivors: a qualitative study of shared and unique needs of younger versus older survivors. Psycho Oncol. 2004; 13(3):177-89.
(17) LeShan L. O câncer como ponto de mutação: um manual para pessoas com câncer, seus familiares e profissionais de saúde [Traduction: Bolanho D] São Paulo: Summus Editorial; 1992.
(18) Burguess C, Cornelius V, Love S, Graham J, Richards M, Ramirez A. Depression and anxiety in women with early breast cancer: five year observational cohort study. BMJ. 2005; 330(7493): 702-5.
(19) Leite FMC, Bubach S, Amorim MHC, Castro DS, Caniçali CP. Mulheres com diagnóstico de câncer de mama em tratamento com tamoxifeno: perfil sociodemográfico e clínico. Rev Bras Cancerol. 2011; 57(1):15-21.
(20) Caniçali RA, Figueiredo GB. A inserção de mulheres com diagnóstico de câncer de mama em um programa de reabilitação. Vitória: Universidade Federal do Espírito Santo, Curso de Enfermagem, Departamento de Enfermagem; 2006.
(21) Mai Junior AAM, Pereira JR. Depressão em mulheres mastectomizadas. Vitória: Universidade Federal do Espírito Santo, Curso de Enfermagem, Departamento de Enfermagem; 2009.
(22) Souza FGM, Ribeiro RA, Silva MSB, Ivo PSA, Lima Jr. VS. Depressão e ansiedade em pacientes com câncer de mama. Rev de Psiquiatr Clín. 2000; 27(4): 207-14.
(23) Campana HCR. Perfil de mulheres com câncer de mama [Dissertation]. Maringá: Universidade Estadual de Maringá - Mestrado em Enfermagem; 2007.
(24) Sales CACC, Scandiuzz LPD, Anjos, ACY. Qualidade de vida de mulheres tratadas de câncer de mama: Funcionamento Social. Rev Bras de Cancerol. 2001; 47(3):263-72.
(25) Huguet PR, Morais SSS, Osis MJD, Pinto-Neto AM, Gurge MSC. Qualidade de vida e sexualidade de mulheres tratadas de câncer de mama. Rev Bras Ginecol Obstet. 2009; 31(2):61-7.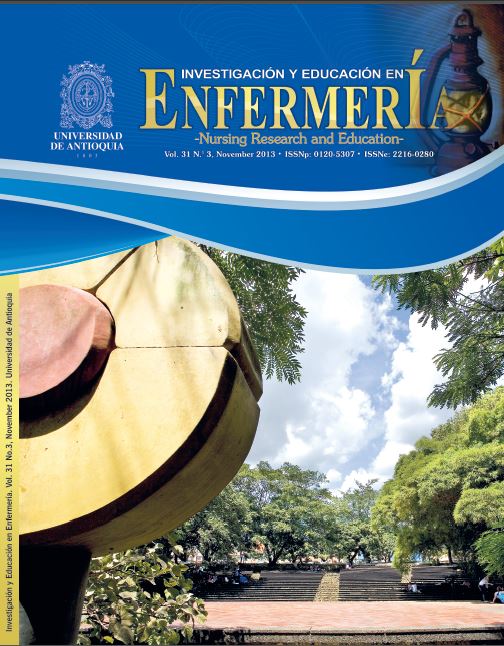 Downloads
How to Cite
Canicali Primo, C., Costa Amorim, M. H., Silveira de Castro, D., Cordeiro Paraguassú, T., Nogueira, T. P., Martins Bertolani, G. B., & Costa Leite, F. M. (2013). Stress in mastectomized women. Investigación Y Educación En Enfermería, 31(3). https://doi.org/10.17533/udea.iee.17498
Section
ORIGINAL ARTICLES / ARTÍCULOS ORIGINALES / ARTIGOS ORIGINAIS
License
Derechos de propiedad / Direitos de Propriedade
English: If the article is accepted for publication, all copyright will be of exclusive property of Investigación y Educación en Enfermería. The text and the graphics included in the publication are exclusive responsibility of the authors and not necessarily reflect the thought of the Editorial Committee.
Español: Si el artículo es aprobado para publicación, todos los derechos son de propiedad de Investigación y Educación en Enfermería. El texto y las gráficas incluidas en la publicación son de exclusiva responsabilidad de los autores y no necesariamente refleja el pensamiento del Comité Editorial.
Português: Se o artigo for aceito para publicação, todos os direitos autorais serão de propriedade exclusiva de Investigación y Educación en Enfermería. O texto e os gráficos incluídos na publicação são de responsabilidade exclusiva dos autores e não refletem necessariamente o pensamento do Comitê Editorial.