Risk factors associated with diabesity in primary school students in the Amazon region of Brazil
Keywords:
Diabetes Mellitus; obesity; feeding; students.
Abstract
Objective. Identifying risk factors for diabesity (diabetes plus obesity) in primary students in the Brazilian Amazon. 
Methodology. Descriptive study carried out in 2009 with the participation of 1218 students. A questionnaire from the Ministry of Health of Brazil was employed with the question ''How is your diet?'' and a form was created to record the socio-demographic, clinical, anthropometric and food variables. 
Results. The mean age was 12 years and 57% were female. 64% of respondents reported no health problems, 37% had a family history of diabetes mellitus and 29% of students were overweight (17% overweight and 12% obese). A sedentary lifestyle was prevalent in the study group (70%). The dietary guidelines for consumption of fruits, vegetables, legumes, and complex carbohydrates are not properly fulfilled. Fast foods or 'junk' food was consumed by 43.5% of students. 
Conclusion. Most of the identified risk factors were related to unhealthy lifestyles that can lead to diabesity and other chronic non-communicable diseases. Identifying these factors allows planning nursing interventions for students, teachers and families.
|Abstract = 55 veces | PDF (ENGLISH) = 29 veces| | HTML (ENGLISH) = 3 veces| | HTML (ESPAÑOL) = 44 veces|
Downloads
Download data is not yet available.
References
(1) Agmont G. A Eclosão da Diabesidade. Rev Endocrinol [Internet]. 2007: 2. [cited 2007 Set 17]. Available from: http://www.revistapesquisamedica.com.br/portal/textos.asp?codigo=10744.
(2) Silveira JAA, Resende HMP, Filho AML, Pereira JG. Características da assistência à saúde a pessoas com Diabetes mellitus acompanhadas na Unidade de Saúde da Família Pedregal II, em Cuiabá , MT: reflexões para a equipe de saúde. Mundo da Saúde. 2010; 34(1):43-9.
(3) Tejada LM, Pastor MP, Gutiérrez SO. Efectividad de un programa educativo en el control del enfermo con diabetes. Invest Educ Enferm. 2006; 24(2):48-53.
(4) Harrisson TR. Medicina Interna. 17th ed. Rio de Janeiro: McGraw-Hill; 2009. P. 2275-304.
(5) Ministério da Saúde (BR). Departamento de Análise de Situação de Saúde. Vigilância de Fatores de Risco e Proteção para Doenças Crônicas por Inquérito Telefônico, VIGITEL 2011. Brasília: Ministério da Saúde; 2012.
(6) Schmidt MI, Duncan BBE, Silva GA, Menezes AM, Monteiro CA, Barreto SM, et al. Chronic non-communicable diseases in Brazil: burden and current challenges. Lancet. 2011; 377(9781):1949-61.
(7) Ministério da Saúde (BR). SIS-HIPERDIA. Departamento de Atenção Básica a Saúde, DATASUS [Internet]. 2008 [cited 2009 Jul 19]. Available from: http://www2.datasus.gov.br/DATASUS/index.php?area=0403
(8) Ministério da Saúde (BR). Agência Nacional de Saúde Suplementar (ANS). Promoção da saúde e prevenção de riscos e doenças na saúde suplementar: manual técnico / Agência Nacional de Saúde Suplementar. 2nd Ed. Rio de Janeiro: ANS;2007.
(9) Setian N, Damiani D, Manna TD, Dichtchekenian V, Cardoso AR, coordenadores. Obesidade na criança e no adolescente: buscando caminhos desde o nascimento. São Paulo: Roca; 2007.
(10) Ministério da Saúde (BR). Coordenação Geral da Política de Alimentação e Nutrição-CGAN [Internet]. Brasília: Ministério da Saúde; 2002.
(11) Li G, Zhang P, Wang J, Gregg EW, Yang W, Gong Q, et al. The long-term effect of lifestyle interventions to prevent diabetes in the China Da Qing Diabetes Prevention Study: a 20 years follow study. Lancet. 2008; 24; 371(9626):1783-9.
(12) Fajardo E, Ángel LA. Prevalencia de sobrepeso y obesidad, consumo de alimentos y patrón de actividad física en una población de niños escolares de la ciudad de bogotá. Rev Fac Med. 2012; 20(1):101-16.
(13) Ferreira M, Coelho R, Trindade JC. Prevenção Primária da Doença Alérgica. Acta Med Port. 2007; 20:215-19.
(14) Andrade CM, Oliveira OM, Barbosa DA, Cássia ABR. Prevalência de Diabetes Mellitus autorreferida Entre Trabalhadores de enfermagem. Acta Paul Enferm. 2010; 23(5):632-9.
(15) Vitorino NA, Salgado CM, Santana FJ, Salgado L Identificando fatores de risco parágrafo desenvolvimento de doença renal crônica entre escolares. J Bras Nefrol. 2012; 34(3):278-82.
(16) Tojo R, Leis R. La obesidad en la infancia y la adolescencia. In: Moreno B, Charro A. Nutrición, actividad física y prevención de la obesidad. Estrategia NAOS. Madrid: Editorial Médica Panamericana; 2007. P. 69-112.
(17) Farias JJC, Silva KS. Sobrepeso/obesidade em adolescentes escolares da cidade de João Pessoa - PB: prevalência e associação com fatores demográficos e socioeconômicos. Rev Bras Med Esporte. 2008; 14(2):104-8.
(18) Texeira MH, Veiga GV, Sichieri R. Consumo de Gorduras e hipercolesterolemia em uma Mostra Probabilística de Estudantes de Niterói, Rio de Janeiro. Arq Bras Endocrinol Metab. 2007; 51(1): 65-71.
(19) Neutzling MB, Araújo CL, Vieira MF, Hallal PC, Menezes AM. Frequency of high-fat and low-fiber diets among adolescents. Rev Saude Publica. 2007;(41):336-42.
(20) Bertin RL, Karkle EN, Ulbrich AZ, Stabelini Neto A, Bozza R, Araujo IQ et al. The nutritional status and dietary intake of adolescents in public schools in the city of São Mateus do Sul, in the State of Paraná, Brazil. Rev Bras Saude Matern Infant. 2008; (8):435-43.
(21) Araki EL, Philippi ST, Martinez MF, Estima CCP, Leal GVS, Alvarenga Marle dos Santos. Padrão de refeições realizadas por adolescentes que frequentam escolas técnicas de São Paulo. Rev Paul Pediatr. 2011; 29(2):164-70.
(22) Asamblea General de Naciones Unidas. Sexagésimo sexto período de sesiones. Seguimiento de los resultados de la Cumbre del Milenio. Declaración Política de la Reunión de Alto Nivel de la Asamblea General sobre la Prevención y el Control de las Enfermedades No Transmisibles. New York: Asamblea General de Naciones Unidas; 16 de septiembre 2011.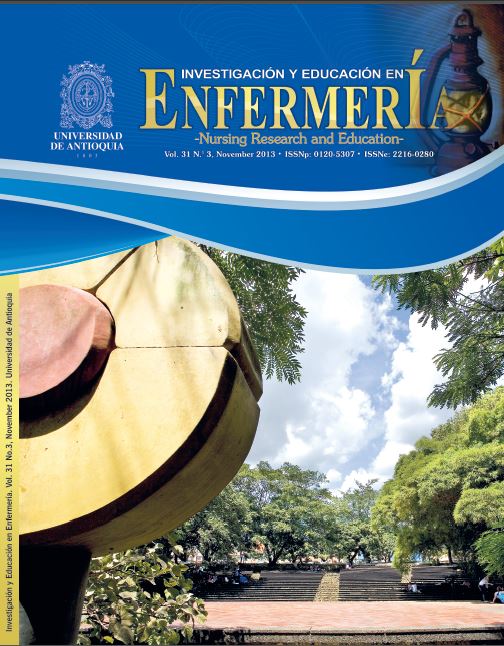 Downloads
How to Cite
Filgueiras de Assis Mello, M. V., Ferreira de Andrade, R., Miyar Otero, L., Celis de Cárdenas, A. M., & Rodrigues da Silva, S. (2013). Risk factors associated with diabesity in primary school students in the Amazon region of Brazil. Investigación Y Educación En Enfermería, 31(3). Retrieved from https://revistas.udea.edu.co/index.php/iee/article/view/17605
Section
ORIGINAL ARTICLES / ARTÍCULOS ORIGINALES / ARTIGOS ORIGINAIS
License
Derechos de propiedad / Direitos de Propriedade
English: If the article is accepted for publication, all copyright will be of exclusive property of Investigación y Educación en Enfermería. The text and the graphics included in the publication are exclusive responsibility of the authors and not necessarily reflect the thought of the Editorial Committee.
Español: Si el artículo es aprobado para publicación, todos los derechos son de propiedad de Investigación y Educación en Enfermería. El texto y las gráficas incluidas en la publicación son de exclusiva responsabilidad de los autores y no necesariamente refleja el pensamiento del Comité Editorial.
Português: Se o artigo for aceito para publicação, todos os direitos autorais serão de propriedade exclusiva de Investigación y Educación en Enfermería. O texto e os gráficos incluídos na publicação são de responsabilidade exclusiva dos autores e não refletem necessariamente o pensamento do Comitê Editorial.