Violence against women: perceptions of nursing students' about the focus on the formation
Keywords:
Women's health, violence against women, credentialing, nursing, education nursing
Abstract
Objective. Get to know the nursing undergraduates perception, from a public university in southern Brazil, on the inclusion of the theme violence against women in the curriculum and about that thematic approach during graduation.
Methodology. Descriptive exploratory qualitative research, made with 18 students of Nursing Graduation in Federal de Santa Maria University. Semi-structured interview was made and its data was submitted to thematic analysis.
Results. From the undergraduates understanding, the theme integrates the curricular content in a punctual way and a reduced workload. There were found difficulties in the violence's identification and the actions to be developed. The participants suggest that the theme should be worked since the graduation's beginning, permeating the learning in collective health.
Conclusion. The study shows the need to include violence as a transversal theme in curriculums in graduation courses of Nursing and Health.
How to cite this article: Rocha BD, Landerdahl MC, Cortes LF, Vieira LT, Padoin SMM. Violence against women: perceptions of nursing students' about the focus on the formation.  Invest Educ Enferm. 2015; 33(2): 260-268.
|Abstract = 1136 veces | PDF = 174 veces| | HTML RESUMEN = 8 veces| | HTML ENGLISH = 0 veces| | HTML PORTUGUES = 0 veces|
Downloads
Download data is not yet available.
References
(1) Organização dos Estados Americanos. Convenção Interamericana para Prevenir, Punir e Erradicar a Violência Contra a Mulher [online]. São Paulo. 1994. Biblioteca Virtual de Direitos Humanos, Universidade de São Paulo [cited 2013 Apr 15] Available from: http://www.direitoshumanos.usp.br/index.php/OEA.
(2) Schraiber LB, D'Oliveira AFPL, Couto MT. Violência e saúde: contribuições teóricas, metodológicas e éticas de estudos da violência contra a mulher. Cad Saude Publica, Rio de Janeiro. 2009; 25(Sup 2): 5205-16.
(3) Scott, J. Gênero: uma categoria útil para a análise histórica. Tradução: Cristine Rufino Dabatt, Maria Betânia Ávila. Recife: SOS Corpo, [1989].
(4) Almeida LR, Silva ATMC, Machado LS. O objeto, a finalidade e os instrumentos do processo de trabalho em saúde na atenção à violência de gênero em um serviço de atenção básica. Interface (Botucatu). 2014; 18(48):47-59.
(5) Waiselfisz JJ. Mapa da Violência 2012. Atualização: Homicídios de Mulheres [Internet]. Rio de Janeiro: CEBELA:FLASCO/Brasil; 2012 [cited 2013 Apr 15]. Available from: http://mapadaviolencia.org.br/pdf2012/MapaViolencia2012_atual_mulheres.pdf
(6) Medina NT, Erazo GEC, Dávila DCB, Humphreys JC. Contribution of intimate partner violence exposure, other traumatic events and posttraumatic stress disorder to chronic pain and depressive symptoms. Invest Educ Enferm. 2011; 29(2):174-86.
(7) Santi LN, Nakano MAS, Letierre A. Percepção de mulheres em situação de violência sobre o suporte e apoio recebido em seu contexto social. Text Contexto Enferm. 2010; 19(3):417-24.
(8) D'oliveira AFPL, Schraiber LB. Mulheres em situação de violência: entre rotas críticas e redes intersetoriais de atenção. Rev Med (São Paulo). 2013; 92(2):134-40.
(9) Leal SMC, Lopes MJM, Gaspar MFM. Representações sociais da Violência contra a mulher na perspectiva da enfermagem. Rev Interface Com Saúde Educ. 2011; 15(37):409-24.
(10) Gomes NP, Erdmann AL, Bettinelli LA, Higashi GDC, Carneiro JB, Diniz NMF. Significado da capacitação profissional para o cuidado da mulher vítima de violência sexual. Esc Anna Nery. 2013; 17(4):683– 9.
(11) Diuana V, Lhuilier D, Sánchez AR, Amado G, Araújo L, Duarte AM, et al. Ambiguidades e contradições no atendimento de mulheres que sofrem violência. Saúde Sociedade. 2011; 20(1):113-23.
(12) Rosa R et al. Violence: concept and experience among health sciences undergraduate students. Interface - Comunic. Saude Educ. 2010; 14(32):81-90.
(13) Ceccim RB. Desenvolvimento de competências no trabalho em saúde: educação, áreas do conhecimento e profissões no caso da saúde. Tempus – Actas de Saúde Colet. 2012; 6(2):253-77.
(14) Minayo MCS. O desafio do conhecimento: pesquisa qualitativa em saúde. 12th Ed. São Paulo: HUCITEC – Abrasco. 2010.
(15) Fontanella BJB, Luchesi BM, Saidel MGB, Ricas J, Turato ER, Melo DG. Amostragem em pesquisas qualitativas: propostas de procedimentos para constatar saturação teórica. Cad Saúde Pública. 2011; 27(2):389-94.
(16) Brasil. Secretaria de Educação Fundamental. Parâmetros Curriculares Nacionais: terceiro e quarto ciclo: apresentação dos temas transversais/ Secretaria de Educação fundamental [Internet]. Brasília: MEC/SEF, 1998 [cited 2013 Apr 15]. Available from: http://portal.mec.gov.br/seb/arquivos/pdf/ttransversais.pdf.
(17) Leadebal ODCPL, Fontes WD, Silva SC. Ensino do processo de enfermagem: planejamento e inserção em matrizes curriculares. Rev Esc Enferm USP. 2010; 44(1):190-8.
(18) Conselho Nacional de Educação (Brasil). Ministério da Educação. Resolução CNE/CES Nº 3, DE 7 DE NOVEMBRO DE 2001. Institui Diretrizes Curriculares Nacionais do Curso de Graduação em Enfermagem. Brasília, 2001.
(19) Souza ER, Ribeiro AP, Penna LHG, Ferreira AL, Santos NC, Tavares CMM. O tema violência intrafamiliar na concepção dos formadores dos profissionais de saúde. Ciênc Saúde Colet. 2009;14(5):1709-19.
(20) Machado MOF, Alves LC, Freitas OS, Monteiro JCS, Sponholz FG. Saúde mental de mulher vítima de violência por parceiro íntimo durante a gestação. Invest Educ Enferm. 2014; 32(2):291-305.
(21) Kiss LB, Schraiber LB. Temas médico-sociais e a intervenção em saúde: a violência contra mulheres no discurso dos profissionais. Ciênc Saúde Colet. 2011; 16(3):1943-52.
(22) Gomes NP, Erdmann AL. Violência conjugal na perspectiva de profissionais da "Estratégia Saúde da Família": problema de saúde pública e a necessidade do cuidado à mulher. Rev Latino–Am Enfermagem. 2014; 22(1):1-9.
(23) Pedrosa CM, Spink MJP. A violência contra mulher no cotidiano dos serviços de saúde: desafios para a formação médica. Rev Saúde Soc. 2011; 20(1):124-35.
(24) Prado ML, Velho MB, Espíndola DS et al. Arco de Charles Maguerez: refletindo estratégias de Metodologia Ativa na formação de profissionais de saúde. Rev Esc Anna Nery. 2012; 16(1):172-7.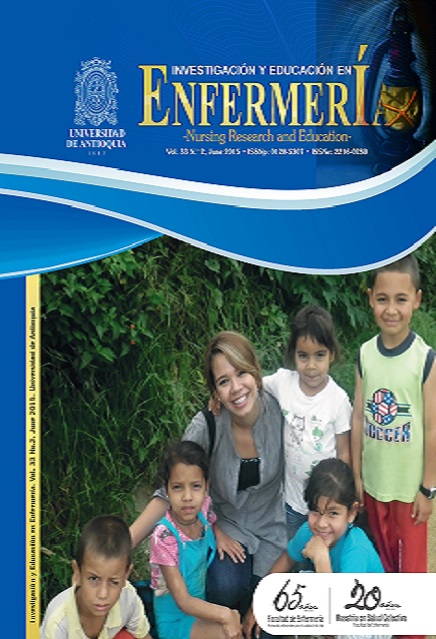 Downloads
How to Cite
Dedavid da Rocha, B., Landerdahl, M. C., Ferreira Cortes, L., Becker Vieira, L., & de Mello Padoin, S. M. (2015). Violence against women: perceptions of nursing students' about the focus on the formation. Investigación Y Educación En Enfermería, 33(2). https://doi.org/10.17533/udea.iee.23006
Section
ORIGINAL ARTICLES / ARTÍCULOS ORIGINALES / ARTIGOS ORIGINAIS
License
Derechos de propiedad / Direitos de Propriedade
English: If the article is accepted for publication, all copyright will be of exclusive property of Investigación y Educación en Enfermería. The text and the graphics included in the publication are exclusive responsibility of the authors and not necessarily reflect the thought of the Editorial Committee.
Español: Si el artículo es aprobado para publicación, todos los derechos son de propiedad de Investigación y Educación en Enfermería. El texto y las gráficas incluidas en la publicación son de exclusiva responsabilidad de los autores y no necesariamente refleja el pensamiento del Comité Editorial.
Português: Se o artigo for aceito para publicação, todos os direitos autorais serão de propriedade exclusiva de Investigación y Educación en Enfermería. O texto e os gráficos incluídos na publicação são de responsabilidade exclusiva dos autores e não refletem necessariamente o pensamento do Comitê Editorial.