Women's primary care nursing in situations of gender violence
Fernanda Visentin

RN. Our Lady of Fatima College. Caxias do Sul/Brazil. email: fervisentin@gmail.com

Letícia Becker Vieira

RN, Ph.D. Professor, Universidade Federal do Rio Grande do Sul (UFRGS). Porto Alegre/Brazil. email: lebvieira@hotmail.com

Ivana Trevisan

RN, Master. UFRGS. Porto Alegre/Brazil. email: ivanatrevisan@yahoo.com.br

Elisiane Lorenzini

RN, Master,PhD candidate. UFRGS. Porto Alegre/Brazil. email: elisilorenzini@gmail.com

Eveline Franco da Silva

Obstretical nurse, Master. Professor, Serra Gaúcha College. Porto Alegre/ Brazil. emaill: evelinefranco@yahoo.com.br
Keywords:
Nursing care, primary health care, spouses, violence against women.
Abstract
Objective. Identify the actions conducted by primary health care nurses for women in situations of domestic violence.
Methodology. Exploratory-descriptive study with a qualitative approach. Participants were 17 nurses who worked in the Basic Health Unit in a city in the interior of Rio Grande do Sul, Brazil. The data was collected through semi-structured interviews and the information processing was performed using the interview content analysis technique.
Results. By acting in a context of the violence, the nurses describe some elements and strategies they use that allow recognition and action to combat violence, namely: acceptance and empathy, establishing a bond of trust between the professional and the woman, dialogue, and intent listening. The limitations mentioned by participants were: lack of professional training to address the situation, feeling of unpreparedness, lack of time for the workload, the professional's difficulty in recognizing and dealing with violence given its complexity, low efficiency of the service network, and the sense of professional impotence against the gravity and complexity involved in violence.
Conclusion. The participants are not adequately prepared to care for women in situations of domestic violence. It is necessary that this issue be addressed in the training of nursing professionals.
How to cite this article: Visentin F, Vieira LB, Trevisan I, Lorenzini E, Silva EF. Women's primary care nursing in situations of gender violence. Invest Educ Enferm. 2015; 33(3):
|Abstract = 410 veces | PDF = 276 veces| HTML RESUMEN = 3 veces| HTML ENGLISH = 2 veces| HTML PORTUGUES = 24 veces|
Downloads
Download data is not yet available.
References
(1) Reichenheim ME, Souza ER, Moraes CL, Mello Jorge MH, SilvaCM, Souza Minayo MC. Violence and injuries in Brazil: the effect, progress made, and challenges ahead. Lancet. 2011; 377:1962-75.
(2) Ministério da Saúde (Brasil). Impacto da violência na saúde dos brasileiros. Brasília: Ministério da Saúde; 2005.
(3) Montoya JHE, Sanchéz-Alfaro LA. Las violencias de género como problema de salud pública: una lectura en clave bioética. Rev Colombiana de Bioética. 2011; 6(1):37-61.
(4) Medina NT, Erazo GEC, Dávila DCB, Humphreys JC. Contribution of intimate partner violence exposure, other traumatic events and posttraumatic stress disorder to chronic pain and depressive symptoms. Invest Educ Enferm. 2011; 29(2):174-86.
(5) Waiselfisz JJ. Mapa da violência – 2012. Caderno complementar 1: homicídio de mulheres no Brasil. São Paulo: Instituo Sangari, 2012. [cited Dec 20, 2014]. Available from: http://www.mapadaviolencia.org.br/pdf2012/mapa2012_mulher.pdf
(6) Vieira LB, Padoin SMM, Landerdahl MC. A percepção de profissionais da saúde em um hospital sobre a violencia contra as mulheres. Rev Gaúcha Enferm. 2009; 30(4):609-16.
(7) Gomes NP, Diniz NMF, Silva Filho CC, Santos JNB. Enfrentamento da violência doméstica contra a mulher a partir da interdisciplinaridade e intersetorialidade. Rev Enferm UERJ. 2009; 17(1):14-7.
(8) Lettiere A, Nakano MAS, Rodrigues DT. Violência contra a mulher: a visibilidade do problema para um grupo de profissionais de saúde. Rev Esc Enferm USP. 2008; 42(3):467-73.
(9) Ministério da Saúde (Brasil). Prevenção e Tratamento dos Agravos Resultantes da Violência Sexual Contra Mulheres e Adolescentes. Brasília; 2011.
(10) Turato ER. Tratado da metodologia da pesquisa clínico-qualitativa. 5th ed. Petrópolis, RJ: Vozes; 2011.
(11) Bardin L. Análise de conteúdo. Lisboa: Edições 70; 2009.
(12) Ministério da Saúde (Brasil). Conselho Nacional de Saúde (CNS). Resolução nº 466 de 12 de dezembro de 2012. Dispõe sobre normas para pesquisa envolvendo seres humanos. Brasília; 2012.
(13) Moreira V, Boris GDJ, Venâncio N. O estigma da violência sofrida por mulheres na relação com seus parceiros íntimos. Psicol Soc. 2011; 23(2):398-406.
(14) Superintendência de Políticas para Mulheres (Brasil). Balanço semestral do ligue 180 (janeiro a junho/2012). Brasília: Presidência da República; Secretaria de Políticas para Mulheres; 2012.
(15) Silva EB, Padoin SMM, Vianna LAC. Violência contra a mulher: limites e potencialidades da prática assistencial. Acta Paul Enferm 2013; 26(6):608-13.
(16) Guimarães ARC, Neves HC, Costa LP, Silva ML, et al. Serviço de atendimento especializado a mulheres em situação de violência no Pará. Revi Nufen. 2011; 1(2):25-38.
(17) Fontana RT. Humanização no processo de trabalho em enfermagem: uma reflexão. Rev RENE 2010; 11(1):200-7.
(18) Guedes RN, Fonseca RM, Egry EY. Limites e possibilidades avaliativas da Estratégia de Saúde da Família para a violência de gênero. Rev Esc Enferm USP 2013;47(2):304-11.
(19) Presidência da República (Brasil). Política Nacional de enfrentamento à violência contra as mulheres. Brasília; 2011.
(20) Baraldi ACP, Almeida AM, Perdoná GC, Vieira EM. Violência contra a mulher na rede de atenção básica: o que os enfermeiros sabem sobre o problema? Rev Bras Saúde Mater Infant 2012; 12(3):307-18.
(21) Kiss LB, Schraiber LB. Temas médico-sociais e a intervenção em saúde: a violência contra mulheres no discurso dos profissionais. Cienc Saúde Colet 2011; 16(3):1943-52.
(22) Brasil. Lei 10.778, de 24 de novembro de 2003. Estabelece a notificação compulsória, no território nacional, do caso de violência contra a mulher que for atendida em serviços de saúde públicos ou privados. Brasília (DF).
(23) Ministério da Saúde (Brasil). Portaria nº 104, de 25 de janeiro de 2011. Brasília, 2011. [cited January 2 ,2015. Available from: http://www.saude.mg.gov.br/index.php?option=com_gmg&controller=document&id=8141-portaria-n%C2%BA-104-de-25-de-janeiro-de-2011-sesmg
(24) Bonfim, FG. A violência doméstica contra a mulher na perspectiva da atenção pré-natal pública. Thesis (Master's in Nursing). Escola de Enfermagem UFRGS. 2008. 172 p. [cited November 26, 2014]. Available from: http://www.lume.ufrgs.br/bitstream/handle/10183/13669/000652375.pdf?sequence=1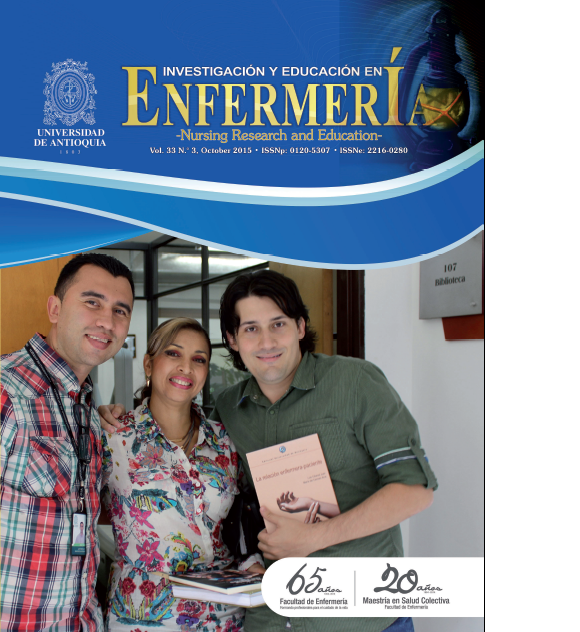 How to Cite
VisentinF., Becker VieiraL., TrevisanI., LorenziniE., & Franco da SilvaE. (2015). Women's primary care nursing in situations of gender violence. Investigación Y Educación En Enfermería, 33(3). Retrieved from https://revistas.udea.edu.co/index.php/iee/article/view/24465
Section
ORIGINAL ARTICLES / ARTÍCULOS ORIGINALES / ARTIGOS ORIGINAIS
Derechos de propiedad / Direitos de Propriedade
English: If the article is accepted for publication, all copyright will be of exclusive property of Investigación y Educación en Enfermería. The text and the graphics included in the publication are exclusive responsibility of the authors and not necessarily reflect the thought of the Editorial Committee.
Español: Si el artículo es aprobado para publicación, todos los derechos son de propiedad de Investigación y Educación en Enfermería. El texto y las gráficas incluidas en la publicación son de exclusiva responsabilidad de los autores y no necesariamente refleja el pensamiento del Comité Editorial.
Português: Se o artigo for aceito para publicação, todos os direitos autorais serão de propriedade exclusiva de Investigación y Educación en Enfermería. O texto e os gráficos incluídos na publicação são de responsabilidade exclusiva dos autores e não refletem necessariamente o pensamento do Comitê Editorial.