Historic perspectives from anthropology. Reflections proposed to Transcultural Nursing
Keywords:
Anthropology, nursing, transcultural nursing.
Abstract
History brings together meanings related to earlier periods, being aware of the past as a panorama to reread the present. Madeleine Leininger presented in 1970 an implicit and respectful message to the Nursing Profession when introducing Nursing and Anthropology. Two Worlds to Blend. Implicitly: Nursing you disregard culture.
This article shows the absence of the history of anthropology and of nursing within Transcultural Nursing and it includes how education has influenced theoretic, methodological, and comparative approaches giving researchers the responsibility to decide their fundamentals. Berthoud (2001) has inspired the anthropological and historic perspectives of the author, thus universalism, relativism, and comparison are presented.
How to cite this article: Rohrbach C. Historic perspectives from anthropology.  Reflections proposed to Transcultural Nursing. Invest Educ Enferm. 2015; 33(2): 
|Abstract = 870 veces | PDF = 322 veces| | HTML ENGLISH = 0 veces|
Downloads
Download data is not yet available.
References
(1) Brown SC. History of Philosophy. Volume 5: British philosophy in the age of enlightenment [Internet]. New York: Routledge; 2004 [cited Feb 12, 2015]. Available from: http://www.olimon.org/uan/routledge_5.pdf
(2) Hodgen MT. Early anthropology in the sixteenth and seventeenth centuries. Philadelphia: University of Pennsylvania Press; 1964. p.17-44.
(3) Berthoud, G. (2007). La comparison anthropologique: ébauche de la méthode. Revue européenne des sciences sociales. XLV-138. Lbrairie Droz.
(4) Stocking GW. Franz Boas y el concepto de cultura en perspectiva histórica. In: Race, Culture, and Evolution: Essays in the History of Anthropology. Chicago: The University of Chicago Press; 1968. p.195-233
(5) Renteln A. Relativism and the Search for Human Rights. Arlington, VA: American Anthropological Association; 1988.
(6) Lefeuvre M. Le devoir d'excision. Revue du Mauss. 1988; 1:65-95.
(7) Herskovits M. Cultural relativism: perspectives in cultural pluralism. New York: Vintage Books; 1973.
(8) Dilthey W. Introduction to the Human sciences. Princeton, N.J: Princeton University Press; 1988.
(9) Makkreel R. Wilhelm Dilthey. In: Zalta EN (Ed). The Stanford encyclopedia of philosophy [Internet]. Summer Ed. Standford: University of Standford; 2012 [cited Feb 16, 2015]. Available from: http://plato.stanford.edu/archives/sum2012/entries/dilthey/
(10) Poirier J. Ethnologie Générale. Encyclopédie de la Pléiade. Paris: Gallimard; 1968.
(11) Rohrbach C. Soins et Anthropologie. Une démarche reflexive. Rech Soins Infirm. 2007; (90):19-25.
(12) Berthoud G. Vers une anthropologie générale: modernité et altérité. Genève: Librairie Droz ; 1992.
(13) Boas F. The limitations of the comparative method in anthropology. Science.1896; 4(103): 901-8.
(14) Spiro ME. Anthropological other or burmese brother? Studies in cultural analysis. Piscataway, N.J: London Transaction Pblishers; 1991. p.24.
(15) Leininger M. Transcultural Nursing Concepts, Theories, Research &Practices. New York: McGraw Hill; 1995.
(16) AnthroBase. Methods, Fieldwork, Ethics [Internet]. [cited Feb 19, 2015]. Available from: http://www.anthrobase.com/Browse/Thm/Groups/methods-fieldwork-ethics.htm
(17) Collière M F. Difficultés rencontrées pour désentraver l'histoire des femmes soignantes. In : Actes du Colloque de Sion, 22-23 novembre, 1991. Genève : Editions Zoé; 1992.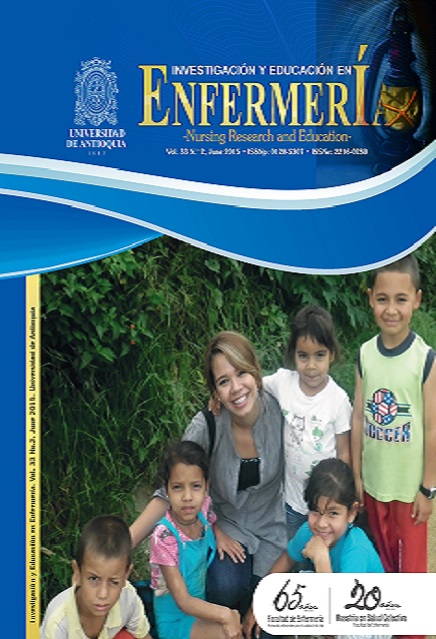 Downloads
How to Cite
Rohrbach Viadas, C. (2015). Historic perspectives from anthropology. Reflections proposed to Transcultural Nursing. Investigación Y Educación En Enfermería, 33(2). https://doi.org/10.17533/udea.iee.23019
Section
ESSAY / ENSAYO / ENSAIO
License
Derechos de propiedad / Direitos de Propriedade
English: If the article is accepted for publication, all copyright will be of exclusive property of Investigación y Educación en Enfermería. The text and the graphics included in the publication are exclusive responsibility of the authors and not necessarily reflect the thought of the Editorial Committee.
Español: Si el artículo es aprobado para publicación, todos los derechos son de propiedad de Investigación y Educación en Enfermería. El texto y las gráficas incluidas en la publicación son de exclusiva responsabilidad de los autores y no necesariamente refleja el pensamiento del Comité Editorial.
Português: Se o artigo for aceito para publicação, todos os direitos autorais serão de propriedade exclusiva de Investigación y Educación en Enfermería. O texto e os gráficos incluídos na publicação são de responsabilidade exclusiva dos autores e não refletem necessariamente o pensamento do Comitê Editorial.