Puerperae bonding with their children and labor experiences
Keywords:
Mother-child relations, nursing care, postpartum period, infant, newborn.
Abstract
Objective. To analyze the degree of bonding of puerperae with their babies, both in isolation and associated with experiences during and after labor.
Methods. A crosssectional study carried out among 200 puerperae in São José do Rio Preto, Brazil. To evaluate the motherchild bond, we used the Mother-to-Infant Bonding Scale (MIBS).
Results. The mean age of puerperae was 26.4 years; most women were white (60.0%), were married (87.5%), and had an elementary education (51.5%). Most deliveries were cesarean (80.0% of cases); 68.0% of women had no pain during labor, and only 54% had skin-to-skin contact immediately after delivery. Type of labor and pain did not significantly change the maternal bond, and the lack of skin-to-skin contact negatively influenced the bond.
Conclusion. Pueperae participants had a high degree of bonding with their babies that is mainly related to history of skin-to-skin contact. Nurses must promote strategies that encourage skin-to-skin contact between mother and newborn in the delivery room.
How to cite this article: Souza LH, ZASG Soler, Santos MLSG, Sasaki NSGMS. Puerperae bonding with their children and labor experiences. Invest. Educ. Enferm. 2017; 35(3):364-371.
|Abstract = 410 veces | PDF = 323 veces| | ENGLISH = 27 veces| | PORTUGUESE = 55 veces| | VIDEO = 0 veces|
Downloads
Download data is not yet available.
References
(1) Gomez R, Leal I. Vinculação parental durante a gravidez: versão portuguesa da forma materna e paterna da antenatal emotional attachment scale. Psicol. Saúde Doenças. 2007; 8(2):153–65.
(2) Silva RS, Porto MC. A Importância da Interação Mãe-Bebê. Ensaios e Ciência C Biológicas, Agrárias e da Saúde. 2016; 20(2):73–8.
(3) Figueiredo B. Mãe e pais: envolvimento emocional com o bebê. Psiquilíbrios; 2013.
(4) Boeckel MG, Wagner A, Ritter F, Sohne L, Schein S, Grassi-Oliveira R. Análise fatorial do inventário percepção de vinculação materna. Interam. J. Psychol. 2011; 45:439–48.
(5) Winniccott DW. A família e o desenvolvimento individual. 4th. São Paulo: Martins Fontes; 2011.
(6) Perrelli JGA, Zambaldi CF, Cantilino A, Sougey EB. Instrumentos de avaliação do vínculo entre mãe e bebê. Rev. Paul. Pediatr. 2014; 32:257–65.
(7) Palacios-Hernández B. Alteraciones en el vínculo materno-infantil: prevalencia, factores de riesgo, criterios diagnósticos y estrategias de evaluación. Rev. Univ. Ind. Santander. Salud . 2016 ;48(2):164-73.
(8) Duarte M, Costa S, Cruz O, Amendoeira J. Intervenções de enfermagem na construção do papel maternal. Rev. UIIPS. 2015; 3(5):1–11.
(9) Ferreira MM da C, Costa M da GA da. Cuidar em parceria: subsídio para a vinculação pais/bebé pré-termo. Millenium. 2004; 51–8.
(10) Figueiredo B, Marques A, Costa R, Pacheco A, Pais A. Bonding: escala para avaliar o envolvimento emocional dos pais com o bebé. Psychol. 2005; 40:133–54.
(11) Ministério da Saúde, Centro Brasileiro de Análise e Planejamento B. Pesquisa Nacional de Demografia e Saúde da Criança e da Mulher: Dimensões do processo reprodutivo e da saúde da criança. Brasília; 2009.
(12) Brasil, Ministério do Planejamento Orçamento e Gestão. Radar social: condições de vida no Brasil 2006. Brasília': IPEA; 2006.
(13) Samorinha C, Figueiredo B, Cruz JM. Vinculação pré-natal e ansiedade em mães e pais: impacto da ecografia do 1o trimeste de gestação. Psicol. Saúde Doenças. 2009; 10(1):17–29.
(14) Brasil, Secretaria Executiva, Ministério da Saúde. Cadernos de informação em saúde. Informações gerais: municípo de São José do Rio Preto [Internet]. Ministério da Saúde. 2012 [cited 19 May 2017]. Available from: datasus.gov.br/caderno/geral/sp/SP_Sao_Jose_do_Rio_Preto_Geral_xls
(15) Bruzadel DS, Tavares BB. Expectativa quanto ao parto e conhecimento do motivo da cesárea: entre puérperas adolescentes e adultas. Rev. Eletr. Enferm. 2010; 12(1):150–7.
(16) Figueiredo B, Costa R, Pacheco A, Pais Á. Motherto-infant emotional involvement at birth. Matern. Child Health J. 2009; 13(4):539–49.
(17) Pereira R da R, Franco SC, Nelma Baldin. A dor e o protagonismo da mulher na parturição. Rev. Bras. Anestesiol. 2011; 61(3):376–88.
(18) Cunha ACB da, Santos C, Gonçalves RM. Concepções sobre maternidade, parto e amamentação em grupo de gestante. Arq. Bras. Psicol. 2012; 64(12):139–55.
(19) Organização Mundial da Saúde, Organização Panamericana de Saúde. Evidências científicas dos dez passos para o sucesso do aleitamento materno. Brasília; 2001.
(20) Brasil, Ministério da Saúde Portaria no 371, de 07 de maio de 2014. Institui as diretrizes para a organização da atenção integral e humanizada ao recém nascido no Sistema Único de Saúde; Diário Oficial da União. 08 de mai 2014; nº86, Seção 1:50-51.
(21) Nagahama EEI, Santiago SM. Práticas de atenção ao parto e os desafios para humanização do cuidado em dois hospitais vinculados ao Sistema Único de Saúde em município da Região Sul do Brasil. Cad. Saúde Pública. 2008; 24(8):1859–68.
(22) Rosa R da, Martins FE, Gasperi BL, Monticelli M, Siebert ERC, Martins NM. Mãe e filho: os primeiros laços de aproximação. Esc. Anna Nery. 2010; 14(1):105–12.
(23) Matos TA, Souza MS de, Santos EKA dos, Velho MB, Seibert ERC, Martins NM. Contato precoce pele a pele entre mãe e filho: significado para mães e contribuições para a enfermagem. Rev. Bras. Enferm. 2010; 63(6):998–1004.
(24) Santos LM dos, Silva JCR da, Carvalho ES de S, Carneiro AJS, Santana RCB de, Fonseca MC de C. Vivenciando o contato pele a pele com o recémnascido no pós-parto como um ato mecânico. Rev. Bras. Enferm. 2014;67(2):202–7.
(25) Fucks IS, Soares MC, Kerber NPC, Meincke SMK, Escobal APL, Bordignon SS. A sala de parto: o contato pele a pele e as ações para o estímulo ao vínculo entre. Av. Enferm. 2015; 33(1):29–37.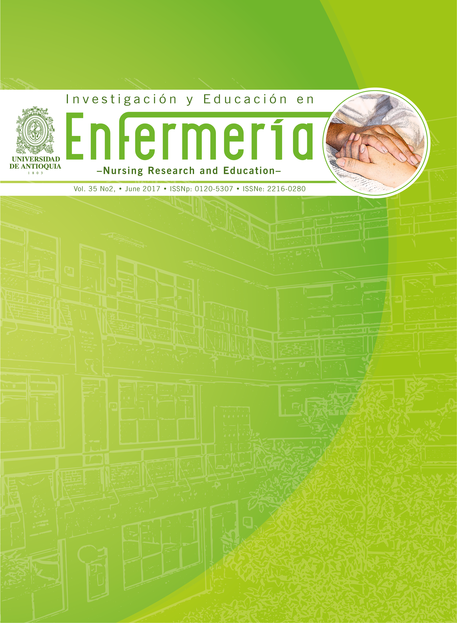 Downloads
How to Cite
Helk Souza, L., Sperli Geraldes Soler, Z. A., Sperli Geraldes Santos, M. de L., & Sperli Geraldes Marin dos Santos, N. (2017). Puerperae bonding with their children and labor experiences. Investigación Y Educación En Enfermería, 35(3). https://doi.org/10.17533/udea.iee.v35n3a13
Section
ORIGINAL ARTICLES / ARTÍCULOS ORIGINALES / ARTIGOS ORIGINAIS
License
Derechos de propiedad / Direitos de Propriedade
English: If the article is accepted for publication, all copyright will be of exclusive property of Investigación y Educación en Enfermería. The text and the graphics included in the publication are exclusive responsibility of the authors and not necessarily reflect the thought of the Editorial Committee.
Español: Si el artículo es aprobado para publicación, todos los derechos son de propiedad de Investigación y Educación en Enfermería. El texto y las gráficas incluidas en la publicación son de exclusiva responsabilidad de los autores y no necesariamente refleja el pensamiento del Comité Editorial.
Português: Se o artigo for aceito para publicação, todos os direitos autorais serão de propriedade exclusiva de Investigación y Educación en Enfermería. O texto e os gráficos incluídos na publicação são de responsabilidade exclusiva dos autores e não refletem necessariamente o pensamento do Comitê Editorial.