Impact of educational group strategy to improve clinical and glycemic parameters in individuals with diabetes and hypertension
Keywords:
Diabetes mellitus, health promotion, health education, hypertension.
Abstract
Objective. To evaluate the impact of an educational group strategy to improve clinical and glycemic parameters in individuals with diabetes and hypertension.
Methods. This descriptive prospective study included 172 individuals living in São José do Rio Preto-SP, Brazil, who were enrolled in a well-integrated educational group called HIPERDIA (Record System for Follow-up of Hypertensive and Diabetic Individuals) coordinated by a qualified multidisciplinary team. We analyzed sociodemographic,  anthropometric, clinical, and laboratory data. Data were collected in the first, fifth, and eighth meeting of the educational group.
Results. A total of 68.6% of patients were women, 85.4% were white, 64.0% had an incomplete basic education, 47.7% were retired, 79.7% had been diagnosed with diabetes for 6 or more years, 9.9% were smokers, and 9.9% used alcohol. Individuals' diastolic blood pressure decreased between the fifth and eighth meeting (p<0.05). Between the first and fifth meeting, both fasting glucose levels (p<0.05) and glycated hemoglobin decreased; the latter continue to drop at the fifth and eighth meetings (p<0.001). Anthropometric parameters remained unchanged.
Conclusion. The results suggest that an educational group strategy is favorable for controlling diabetes mellitus and hypertension.
How to cite this article Favaro DTL, Sasaki NSGMS, Vendramini SHF, Castiglioni L, Santos MLSG. Impact of educational group strategy to improve clinical and glycemic parameters in individuals with diabetes and hypertension. Invest. Educ. Enferm. 2016; 34(2):
|Abstract = 514 veces | PDF = 179 veces| | HTML RESUMEN = 3 veces| | HTML ENGLISH = 0 veces| | HTML PORTUGUÉS = 1 veces| | VÍDEO = 0 veces|
Downloads
Download data is not yet available.
References
(1) Gomes-Villas Boas LC, Foss MC, Freitas MCF, Pace AE. Relação entre apoio social, adesão aos tratamentos e controle metabólico de pessoas com diabetes mellitus. Rev. Latino-Am; Enfermagem. 2012; 20(1):52-8
(2) International Diabetes Federation, IDF Diabetes Atlas, 6th ed. Brussels, Belgium: International Diabetes Federation, 2013. Available from: http:// www.idf.org/diabetesatlas.
(3) Paz EPA, Souza MHN, Guimarães RM, Pavani GF, Correa HFS, Carvalho PM et al. Estilos de vida de pacientes hipertensos atendidos com a Estratégia de Saúde Familiar. Invest. Educ. Enferm. 2011; 29(3):67-476.
(4) Chen EH, Thom DH, Hessler DM, Phengrasamy L, Hammer H, Saba G, et al. Using the Teamlet Model to Improve Chronic Care in an Academic Primary Care Practice. J Gen Intern Med. Sep 2010; 25 (Suppl 4): 610-614.
(5) Gagliardino JJ, Gonzáles C, Caporale JE, Diabetes Education Study Group of Argentina. The diabetes-related attutudes of health care profesionals and persons with diabetes in Argentina. Rev. Panam. Salud Publica. 2007; 22(5):304-7.
(6) Viegas SMF, Penna CMM. Integrality: life principle and right to health. Invest. Educ. Enferm. 2015; 33(2):237-47.
(7) Brasil. Diretrizes da Sociedade Brasileira de Diabetes 2012-2013. Classificação etiológica do Diabetes. São Paulo: AC Farmacêutica, 2013. 385p.
(8) Figueiredo MFS, Rodrigues-Neto JF, Leite MTS. Modelos aplicados às atividades de educação em saúde. Rev. Bras. Enferm., Brasília. 2010; 63(1):117-21.
(9) Beyazit E, Mollaoglu M. Investigation of Effect on Glycosilated Hemoglobin, Blood Pressure, and Body Mass Index of Diabetes Intensive Education Program in Patients With Type 2 Diabetes Mellitus. Am. J. Mens Health. 2011; 5(4):351-7.
(10) Gagliardino JJ, Arrechea V, Assad D, Gagliardino GG, González L, Lucero S, Rizzuti L, Zufriategui Z, Clark C Jr.. Type 2 diabetes patients educated by other patients perform at least as well as patients trained by professionals. Diabetes Metab. Res. Rev. 2013; 29(2):152-60.
(11) Scain SF, Friedman R, Gross JL. A Structured Educational Program Improves Metabolic Control in Patients With Type 2 Diabetes. Diabetes Educ. 2009; 35(4):603-11.
(12) Allen JK, Himmelfarb CR, Szanton SL, Bone L, Hill MN, Levine DM. COACH trial: a randomized controlled trial of nurse practitioner/community health worker cardiovascular disease risk reduction in urban community health centers: rationale and design. Contemp. Clin. Trials. 2011; 32(3):403-11.
(13) Gomes DBX, Bezerra EMA, Silva JCA, Costa TPS, Ribeiro MDA, Campelo GO. Avaliação da qualidade de vida em idosos hipertensos atendidos em clínica de fisioterapia. SANARE. 2015 Jan/Jun; 14(01):33-37.
(14) Gillett M, Dallosso HM, Davies MJ, Dixon S, Brennan A, Carey ME, et al. Delivering the diabetes education and self management for ongoing and newly diagnosed (DESMOND) programme for people with newly diagnosed type 2 diabetes: cost effectiveness analysis. BMJ. 2010; 341:c4093.
(15) Gagliardino JJ, Lapertosa S, Pfirter G, Villagra M, Caporale JE, Gonzalez CD et al. Clinical, metabolic and psychological outcomes and treatment costs of a prospective randomized trial based on different educational strategies to improve diabetes care (PRODIACOR). Diabet. Med. 2013; 30(9):1102-11.
(16) Hoyos TN, Arteaga MV, Muñoz M. Factores de no adherencia al tratamiento en personas con Diabetes Mellitus tipo 2 en el domicilio. La visión del cuidador familiar. Invest. Educ. Enferm. 2011; 29(2):194-203.
(17) Torres HC, Amaral MA, Amorim MM, Cyrino AP, Bodstein R. Capacitação de profissionais da atenção primária à saúde para educação em Diabetes Mellitus. Acta Paul Enferm. 2010;23(6):751-6.
(18) Falkenberg MB, Mendes TPL, Moraes EP, Souza EM. Educação em saúde e educação na saúde: conceitos e implicações para a saúde coletiva. Ciênc. Saúde Coletiva; 2014; 19(3):847-52.
(19) Cunha EM, Giovanella L. Longitudinalidade/continuidade do cuidado: identificando dimensões e variáveis para a avaliação da Atenção Primária no contexto do sistema público de saúde brasileiro. Ciênc. Saúde Coletiva. 2011; 16(1S):1029-42.
(20) Baratieri T, Marcon SS. Longitudinalidade do cuidado: compreensão dos enfermeiros que atuam na estratégia saúde da família. Esc. Anna Nery. 2011; 15 (4):802-10.
(21) Franco TAV, Silva JLL, Daher DV. Educação em saúde e a pedagogia dialógica: uma reflexão sobre Grupos educativos na atenção básica. Informe-se em promoção da saúde. 2011; 7(2):19-22.
(22) Ghorob A, Bodenheimer T. Share the Care: building teams in primary care practices. J. Am. Board Fam. Med. 2012 25(2):143-5
(23) Zanon PMA, Domingues WA, Estuque SB, L de Paula AR, Tiemi A, Netto Antonio R et al. Diagnóstico da tuberculose: desempenho do primeiro serviço de saúde procurado em São José do Rio Preto, São Paulo, Brasil. Cad. Saúde Pública. 2013 ; 29(5):945-54.
(24) Fracolli LA, Zoboli ELP, Granja GF, Ermel RC. Conceito e prática da integralidade na Atenção Básica: a percepção das enfermeiras. Rev. Esc. Enferm. USP. 2011; 45(5):1135-41.
(25) Villa TCS, Ponce MAZ, Wysock AD, Andrade RLP, Arakawa T, Scatolin BE, et al. Diagnóstico oportuno da tuberculose nos serviços de saúde de diversas regiões do Brasil. Rev. Latino-Am. Enfermagem; 2013; 21(Spec.):190-8.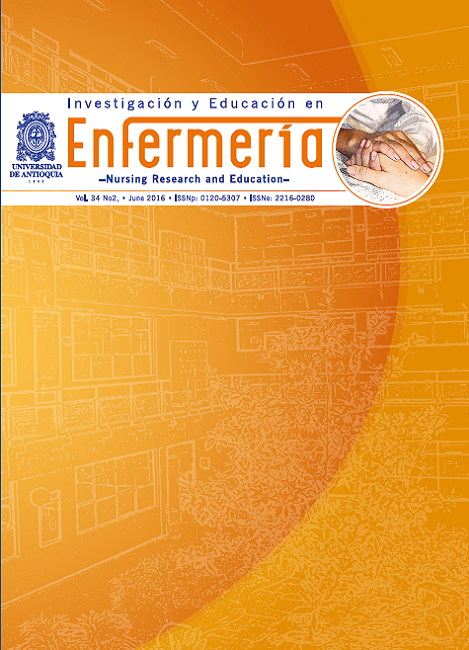 How to Cite
Teixeira Lima Favaro, D., Sperli Geraldes Marin dos Santos, N., Figueiredo Vendramini, S. H., Castiglioni, L., & Sperli Geraldes Santos, M. de L. (2016). Impact of educational group strategy to improve clinical and glycemic parameters in individuals with diabetes and hypertension. Investigación Y Educación En Enfermería, 34(2). https://doi.org/10.17533/udea.iee.323265
Section
ORIGINAL ARTICLES / ARTÍCULOS ORIGINALES / ARTIGOS ORIGINAIS
License
Derechos de propiedad / Direitos de Propriedade
English: If the article is accepted for publication, all copyright will be of exclusive property of Investigación y Educación en Enfermería. The text and the graphics included in the publication are exclusive responsibility of the authors and not necessarily reflect the thought of the Editorial Committee.
Español: Si el artículo es aprobado para publicación, todos los derechos son de propiedad de Investigación y Educación en Enfermería. El texto y las gráficas incluidas en la publicación son de exclusiva responsabilidad de los autores y no necesariamente refleja el pensamiento del Comité Editorial.
Português: Se o artigo for aceito para publicação, todos os direitos autorais serão de propriedade exclusiva de Investigación y Educación en Enfermería. O texto e os gráficos incluídos na publicação são de responsabilidade exclusiva dos autores e não refletem necessariamente o pensamento do Comitê Editorial.