(In) visibility of notifications of violence against children and adolescents registered in a municipality in southern Brazil
Priscila Arruda da Silva

Ph.D. Nurse. Federal University of Rio Grande – FURG. Rio Grande, RS - Brazil. Email: patitaarruda@yahoo.com.br

Valéria Lerch Lunardi

Ph.D. Nurse. Retired professor, FURG. Rio Grande, RS - Brazil. Email: vlunardi@terra.com.br

Rodrigo Dalke Meucci

Physiotherapist, Ph.D. Professor, FURG. Rio Grande, RS - Brazil. Email: rodrigodalke@yahoo.com.br

Simone Algeri

Nurse, Ph.D. Professor at the Federal University of Rio Grande do Sul. Porto Alegre, RS – Brazil. Email: simone.salgeri@gmail.com

Michele Peixoto da Silva

Social Assistent, Master´s degree. Prefeitura Municipal do Rio Grande, RS – Brazil. Email: chele.p@hotmail.com

Flávia Pivoto Franciscatto

Nurse, Ph.D. Palmeira das Missões, RS – Brazil. Email: flaviapivoto@yahoo.com.brNurse, Ph.D. Palmeira das Missões, RS – Brazil. Email: flaviapivoto@yahoo.com.br
Keywords:
Nursing, domestic violence, child advocacy, mandatory reporting, registries.
Abstract
Objective. To know the perception of health, education and social service professionals about the records and notifications of violence against children and adolescents, carried out in a municipality in the south of Brazil.
Methods. This is an exploratory, descriptive, and qualitative approach, specifically developed in places that integrate children and adolescents victims of violence. Ten professionals participated, including three nurses, one doctor, two social workers, two psychologists, one tutor, and one educator. Data collection was performed through a semi-structured interview. The statements were submitted to discursive textual analysis.
Results. The analysis showed that the act of recording and reporting violence against children and adolescents is still not a routine practice for health professionals. The registration and formal communication of the information should be considered as a priority; however, the results showed that the protection of the victim seems to overlap with the registry. The study identified important elements in strategies for coping with violence against children and adolescents: centralization of notifications in a single service; creation of a notification flow; existence of an advisory team to deal with cases of violence; and completion of compulsory notification by education and social assistance professionals.
Conclusion. For the professionals, the routine attendance of situations involving violence, but not formalized through the notification form, has contributed to the underreporting and invisibility of the cases.
How to cite this article: Silva PA, Lunardi VL, Meucci RD, Algeri S, Silva MP, Franciscatto FP. (In) visibility of notifications of violence against children and adolescents registered in a municipality in southern Brazil. Invest. Educ. Enferm. 2019; 37(2):e11.
|Abstract = 152 veces | PDF = 125 veces| HTML ENGLISH = 0 veces| HTML PORTUGUESE = 15 veces|
Downloads
Download data is not yet available.
References
(1) Covell, K; Becker JO, NGO Advisory Council for Follow-up to the UN Study on Violence against Children. Five years on: a global update on violence against children [Internet]. 2011 [Cited 11 Feb 2018]. Available from: http://resourcecentre.savethechildren.se/sites/default/files/documents/5085.pdf.
(2) Viola TW, Salum GA, Kluwe-Schiavon B, Sanvicente-Vieira B, Levandowsky ML, Grassi-Oliveira R. The influence of geographical and economic factors in estimates of childhood abuse and neglect using the Childhood Trauma Questionnaire: A worldwide meta-regression analysis. Child Abuse Neglect. 2016; 51(1):1-11.
(3) Brasil. Ministério da Saúde. Portaria nº 1271, de 6 de junho de 2014. Define a Lista Nacional de Notificação Compulsória de doenças, agravos e eventos de saúde pública nos serviços de saúde públicos e privados em todo o território nacional, nos termos do anexo, e dá outras providências. Diário Oficial da União, Brasília (DF), 2014 Jun 09; Seção 1:67.
(4) Egry EY, Apostolico MR, Morais TCP. Notificação da violência infantil, fluxos de atenção e processo de trabalho dos profissionais da Atenção Primária em Saúde. Cien. Saude Colet. 2018; 23(1):83-92.
(5) Cezar PK, Arpini DM, Goetz ER. Registros de Notificação Compulsória de Violência Envolvendo Crianças e Adolescentes. Psicol. Cien. Prof. 2017; 37(2): 432-45.
(6) Delziovo CR, Bolsoni CC, Coelho EBS. Quality of records on sexual violence against women in the Information System for Notifiable Diseases (Sinan) in Santa Catarina, Brazil, 2008-2013. Epidemiol. Serv. Saude. 2018; 27(1):e20171493.
(7) Nunes AJ, Sales MCV. Violence against children in Brazilian scenery. Cien. Saude Colet. 2016; 21(3):871-80.
(8) Garbin CAS, Dias IA, Rovida TAS, Garbin AJI. Desafios do profissional de saúde na notificação da violência: obrigatoriedade, efetivação e encaminhamento. Cien. Saude Colet. 2015; 20(6):1879-90.
(9) Brasil. Ministério da Saúde. Conselho Nacional de Saúde. Resolução nº 466, de 12 de dezembro de 2012. Aprova as diretrizes e normas regulamentadoras de pesquisa envolvendo seres humanos. Brasília; 2012.
(10) Moraes R, Galiazzi MC. Análise textual discursiva. 2nd Ed. Ijuí: Editora Unijuí; 2011.
(11) Rolim ACA, Moreira GAR, Corrêa CRS, Vieira LJES. Subnotificação de maus-tratos em crianças e adolescentes na Atenção Básica e análise de fatores associados. Saúde Debate. 2014; 38(103):794-804.
(12) Waiselfisz JJ. Mapa da violência. Crianças e Adolescentes do Brasil. São Paulo: Instituto Sangari; 2012.
(13) Moreira GAR, Vieira LJES, Deslandes SF, Pordeus MAJ, Gama IS, Brilhante AVM. Fatores associados à notificação de maus-tratos em crianças e adolescentes na atenção básica. Cien. Saude Colet. 2014; 19(10):4267-76.
(14) European Union Agency for Fundamental Rights. Provisions on professionals' legal obligation to report cases of child abuse, neglect and violence [Internet]. 2015 [cited 05 Apr 2017]. Available from: http://fra.europa.eu/en/publication/2015/mappingchild-pro-tection-systems-eu/reporting-1 26.
(15) Lima JS, Deslandes SF. A notificação compulsória do abuso sexual contra crianças e adolescentes: uma comparação entre os dispositivos americanos e brasileiros. Interface (Botucatu). 2011; 15(38):819-32.
(16) Deslandes S, Mendes CHF, Lima JS, Campos DS. Indicadores das ações municipais para a notificação e o registro de casos de violência intrafamiliar e exploração sexual de crianças e adolescentes. Cad. Saude Publica. 2011; 27(8):1633-45.
(17) Abath MB, Lima MLLT, Lima PS, Silva MCM, Lima MLC. Avaliação da completitude, da consistência e da duplicidade de registros de violências do Sinan em Recife, Pernambuco, 2009-2012. Epidemiol. Serv. Saude. 2014; 23(1):131-42.
(18) Santos TM, Cardoso DM, Pitangui AC, Paiva SM, Melo JP, Silva LM. Completeness of notifications of violence perpetrated against adolescents in the State of Pernambuco, Brazil. Cien. Saude Colet. 2016; 21(12):3907-16.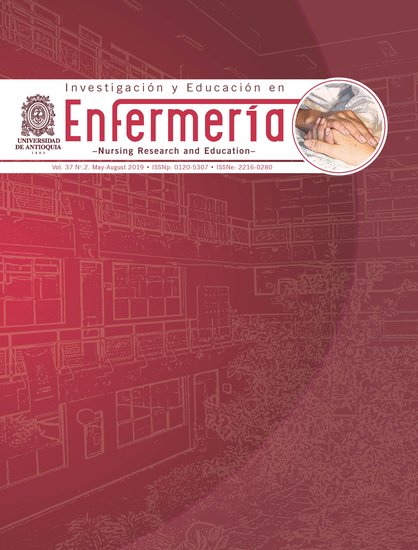 How to Cite
Arruda da Silva, P., Lerch Lunardi, V., Dalke Meucci, R., Algeri, S., Peixoto da Silva, M., & Pivoto Franciscatto, F. (2019). (In) visibility of notifications of violence against children and adolescents registered in a municipality in southern Brazil. Investigación Y Educación En Enfermería, 37(2). https://doi.org/10.17533/udea.iee.v37n2e11
Section
ORIGINAL ARTICLES / ARTÍCULOS ORIGINALES / ARTIGOS ORIGINAIS
Derechos de propiedad / Direitos de Propriedade
English: If the article is accepted for publication, all copyright will be of exclusive property of Investigación y Educación en Enfermería. The text and the graphics included in the publication are exclusive responsibility of the authors and not necessarily reflect the thought of the Editorial Committee.
Español: Si el artículo es aprobado para publicación, todos los derechos son de propiedad de Investigación y Educación en Enfermería. El texto y las gráficas incluidas en la publicación son de exclusiva responsabilidad de los autores y no necesariamente refleja el pensamiento del Comité Editorial.
Português: Se o artigo for aceito para publicação, todos os direitos autorais serão de propriedade exclusiva de Investigación y Educación en Enfermería. O texto e os gráficos incluídos na publicação são de responsabilidade exclusiva dos autores e não refletem necessariamente o pensamento do Comitê Editorial.