Knowledge of teachers about suicidal behavior in adolescents
Keywords:
sadness, suicide, adolescent health, mental health, risk factors, education, guilt, knowledge, behavior, alert
Abstract
Objective. To identify the knowledge of teachers about suicidal behavior in adolescents.
Methods. Qualitative exploratory-descriptive study conducted in a state school in the municipality of Porto Alegre, RS, Brazil. Twelve teachers participated in the study. Data were collected through semi-structured interviews analyzed using Bardin's Content Analysis.
Results. Three categories were built: "Warning signs of suicide", related to the signs identified by the professionals; "Risk factors for suicide", which indicate the reasons that may lead adolescents to present this type of behavior; and "Difficulties in dealing with the behaviors", referring to the behaviors adopted by adolescents and the difficulties of teachers before the theme.
Conclusion. It was possible to identify that teachers recognize some signs of suicidal behavior, as well as some risk factors. Nonetheless, it is necessary to qualify them to approach the subject, since they feel insecure to act in more critical moments, thus generating mainly feelings of sadness, guilt and powerlessness.
|Abstract = 48 veces | PDF = 28 veces| | HTML PORTUGUES = 1 veces| | VIDEO = 0 veces|
Downloads
Download data is not yet available.
References
1. World Health Organization [WHO]. Adolescent mental health [Internet]. Geneve: World Health Organization; 2021.Available from: https://www.who.int/news- room/fact-sheets/detail/adolescent-mental-health
2. Guia Intersetorial De Prevenção Do Comportamento Suicida Em Crianças E Adolescentes [Internet]. 1st ed. Porto Alegre: Secretaria da Saúde do Estado do Rio Grande do Sul; 2019.
3. Claumann GS, Pinto AD, Silva DA, Pelegrini A. Prevalência de pensamentos e comportamentos suicidas e associação com a insatisfação corporal em adolescentes. J. Bras. Psiquiatr. [Internet].2018; 67(1):3-9.
4. World Health Organization. Mental health in schools: a manual [Internet]. Geneve: WHO; 2021. Available from: https://applications.emro.who.int/docs/9789290225652-eng.pdf
5. Gaskell G. Pesquisa qualitativa com texto, imagem e som: Um manual prático. Petrópolis: Vozes; 2007.
6. Bardin L. Análise de Conteúdo. São Paulo: Edições 70; 2011.
7. Rodrigues MD, Oliveira PP, Silva HC, Pinheiro JM. Comportamento Suicida: O Perfil Epidemiológico Das Lesões Autoprovocadas No Estado De Goiás. Rev. Científica da Escola Estadual Saúde Pública Goiás "Cândido Santiago". 2020; 6(2):e600003.
8. Gijzen MW, Rasing SP, Creemers DH, Smit F, Engels RC, De Beurs D. Suicide ideation as a symptom of adolescent depression. a network analysis. J. Affect. Dis. 2021; 278:68-77.
9. Cáceda R, Durand D, Cortes E, Prendes-Alvarez S, Moskovciak T, Harvey PD, Nemeroff CB. Impulsive Choice and Psychological Pain in Acutely Suicidal Depressed Patients. Psychosom. Med. 2014; 76(6):445-51.
10. Mirkovic B, Delvenne V, Robin M, Pham-Scottez A, Corcos M, Speranza M. Borderline personality disorder and adolescent suicide attempt: the mediating role of emotional dysregulation. BMC Psychiatry. 2021; 21(1):393.
11. Secretaria de Vigilância em Saúde; Ministério da Saúde. Mortalidade Por Suicídio E Notificações De Lesões Autoprovocadas No Brasil [Internet]. Brasília; 2021 [cited 3 Mar 2022]. Available from: https://www.gov.br/saude/pt-br/centrais-de-conteudo/publicacoes/boletins/boletins- epidemiologicos/edicoes/2021/boletim_epidemiologico_svs_33_final.pdf
12. Plener PL, Kaess M, Schmahl C, Pollak S, Fegert JM, Brown RC. Nonsuicidal Self-Injury in Adolescents. Deutsches Aerzteblatt Online. 2018; 115: 23-30.
13. Vega D, Sintes A, Fernández M, Punt J, Soler J, Santamarina P, Soto À, et al. Review and Update On Non-SuicidalSelf-Injury: Who, How and Why? Actas Esp. Psiquiatr. 2018; 46(4):146-55.
14. Nascimento GS. Possibilidades A Prevenção Do Suicídio Dos Jovens. Brilliant Mind. 2020; 1(1):27-42.
15. Barbosa Ramos VA. Depressão na Infância e na Adolescência. PSICOLOGIA.PT [Internet]. 2018 [cited 10 Mar 2022]: 1-22. Available from: https://www.psicologia.pt/artigos/textos/A1224.pdf
16. Stanley IH, Boffa JW, Rogers ML, Hom MA, Albanese BJ, Chu C, Capron DW, Schmidt NB, Joiner TE. Anxiety sensitivity and suicidal ideation/suicide risk: a meta-analysis. J. Consult. Clin. Psychol. 2018; 86(11):946-60.
17. Naveed S, Waqas A, Aedma KK, Afzaal T, Majeed MH. Association of bullying experiences with depressive symptoms and psychosocial functioning among school going children and adolescents. BMC Res Notes. 2019;12(1):198.
18. Fundo das Nações Unidas para a Infância. UNICEF [Internet]. Pesquisa UNICEF: mais de um terço dos jovens em 30 países relatam ser vítimas de bullying online; 2019 [cited 13 Mar 2022]. Available from: https://www.unicef.org/brazil/comunicados-de-imprensa/mais-de-um-terco-dos- jovens-em-30-paises-relatam-ser-vitimas-bullying-online
19. Fonseca-Pedrero E, Al-Halabí S, Pérez-Albéniz A, Debbané M. Risk and protective factors in adolescent suicidal behaviour: a network analysis. Int. J. Environ. Res. Public Health. 2022; 19(3):1784.
20. Silva DA, Marcolan JF. O impacto das relações familiares no comportamento suicida. Res. Soc. Dev. 2021; 10(2):e17310212349.
21. Cuesta I, Montesó‐ Curto P, Metzler Sawin E, Jiménez‐ Herrera M, Puig‐ Llobet M, Seabra P, Toussaint L. Risk factors for teen suicide and bullying: an international integrative review. Int. J. Nurs. Pract. 2021; 27(3):e12930.
22. Neto NG, Pelizzari JV. Análise da relação entre o abuso de álcool e comportamento suicida em jovens atendidos pelo caps ad de cascavel/pr. Fag J. Health. 2021; 3(1):44-8.
23. Wasserman D, Hoven CW, Wasserman C, Wall M, Eisenberg R, Hadlaczky G et al. School-based suicide prevention programmes: the SEYLE cluster-randomised, controlled trial. Lancet. 2015; 385(9977):1536-44.
24. Shilubane HN, Bos AE, Ruiter RA, van den Borne B, Reddy PS. High school suicide in South Africa: teachers' knowledge, views and training needs. BMC Public Health. 2015; 15(1):245.
25. APS [Internet]. Portal da secretaria de atenção primária à saúde; [cited 13 Mar 2022]. Available from: https://aps.saude.gov.br/ape/pse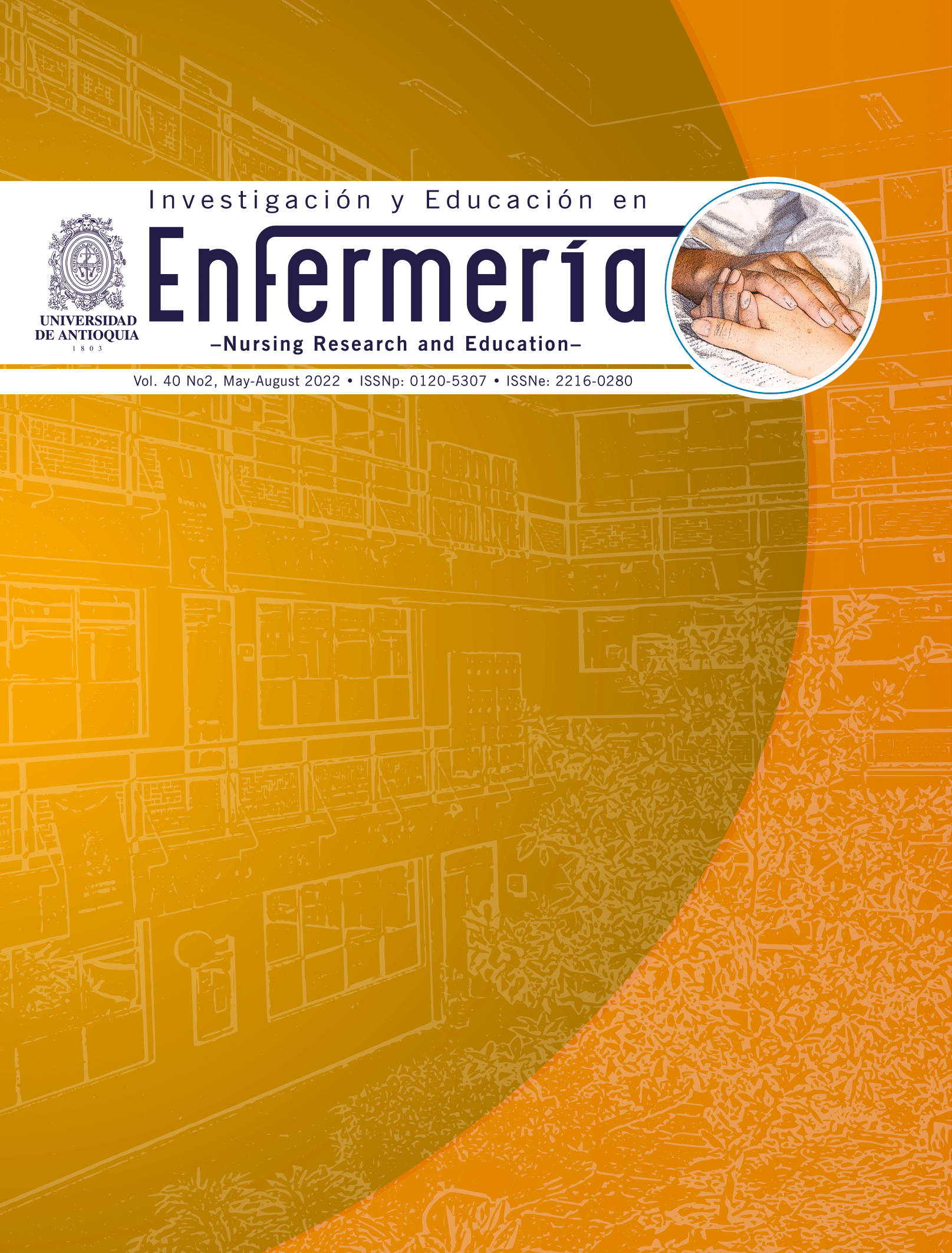 Downloads
Published
2022-06-27 — Updated on 2022-07-14
How to Cite
Soja Santos, L. M. ., Wesner, A. C. ., Algeri, S. ., & MariaZarth, S. . (2022). Knowledge of teachers about suicidal behavior in adolescents. Investigación Y Educación En Enfermería, 40(2). https://doi.org/10.17533/udea.iee.v40n2e11 (Original work published June 27, 2022)
Section
ORIGINAL ARTICLES / ARTÍCULOS ORIGINALES / ARTIGOS ORIGINAIS
License
Copyright (c) 2022 Investigación y Educación en Enfermería
This work is licensed under a Creative Commons Attribution-NonCommercial-ShareAlike 4.0 International License.
Derechos de propiedad / Direitos de Propriedade
English: If the article is accepted for publication, all copyright will be of exclusive property of Investigación y Educación en Enfermería. The text and the graphics included in the publication are exclusive responsibility of the authors and not necessarily reflect the thought of the Editorial Committee.
Español: Si el artículo es aprobado para publicación, todos los derechos son de propiedad de Investigación y Educación en Enfermería. El texto y las gráficas incluidas en la publicación son de exclusiva responsabilidad de los autores y no necesariamente refleja el pensamiento del Comité Editorial.
Português: Se o artigo for aceito para publicação, todos os direitos autorais serão de propriedade exclusiva de Investigación y Educación en Enfermería. O texto e os gráficos incluídos na publicação são de responsabilidade exclusiva dos autores e não refletem necessariamente o pensamento do Comitê Editorial.