Health care rejection due to patient motivations
Abstract
Objective. To describe the meaning for the patients of the health care rejection.
Methodology. Qualitative study with phenomenological focus performed in Medellin (Colombia) between 2008 and 2009. It included 12 hospitalized adults. The in depth interview was used to collect the information. Data were analyzed according to the Cohen, Kahan and Steeves proposed scheme.
 Results. Fear, suffering, dependency as well as the "bad reputation" of professionals, institutions or procedures contribute to the answer to care rejection. Patients reject the disease because of pain and suffering. Knowledge plays a double role in health care because it helps to accept or reject care and promote patients' acceptance and satisfaction. 
Conclusion. Rejection is a patient decision answering to situations linked to the disease, knowledge and nurses' behaviors should be taken into account by the nurses.
|Abstract = 26 veces | PDF (ESPAÑOL) = 12 veces| | HTML (ESPAÑOL) = 4 veces|
Downloads
Download data is not yet available.
References
(1) Moorhead S, Johnson M, Maas M. Clasificación de resultados de enfermería (NOC). Proyecto de resultados Iowa. 3 ed. Madrid: Elsevier- Mosby. 2005. P. 8-20
(2) Travelbee J. Interpersonal Aspects of Nursing, 1° ed. Philadephia: FA Davis; 1966. p. 34, 35, 36, 146.
(3) Henderson V. Podemos dar un papel estelar a los pacientes. Invest educ. enferm. 2000 Mar; 18 (I):125-126.
(4) Nieswiadomy R. Foundations of nursing research. 3 ed. Stamford: Appleton y Lange; 1998. p.158.
(5) Jablonski R. The experience of being mechanically ventilated. Qual Health Res. 1994 May; 4 (2):188.
(6) Strauss A, Corbin J. Bases de investigación cualitativa. Técnicas y procedimientos para desarrollar teoría fundamentada. Medellín: Universidad de Antioquia, Facultad de enfermería; 2002. p.219.
(7) De la Cuesta C. Cuidado Artesanal La invención ante la adversidad. Medellín: Universidad de Antioquia, Facultad de enfermería; 2004. p.38.
(8) Taylor, S. Bodgan, R. introducción a los métodos cualitativos de investigación. Barcelona: Paidós; 1987. p.55-56.
(9) Morse J. Asuntos críticos en los métodos de investigación cualitativos. Medellín: Universidad de Antioquia, Facultad de enfermería; 2003. p.145.
(10) Cohen M, Kahn D, Steeves R. Hermeneutic phenomenological research. A practical guide for nurse research. Londres: Saac publications; 2000. p.71 – 83, 81, 82.
(11) Foucault M. El nacimiento de la clínica. Una arqueología de la mirada medica. Argentina: Siglo XXI editores, 2004. p.167.
(12) Galeano. E. Diseño de proyectos en la investigación cualitativa. 1 ed. Medellín: Fondo editorial EAFIT; 2003. p. 45.
(13) Donella E, Rodríguez P. Más allá del dilema de los métodos. La investigación en las ciencias sociales. 2ed. Bogotá: Norma; 1997. p.153.
(14) Carper BA. Fundamental patterns of knowing in nursing. En: Chinn PL, Kramer MK. Theory and nursing. Integrated knowledge development. 5 ed. St lois: mosby; 1999. p. 6.
(15) Madjar I. Infligir y manejar el dolor. Un desafío para enfermería. Invest. Educ. enferm. 2000 sep; 18 (1): 45.
(16) Beltran O. significado de la experiencia de estar críticamente enfermo y hospitalizado en UCI. [Tesis de maestría.] Medellín: Universidad de Antioquia; 2007. p. 69.
(17) Watson J. Nursing: human science and human care. A theory of nursing. Boston: Jones and Bartlett publishers; 1999.p. 33 -34
(18) Beltrán OA. La enfermedad grave una oportunidad. Invest educ enferm. 2008; 26(1): 68-77, 75.
(19) Beltrán OA. La experiencia de estar hospitalizado en una unidad de cuidado intensivo. Aquichan; 2009 Abr; 9(1):29.
(20) Torralba F. Antropología de la enfermedad. En: Antropología del Cuidar. Madrid: Fundación Mafpre Medicina; 1998. p. 26.
(21) Berwick DM, Kotagal M. Restricted Visiting Hours in ICUs: Time to Change. JAMA. 2004; 292(6): 736-737.
(22) Infante C. Quejas medicas. La insatisfacción de los pacientes con respecto a la calidad de la atención medica. México: editores de textos mexicanos (ETE); 2006. p. 211.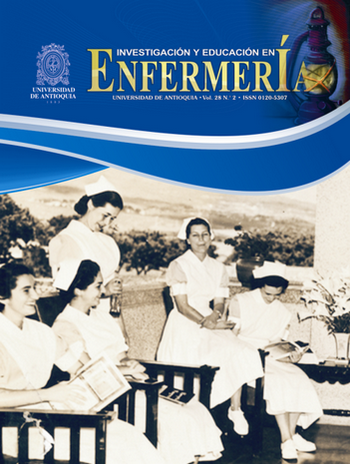 Downloads
How to Cite
Beltrán Salazar, O. A. (2010). Health care rejection due to patient motivations. Investigación Y Educación En Enfermería, 28(2). Retrieved from https://revistas.udea.edu.co/index.php/iee/article/view/6390
Section
ORIGINAL ARTICLES / ARTÍCULOS ORIGINALES / ARTIGOS ORIGINAIS
License
Derechos de propiedad / Direitos de Propriedade
English: If the article is accepted for publication, all copyright will be of exclusive property of Investigación y Educación en Enfermería. The text and the graphics included in the publication are exclusive responsibility of the authors and not necessarily reflect the thought of the Editorial Committee.
Español: Si el artículo es aprobado para publicación, todos los derechos son de propiedad de Investigación y Educación en Enfermería. El texto y las gráficas incluidas en la publicación son de exclusiva responsabilidad de los autores y no necesariamente refleja el pensamiento del Comité Editorial.
Português: Se o artigo for aceito para publicação, todos os direitos autorais serão de propriedade exclusiva de Investigación y Educación en Enfermería. O texto e os gráficos incluídos na publicação são de responsabilidade exclusiva dos autores e não refletem necessariamente o pensamento do Comitê Editorial.