Reading fairy tales as a humanization strategy of hospitalized children care
Keywords:
Humanization of assistance; child, hospitalized; patient escort service; reading; therapeutics.
Abstract
Objective. To asses fairy tales reading as a humanization strate­gy of hospitalized children care.
Methodology. Qualitative study in which data was collected from: fairy tales reading: individual interview, questionnaire, drawings and stories created by the children.
Results. During reading sessions, improvement in the children's reactions was seen: They were more focused, partici­pative, enthusiastic and happy; those accompanying the children liked and accepted this intervention. Data analysis collected from Interviews, questionnaires, narratives and drawings, showed re­sults in favor of the tales reading practice.
Conclusion. The huma­nization strategy of care supported by fairy tales reading, had a positive impact in the children's admission to the hospital.
|Abstract = 435 veces | PDF (ESPAÑOL) = 70 veces| | HTML (ESPAÑOL) = 11 veces| | MCORREAHOYOS, HISTORIAS INFANTILES CON NOMBRES.DOC = 0 veces|
Downloads
Download data is not yet available.
References
(1) Chiattone HBC. A Psicologia hospitalar e a pediatria do Hospital Brigadeiro - INAMPS - SP. Bol Psiquiatr. 1987;20(1/2):1-40.
(2) Morais A, Leite T. Como promover o desenvolvimento das habilidades de reflexão fonológica dos alfabetizandos: In: Morais A, Albuquerque E, Ferraz T. Alfabetização: apropriação do sistema de escrita alfabética. Belo Horizonte: Editora Autêntica; 2005. p. 71-88.
(3) Motta AB, Enumo SRF. Brincar no hospital: estratégia de enfrentamento da hospitalização infantil. Psicol Estud. 2004;9(1):19-28.
(4) Pita AMF. Hospital dor e morte como ofício. 3ª ed. São Paulo: Hucitec; 1999.
(5) Moreno RLR, Diniz RLP, Magalhães EQ, Souza SMPO, Silva MSA. Contar histórias para crianças hospitalizadas: relato de uma estratégia de humanização. Pediatria. 2003;25(4):165-9.
(6) Valladares ACF. Arteterapia com crianças hospitalizadas [Dissertação] Ribeirão Preto: Escola de Enfermagem, Universidade de São Paulo; 2003. 270p.
(7) Sherlock MSM. Programa de recreação na unidade pediátrica do Hospital Universitário Walter Cantídio - UFC: uma experiência de integração ensino - serviço. Rev Psicol. 1988;6(2):47-50.
(8) Rañna W. Aspectos psicossociais da assistência à criança hospitalizada: vivência com grupo de crianças e pais [dissertação]. São Paulo: Faculdade de Medicina, Universidade de São Paulo; 1987.
(9) Valladares ACF. Manejo arteterapêutico no pré-operatório em pediatria. Rev Eletr Enferm. 2004;6(1):110-15.
(10) Brasil. Ministério da Saúde. Secretária de Assistência à Saúde. Programa nacional de humanização da assistência à saúde. Brasília; 2000.
(11) Ferreira DT. Biblioterapia uma prática para o desenvolvimento pessoal. Educ Temat Dig. 2003;4(2):35-47.
(12) Costa CL. Câncer infantil: a realidade da doennça na fantasia dos contos de fadas. Acta Oncol Bras. 2002;22 (2):292-4.
(13) Moreira RVO, Machado RCC. Avaliação do interesse e do desempenho da criança da leitura [Internet]. Fortaleza; 2001. [acceso 2006 jul 01]. Disponible en: http://www.multimeios.ufc.br/arquivos/pc/congressos/congressos-avaliacao-do-interesse-e-do-desempenho.pdf
(14) Diniz GJR. Psicodrama pedagógico e teatro/educação. São Paulo: Ícone; 1995.
(15) Caldin CF. A leitura como função terapêutica: biblioterapia. Enc Bibli: Rev Eletr Bibliotecon Ci Inf. 2001;6(12):32-44.
(16) Ejzenberg B. O entretenimento de crianças internadas. Pediatria. 2003;25(4):147-8.
(17) Angerani VA, organizador. E a psicologia entrou no hospital. São Paulo: Pioneira; 1996.
(18) Minayo MCS. O desafio do conhecimento: pesquisa qualitativa em saúde. São Paulo: HUCITEC – ABRASCO; 1992.
(19) Trivinhos ANS. Introdução à pesquisa em ciências sociais: a pesquisa qualitativa em educação. São Paulo: Atlas; 1992.
(20) Perrin EC, Sayer AG, Willett JB. Sticks and stones may break my bones… reasoning about illness causality and body functioning in children who have a chronic illness. Pediatrics. 1991;88(3):608-19.
(21) Brewster AB. Chronically ill hospitalized of concept of theirs illness. Pediatrics. 1982;69(3):355-62.
(22) Arfouilloux JC. A entrevista com a criança: a abordagem da criança através do diálogo, do brinquedo e do desenho. 3ª ed. Rio de Janeiro: Zahar; 1983.
(23) Brasil. Ministério da Educação. Secretaria de Educação Básica. Ampliação do ensino fundamental para nove anos: relatório do programa [Internet] Brasília: Ministério da Saúde; 2004 [acceso 2006 jul 01]. Disponible en: http://portal.mec.gov.br/seb/arquivos/pdf/9anosrelat.pdf
(24) Brasil. Conselho Nacional de Saúde. Resolução nº 196 de 10 de outubro de 1996, Aprovar as seguintes diretrizes e normas regulamentadoras de pesquisas envolvendo seres humanos [Internet]. Brasília: Ministério da Saúde; 1996 [acceso 2006 ago 09]. Disponible en: http://conselho.saude.gov.br/resolucoes/1996/Reso196.doc
(25) Fávero MA, Salin CM. Relação entre os conceitos de saúde, doença e morte: utilização do desenho na coleta de dados. Psicol Teor Pesqui. 1995;11(3):181-91.
(26) Corrêa I. Vivência do profissional de saúde diante do familiar da criança internada na unidade de pediatria. Rev Min Enferm. 2005;9(3):237-41.
(27) Silva FM, Corrêa I. Doença crônica na infância: vivência do familiar na hospitalização da criança. Rev Min Enf. 2006;10(1):18-23 .
(28) Araújo RCJ, Corrêa I. Busca da assistência humanizada: percepção do acompañante sobre o lazer na hospitalização da criança. Rev Paul Enferm. 2006;25(3):148-55.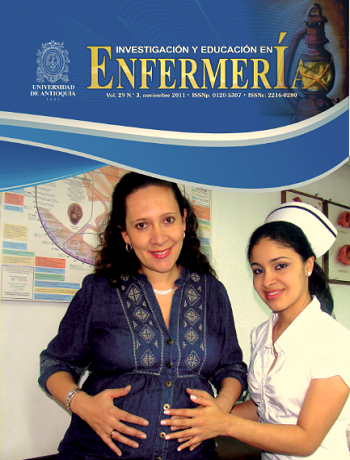 Downloads
Additional Files
How to Cite
Correa, I., & Soares Albano, M. A. (2011). Reading fairy tales as a humanization strategy of hospitalized children care. Investigación Y Educación En Enfermería, 29(3). https://doi.org/10.17533/udea.iee.6419
Section
ORIGINAL ARTICLES / ARTÍCULOS ORIGINALES / ARTIGOS ORIGINAIS
License
Derechos de propiedad / Direitos de Propriedade
English: If the article is accepted for publication, all copyright will be of exclusive property of Investigación y Educación en Enfermería. The text and the graphics included in the publication are exclusive responsibility of the authors and not necessarily reflect the thought of the Editorial Committee.
Español: Si el artículo es aprobado para publicación, todos los derechos son de propiedad de Investigación y Educación en Enfermería. El texto y las gráficas incluidas en la publicación son de exclusiva responsabilidad de los autores y no necesariamente refleja el pensamiento del Comité Editorial.
Português: Se o artigo for aceito para publicação, todos os direitos autorais serão de propriedade exclusiva de Investigación y Educación en Enfermería. O texto e os gráficos incluídos na publicação são de responsabilidade exclusiva dos autores e não refletem necessariamente o pensamento do Comitê Editorial.