El variograma y el correlograma, dos estimadores de la variabilidad de mediciones hidrológicas
Alfonso Gutiérrez-López

Universidad Autónoma de Querétaro

Aldo I. Ramirez

Tecnológico de Monterrey

Thierry Lebel

Laboratoire d'Etude des Transferts en Hydrologie et Environnement

Oscar Santillán

Instituto Mexicano de Tecnología del Agua

Carlos Fuentes

Universidad Autónoma de Querétaro
Abstract
En este artículo se presenta el análisis de la precipitación diaria de cuatro estaciones climatológicas de Chiapas y Tabasco ubicadas en la cuenca de aportación de la planicie tabasqueña, en el período agosto a noviembre de 2007. En dicho período se generó la gran inundación de Villahermosa y sus alrededores. Los variogramas y correlogramas indican que las precipitaciones producidas están en efecto fuera de su variación normal.

|Abstract = 621 veces | PDF (ESPAÑOL (ESPAÑA)) = 293 veces|
Downloads
Download data is not yet available.
References
D. G. Krige. A statistical approchoach to some Basic mine valuation problems on the Witwatersrand. Journal of chem., metal. and mining. Vol. 52. 1951. pp.119-139.
G. Matheron. "Principles of Geostatistics". Economic Geol. Vol. 58. 1963. pp.1246-1268.
L. S. Gandin. "Objective Analysis of Meteorological fields". Israel Program for Scientific Translations. N.° 1373. 1965. pp. 155-265.
F. B. Bretherton, R. E. Davis, C. B. Fandry. "A technique for objective analysis and design of oceanographic experiments applied to MODE-73". Deep-Sea Res. Vol. 23. 1976. pp. 559-582.
P. B. Liebelt. An introduction to Optimal Estimation, Ed. Addison-Wesley. Boston (MA). 1967. pp. 62-102.
Y. Gratton. Le Krigeage: la méthode optimale d'interpolation spatial. Ed. Institut d′Analyse Géographique. Quebec (Canadá). 2002. pp. 1-4.
A. G. Journel, C.J. Huijbregts. Mining Geostatistics, Ed. Academic Press. London (UK). 1978. pp. 202-515.
E. H. Isaaks, R. Srivastava. Applied Geostatistics. Ed. Oxford University Press. New York. 1989. pp. 278- 290.
O. Dubrule. "Comparing Splines and Kriging". Computers and Geosciences. Vol. 10. 1984. pp. 327- 33.
T. Lebel, Moyenne spatiale de la pluie sur un bassin versant: estimation optimal, génération stochastiques et gradex des valeurs extremes. Thesis. D. I. USMG, INP. Grenoble (Francia). 1984. pp. 35-198.
J. C. Davis. Statistics and Data analysis in Geology. Ed. John Wiley and Sons. New York. 1986. pp. 125- 134.
R. Haining. Spatial data analysis, theory and practice. Ed. Cambridge University Press. Cambridge (UK). 2003. pp. 181-225.
P. Goovaerts. "Geostatistical approaches for incorporating elevation into the spatial interpolation of rainfall". Journal of Hydrology. Vol. 228. 2000. pp. 113-129.
J. Creutin, C. Obled. "Objective analyses and mapping techniques for rainfall fields: an objective comparison". Water Resources Research. Vol 18. 1982. pp. 413-431.
E. Todini. "Influence of parameter estimation uncertainty in Kriging: Part 1 Theoretical Development". Hydrology and Earth System Sciences. Vol. 5. 2001. pp. 215-223.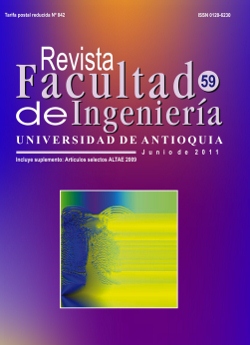 Copyright (c) 2018 Revista Facultad de Ingeniería
This work is licensed under a Creative Commons Attribution-NonCommercial-ShareAlike 4.0 International License.
All the texts included in the Revista Facultad de Ingenieria Universidad de Antioquia -redin- are protected by copyrights. According to the law, their reproduction through any means, physical or electronic, without written consent by the Editorial Committee is forbidden.  Complete texts of the articles will be fully and publically available, which means that they can be read, downloaded, copied, distributed, printed, searched for, or linked to. The opinions expressed in the published articles specifically belong to the authors and are not necessarily the same of the Editorial Committee or of the School of Engineering Management.