Análisis comparativo de las mediciones de material particulado PM10
Keywords:
partículas, muestreo, humedad, concentración, regresión
Abstract

En este estudio se determinaron las concentraciones de PM10 en la zona urbana del municipio de Riohacha, Colombia y se compararon dos métodos de muestreo de manera simultánea. Los instrumentos utilizados para la comparación fueron los equipos: muestreador de alto volumen PM10, Graseby Andersen y un nefelómetro DataRam 4 (Thermo Electron corporation). Los datos fueron obtenidos durante tres meses en dos sitios (Desalud y Bienestar) de la zona urbana de Riohacha. Los resultados mostraron que el promedio de la concentración de PM10 fue de 23,64 μg/m3 y 36,86 μg/m3 en las dos estaciones utilizando el DataRam 4 y de 25,09 μg/m3 y 36,64 μg/m3 utilizando el muestreador de alto volumen PM10. El Análisis de correlación muestra una consistencia positiva para todas los pares en los dos métodos: R2 = 0,5377 para la estación Desalud y R2 = 0,7276 para la estación Bienestar. El coeficiente aumentó cuando se correlacionaron los resultados para los días con Humedad Relativa menor del 70%, R2 = 0,89 estación Desalud y R2 = 0,69 estación Bienestar. Los resultados mostraron que el método fotométrico (DataRam 4), puede ser utilizado para determinar concentraciones de material partículado PM10, en las condiciones ambientales de Riohacha.
|Abstract = 235 veces | PDF (ESPAÑOL (ESPAÑA)) = 135 veces|
Downloads
Download data is not yet available.
References
M. J. Nieuwenhuijsen, J. E. Gómez-Perales, R. N. Colvile. "Levels of particulate air pollution, its elemental composition, determinants and health effects in metro systems". Atmospheric Environment. Vol. 41. 2007. pp. 7995 8006.
B. Brunekreef, S. T. Holgate. "Air pollution and health". The Lancet. Vol. 360. 2002. pp 1233-1342.
C. A. Pope 3rd, D. W. Dockery." Health effects of fi ne particulate air pollution: lines that connect". Journal of the Air and Waste Management Association. Vol. 56. 2006. pp. 1368-1380.
J. M. Vallius, J. Ruskannen, A. Mirme, J. Pekkanen. "Concentrations and Estimated Soot Content of PM1,
PM2.5, and PM10 in a Subarctic Urban Atmosphere". Environmental Science & Technology. Vol. 34. 2000. pp. 1919-1925.
S. Lu, Q. Luan, Z. Jiao, M. Wu, Z. Li, L. Shao, F. Wang. "Mineralogy of Inhalable Particulate Matter (PM10), in the Atmosphere of Beijing, China". Journal Water Air Soil Pollution. Vol. 186. 2007. pp. 129-137.
E. Kainka, G. Kramert , J. Dudzeviciusij. "Characterisation of particulate matter PM10 and PM2.5 in northrhine westphalia, saxonia and lithuania-fi rst results". British Occupational Hygiene Society. Vol. 41. 1997. pp. 54-59.
R. Rojano, D. Soto, Y. Mendoza, A. Alvarado, E. Gámez. Determinación de la concentración de partículas suspendidas totales (PST), en la zona urbana de la ciudad de Riohacha, La Guajira colombiana Universidad de La Guajira. Centro de Investigación. Facultad de Ingeniería. Colombia 2007. pp. 92- 93.
T. William, J. Winberry Jr. Compendium Method IO- 2.1. Sampling of ambient air for Total Suspended Particulate Matter (SPM) and PM10 using high volume (HV) sampler. Center for Environmental Research Information Offi ce of Research and Development U.S. EPA Cincinnati. 1999. pp.26-38.
A. Trent, M. A. Davies, R. Fisher, H. Thistle, R. Babbitt. Evaluation of optical instruments for real-time continuous monitoring of smoke particles. Department of Agriculture Forest Service. Missoula. Montana. Technology and Development Program. 2000. pp.5-14.
J. G. Watson, J. C. Chow, H. Moosmüller, M. Green, N. Frank, M. Pitchford. Guidance for using continuous monitors in PM2.5 monitoring networks. Environmental Protection Agency. North Carolina. 1998. pp. 36-52.
L. Cabeza Durango. Climatología de los principales puertos del Caribe Colombiano. Centro de Investigaciones Oceanográfi cas e Hidrográfi cas. Cartagena de Indias. D.T. Boletín Científi co CIOH. 2009. pp. 4-10.
S. S. Pérez. Resolución 0601 de abril 4 de 2006. Ministerio de ambiente. Vivienda y desarrollo territorial. Bogotá D.C. 2006. pp. 6-9.
D. E. King. Evaluation of interlaboratory comparison data on linear regression analysis. In Methods and
Standards for Environmental Measurement. W. H. Kirchoff. (editor). NBS Publication. Gaithersburg. 1977. pp. 581-596.
P. H. Mc Murry "A review of atmospheric aerosol measurements". Atmospheric Environment. Vol. 30. 2000. pp. 1959-1999.
S. Shen, P. A. Jaques, Y. Zhu, M. D. Geller, C. Sioutas. "Evaluation of the SMPS–APS system as a
continuous monitor for measuring PM2.5, PM10 and coarse (PM2.5_10) concentrations". Atmospheric Environment. Vol. 30. 2002. pp. 1959-1999.
C. Sioutas, S. Kim, M. C. Chang, L. Terrell, H. Gong 2000. "Field evaluation of a modifi ed DataRAM Mie scattering monitor for real-time PM2.5 mass concentration measurements". Atmospheric Environment. Vol. 34. pp. 4829-4838.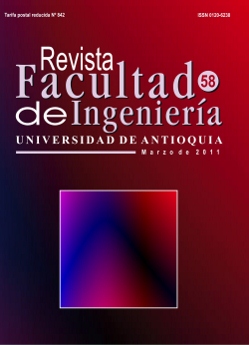 Downloads
How to Cite
Rojano-Alvarado, R., Pérez-Montiel, J., & Deluque, J. (2013). Análisis comparativo de las mediciones de material particulado PM10. Revista Facultad De Ingeniería Universidad De Antioquia, (58), 27–35. Retrieved from https://revistas.udea.edu.co/index.php/ingenieria/article/view/14596
License
Revista Facultad de Ingeniería, Universidad de Antioquia is licensed under the Creative Commons Attribution BY-NC-SA 4.0 license. The material published in the journal can be distributed, copied and exhibited by third parties if the respective credits are given to the journal. No commercial benefit can be obtained and derivative works must be under the same license terms as the original work.