Cinética de fermentación y acción antimicrobiana de Weissella confusa contra Staphylococcus aureus y Streptococcus agalactiae
Liliana Serna-Cock

Universidad Nacional de Colombia Sede Palmira

Leidy Johana Valencia-Hernández

Universidad Nacional de Colombia Sede Palmira

Rómulo Campos-Gaona

Universidad Nacional de Colombia Sede Palmira
Abstract
Se evaluaron las cinéticas de producción de biomasa, producción de ácido láctico, consumo de sustrato y actividad antimicrobiana de Weissella confusa, una bacteria acido láctica con actividad antimicrobiana frente a Streptococcus agalactiae y Staphylococcus aureus, microorganismos productores de mastitis bovina. Las fermentaciones se llevaron a cabo anaeróbicamente en discontinuo utilizando como sustratos, sustrato comercial (SC), leche suplementada con extracto levadura (LEL) y leche suplementada con extracto de levadura y glucosa (LELG) y se compararon los parámetros cinéticos. La mayor inhibición de los patógenos, la mayor producción de ácido láctico y el mayor rendimiento de biomasa se presentó en sustrato LELG. En éste último sustrato al cabo de la cuarta hora de fermentación, se presentó un diámetro de inhibición de 36,33 mm para Staphylococcus aureus y a la octava hora de fermentación 39 mm de diámetro para Streptococcus agalactiae; la producciónmáxima de ácido láctico fue 13,12 gL-1 (a las 48 h) y la máxima concentración de biomasa fue 3,07 gL-1 (a las 48 h). Estos resultados fueron superiores a los obtenidos en SC donde, para el mismo tiempo de fermentación, se obtuvieron 24,38 mm para Staphylococcus aureus y 30,58 mm de diámetro de inhibición para Streptococcus agalactiae; la mayor producción de ácido láctico fue 11,6 gL-1 (a las 12 h) y la mayor concentración de biomasa fue 1,18 gL-1 (a las 24 h). Los resultados sugieren que el LELG puede convertirse en una alternativa a bajo costo para la producción de Weissella confusa, microorganismo con gran potencial para el control y el tratamiento de mastitis bovina.

|Abstract = 70 veces | PDF (ESPAÑOL (ESPAÑA)) = 31 veces|
Downloads
Download data is not yet available.
References
K. J. Björkroth, U. Schillinger, R. Geisen, N. Weiss, B. Hoste, W. H. Holzapfel, H. J. Korkeala, P. Vandamme. "Taxonomic study of Weissella confusa and description of Weissella cibaria sp. nov., detected in food and clinical samples." Int. J. Syst. Evol. Micr. Vol. 52. 2002. pp. 141-148.
F. Dellaglio, S. Torriani. "DNA-DNA homology, physiological characteristics and distribution of lactic acid bacteria from maize silage." J. Appl. Bacteriol. Vol. 60. 1986. pp. 83-93.
M. D. Collins, J. Samelis, J. Metaxopoulos, S. Wallbanks. "Taxonomic studies on some leuconostoc-like organisms from fermented sausages: description of a new genus Weissella for the Leuconostoc paramesenteroides group of species." J. Appl. Bacteriol. Vol. 75. 1993. pp. 595-603.
Y. Lee. "Characterization of Weissella kimchii PL9023 as a potential probiotic for women." FEMS Microbiol. Lett. Vol. 250. 2005. pp. 157-162.
S. Matamoros, M. F. Pilet, F. Gigout, H. Prévost, F. Leroi. "Selection and evaluation of seafood-borne psychrotrophic lactic acid bacteria as inhibitors of pathogenic and spoilage bacteria." Food Microbiol. Vol. 26. 2009. pp. 638-644.
I. F. Nes, V. G. H. Eijsink. "Regulation of group II peptide bacteriocin synthesis by quorum sensing mechanisms. Dunny, G.M., Winans, S.C. (Eds.). Cell-Cell Signaling in Bacteria. Ed. American Society for Microbiology Press. Washington DC. 1999. pp. 175-192.
S. Srionnual, F. Yanagida, L. H. Lin, K. N. Hsiao, Y. S. Chen. "Weissellicin 110, a Newly Discovered Bacteriocin from Weissella cibaria 110, Isolated from Plaa-Som, a Fermented Fish Product from Thailand." Appl Environ. Microb. Vol. 73. 2007. pp. 2247-2250.
M. C. Espeche, M. C. Otero, F. Sesma, M. E. F. Nader- Macias. "Screening of surface properties and antagonistic substances production by lactic acid bacteria isolated from the mammary gland of healthy and mastitic cows." Vet. Microbiol.Vol. 135. 2009.
pp. 346-357.
A. Pal, K. V. Ramana. "Isolation and preliminary characterization of a nonbacteriocin antimicrobial compound from Weissella paramesenteroides DFR-8 isolated from cucumber (Cucumis sativus)." Process Biochem. Vol. 44. 2009. pp. 499-503.
P. M. Sears, B. S. Smith, W. K. Stewart, R. N. Gonzalez, S. D. Rubino, S. A. Gusik, E.S. Kulisek, S. J. Projan, P. Blackburn. "Evaluation of a Nisin-Based Germicidal Formulation on Teat Skin of Live Cows." J. Dairy Sci. Vol. 75. 1992. pp. 3185-3190.
J. Wu, S. Hu, L. Cao. "Therapeutic Effect of Nisin Z on Subclinical Mastitis in Lactating Cows," Antimicrob Agents Chemother. Vol. 51. 2007. pp. 3131-3135.
J. E. Barboza-Corona, N. de la Fuente-Salcido, N. Alva-Murillo, A. Ochoa-Zarzosa, J. E. López-Meza. "Activity of bacteriocins synthesized by Bacillus thuringiensis against Staphylococcus aureus isolates associated to bovine mastitis," Vet. Microbiol. Vol.
2009. pp. 179-183.
M. L. Varella Coelho, J. S. Nascimento, P. C. Fagundes, D. J. Madureira, S. S. Oliveira, M. A. V. P. Brito, M. C. F. Bastos. "Activity of staphylococcal bacteriocins against Staphylococcus aureus and Streptococcus agalactiae involved in bovine mastitis." Res. Microbiol. Vol. 158. 2007. pp. 625-630.
K. M. Krause, G. R. Oetzel. " Inducing Subacute Ruminal Acidosis in Lactating Dairy Cows." J. Dairy Sci. Vol. 88. 2005. pp. 3633-3639.
J. C. De Man, M. Rogosa. M. E. Sharpe."A medium for the cultivation of Lactobacilli." J. Appl. Bacteriol. Vol. 23. 1960. pp. 130-135.
AOAC. Official Methods of Analysis. 15th ed. Association of Official Analytical Chemists. Washington. D.C. 1990. pp 69.
M. P. Ryan, M. C. Rea, C. Hill, R. P Ross. "An application in cheddar cheese manufacture for a strain of Lactococcus lactis producing a novel broad-spectrum bacteriocin, lacticin 3147." Appl. Environ. Microb. Vol. 62. 1996. pp. 612-619.
SPSS para Windows. Version 15 Chicago: SPSS Inc. [programa informático en CD-ROM]. Disponible en SPSS Inc. Página web de SPSS disponible en:
E. W. J. van Niel, B. Hahn-Hägerdal. "Nutrient requirements of Lactococci in defined growth media." Appl. Microbiol. Biot. Vol. 52. 1999. pp. 617-627.
P. S. Panesar, J. F Kennedy, D. N Gandhi, K. Bunko. "Bioutilisation of whey for lactic acid production." Food Chem. Vol. 105. 2007. pp.1-14.
C. L. Serna, A. Rodríguez. "Producción económica de ácido láctico utilizando residuos de cosecha y jugos de caña de azúcar (Saccharum officinarum L.)." Agricultura Técnica. Vol. 67. 2007. pp. 29-38.
L. González, H. Sandoval, N. Sacristán, J. M. Castro, J. M. Fresno, M. E. Tornadijo. "Identification of lactic acid bacteria isolated from Genestoso cheese throughout ripening and study of their antimicrobial activity." Food Control. Vol. 18. 2007. pp. 716-722.
L. Topisirovic, M. Kojic, D. Fira, N. Golic, I. Strahinic, J. Lozo. "Potential of lactic acid bacteria isolated from specific natural niches in food production and preservation." Int. J. Food Microbiol. Vol. 112. 2006. pp. 230-235.
A. Muñoz, S. Ananou, A. Gálvez, M. Martínez-Bueno, A. Rodríguez, M. Maqueda, E. Valdivia. "Inhibition of Staphylococcus aureus in dairy products by enterocin AS-48 produced in situ and ex situ: Bactericidal synergism with heat." Int. Dairy J. Vol. 17. 2007. pp. 760-769.
N. De la Fuente-Salcido, M. G. Alanís-Guzmán, D. K. Bideshi, R. Salcedo-Hernández, M. Bautista- Justo, J. E. Barboza-Corona. "Enhanced synthesis and antimicrobial activities of bacteriocins produced by Mexican strains of Bacillus thuringiensis." Arch. Microbiol. Vol. 190. 2008. pp. 633-640.
C. Akerberg, G. Zacchi. "An economic evaluation of the fermentative production of lactic acid from wheat flour." Bioresource Technol. Vol. 75. 2000. pp. 119-126.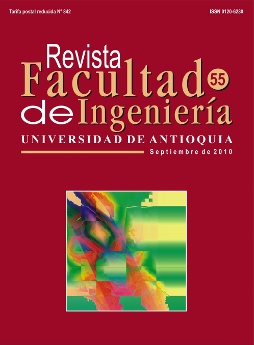 How to Cite
Serna-Cock L., Valencia-Hernández L. J., & Campos-Gaona R. (2013). Cinética de fermentación y acción antimicrobiana de Weissella confusa contra Staphylococcus aureus y Streptococcus agalactiae. Revista Facultad De Ingeniería Universidad De Antioquia, (55), 55-65. Retrieved from https://revistas.udea.edu.co/index.php/ingenieria/article/view/14714
Copyright (c) 2018 Revista Facultad de Ingeniería
This work is licensed under a Creative Commons Attribution-NonCommercial-ShareAlike 4.0 International License.
Authors can archive the pre-print version (i.e., the version prior to peer review) and post-print version (that is, the final version after peer review and layout process) on their personal website, institutional repository and / or thematic repository

Upon acceptance of an article, it will be published online through the page https://revistas.udea.edu.co/index.php/ingenieria/issue/archive in PDF version with its correspondent DOI identifier
The Revista Facultad de Ingeniería -redin- encourages the Political Constitution of Colombia, chapter IV
Chapter IV Sanctions 51
The following shall be liable to imprisonment for two to five years and a fine of five to 20 times the legal minimum monthly wage: (1) any person who publishes an unpublished literary or artistic work, or part thereof, by any means, without the express prior authorization of the owner of rights; (2) any person who enters in the National Register of Copyright a literary, scientific or artistic work in the name of a person other than the true author, or with its title altered or deleted, or with its text altered, deformed, amended or distorted, or with a false mention of the name of the publisher or phonogram, film, videogram or software producer; (3) any person who in any way or by any means reproduces, disposes of, condenses, mutilates or otherwise transforms a literary, scientific or artistic work without the express prior authorization of the owners thereof; (4) any person who reproduces phonograms, videograms, software or cinematographic works without the express prior authorization of the owner, or transports, stores, stocks, distributes, imports, sells, offers for sale, acquires for sale or distribution or in any way deals in such reproductions. Paragraph. If either the material embodiment or title page of or the introduction to the literary work, phonogram, videogram, software or cinematographic work uses the name, business style, logotype or distinctive mark of the lawful owner of rights, the foregoing sanctions shall be increased by up to half.