Evaluación de propiedades físicas de mezclas etanol-agua (II)
Keywords:
Alcohol etílico, etanol, densidad, viscosidad, conductividad
Abstract

En este trabajo se presentan modelos para el cálculo de las propiedades físicas en mezclas de etanol-agua a presión atmosférica. Esto se logra a través de un método rápido y sencillo con un mínimo de información, partiendo de propiedades que se puedan medir experimentalmente. Los modelos para el cálculo de algunas propiedades como: densidad, viscosidad dinámica, conductividad térmica, tensión superficial e índice de refracción, así como modelos para la conversión entre composiciones, se obtienen a partir de ajustes estadísticos. Los valores de las propiedades obtenidas con estas ecuaciones son comparados con los reportados en la literatura, mostrándose la calidad del método.
|Abstract = 1550 veces | PDF (ESPAÑOL (ESPAÑA)) = 450 veces|
Downloads
Download data is not yet available.
References
L. Venkatesh. "Choice of thermodynamic models for use in simulation programs". Chemical Engineering World. Vol. 32. 1997. pp. 155-157.
Why rigorous thermodynamics?. http://www. virtualmaterials.com. Consultada el 20 de octubre de 2001.
M. A. Satyro. "Thermodynamics and the simulation engineer". Chemical Product and Process Modeling. Vol. 3, 2008. Article 24. The Berkeley Electronic Press. Available at: http://www.bepress.com/cppm/ vol3/iss1/24.
R. H. Perry, D. W. Green. Manual del Ingeniero Químico. 6ª. ed. McGraw-Hill. México. 1999. Sección 2. pp. 112-370.
K. F. Pávlov. Problemas y ejemplos para el curso de operaciones básicas y aparatos en tecnología química. Editorial MIR, Moscú. 1981. pp. 547-560.
B. N. Stabnikov, I. M. Roiter, T. B. Prostok. Alcohol etílico. Manual. Editora Industria Alimentaria. Moscú. 1976. pp. 10-98.
J. V. Herráez, R. Belda, O. Diez. "An equation for the correlation of viscosities of binary mixtures". Journal of Solution Chemistry. Vol. 37. 2008. pp. 233-248.
«Ethanol refractometry concentration». Mettler-Toledo International Inc. http://us.mt.com/mt/ed/appEdStyle/ Ethanol_re_e_0x000248e10002599200076b0e.jsp. Consultada el 20 de enero de 2009.
"Densities of water in SI Units», http://www. engineeringtoolbox.com/water-density-specificweight- d_595.html. Consultada el 15 de noviembre de 2008.
D. Harris. Quantitative Chemical Analysis, 4a. ed. Ed. W. H. Freeman and Company, New York. 1995. pp. 36.
Departamento Control de Laboratorios. Dirección de Producción y Entrega. Viceministerio para la Producción. Tablas para el trabajo analítico en los laboratorios de las destilerías y plantas anexas de levadura seca. MINAZ S/A. pp. 1-16.
S. Konchady. Alcohol palm book. . Praj Industries Limited. India. 2a. ed. 2004. pp. 12-45.
D. R. Lide. CRC Handbook of Chemistry and Physics. 84a. ed. online version. CRC Press. Boca Raton (Florida). 2003. pp. 2256-2257.
R. C. Reid, J. M. Prausnitz, B. E. Poling. The properties of gases and liquids. McGraw Hill Book Company. New York. 4a. ed. 1987. pp. 433-473.
R. Belda, José V. Herráez, O. Diez. "Rheological study and thermodynamic analysis of the binary system (water/ethanol): Influence of concentration". Physics and Chemistry of Liquids. Vol. 42. 2004. pp. 467-479.
R. Jowitt, F. Escher, B. Hallström, H. F.T. Meffert, W. E. L Spiess, G. Vos. Physical properties of foods. Applied Science Publishers. London. 1983. pp. 295- 296.
T. Ackland. Ethanol-water physical properties. http:// homedistiller.org/calc.htm. Consultada el 28 de enero de 2009.
Surface tension of water in contact with air for temperatures ranging 0-1000C, http://www.engineeringtoolbox.com/water-surfacetension-d_597.html. Consultada el 25 de enero de 2009.
R. Belda, J. V. Herráez, O. Díez. "A study of the refractive index and surface tension synergy of the binary water/ethanol: influence of concentration".Physics and Chemistry of Liquids. Vol. 43. 2005. pp. 91-101.
Alcohol and water. Some physically data: Ethanol water refractive index to air (20 0C). http://www.thewhiskystore.de/experts/alcohol.htm. Consultada el 26 de enero de 2009.
J. V. Herráez, R. Belda. "Refractive indices, densities and excess molar volumes of monoalcohols + water". Journal of Solution Chemistry. Vol. 35. 2006. pp. 1315-1328.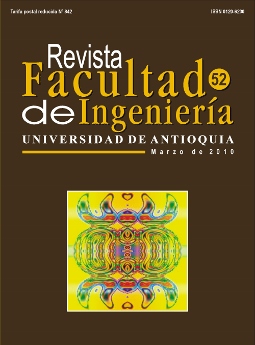 Downloads
How to Cite
Pérez-Ones, O., Díaz-Rodríguez, J., Zumalacárregui, L., & Gozá-León, O. (2013). Evaluación de propiedades físicas de mezclas etanol-agua (II). Revista Facultad De Ingeniería Universidad De Antioquia, (52), 62–74. Retrieved from https://revistas.udea.edu.co/index.php/ingenieria/article/view/14803
License
Revista Facultad de Ingeniería, Universidad de Antioquia is licensed under the Creative Commons Attribution BY-NC-SA 4.0 license. The material published in the journal can be distributed, copied and exhibited by third parties if the respective credits are given to the journal. No commercial benefit can be obtained and derivative works must be under the same license terms as the original work.