Identity based authentication protocol for wireless sensor networks
Keywords:
sensor networks , cryptography, pairings, authentication, security
Abstract
In this work, a novel identity based authentication protocol for sensor networks is proposed, involving bilinear pairings over an elliptic curve point group, and message authentication codes, as main underlying components. This protocol is capable to perform authentication for both nodes and messages, guarantying an acceptable level of scalability for network size and nodes' diversity. Herein, the proposed protocol is described in depth, as well the costs estimations for its operation on a WSN.
|Abstract = 58 veces | PDF (ESPAÑOL (ESPAÑA)) = 18 veces|
Downloads
Download data is not yet available.
References
H. Puccinelli, M. Haenggi. "Wireless sensor networks: applications and challenges of ubiquitous sensing". IEEE Circuits and Systems. Vol. 5. 2005. pp. 19-29.
Y. Liu. "Information-intensive wireless sensor networks: potential and challenges". IEEE Communications. Vol. 44. 2006. pp. 142-174.
N. Hashmi, D. Myung, M. Gaynor, S. Moulton. "A sensor-based, web service-enabled, emergency medical response system". Proc. of USENIX 05. Anaheim (CA). 2005. pp. 25-29.
A. Perring, J. Stankovic, D. Wagner. "Security in wireless sensor networks". Communications of the ACM. Vol. 47. 2004. pp. 53-57.
P. Kuckertz, A. Junaid, J. Riihijarvi, M. Petri. "Sniper Fire Localization using Wireless Sensor Networks and Genetic Algorithm based Data Fusion". Proc. IEEE MILCOM 07. Orlando (Florida). 2007. pp. 1-8.
Z. Kolokouris. "Integrity and authencity mechanisms for sensor networks". International Journal of
Computing Research. Vol. 15. 2007. pp. 57-72.
W. Du, J. Deng, Y. S. Han, P. K. Varshney, J. Katz, A. Khalili. "A Pairwise Key Predistribution Scheme for Wireless Sensor Networks". ACM Transactions on Information and Systems Security. Vol. 8. 2005. pp. 228-258.
G. Li, H. Ling, T. Znati, W. Wu. "A robust on-Demand Path-Key Establishment Framework via Random Key Predistribution for Wireless Sesor Networks". EURASIP Journal on wireless Communications and Networking. Vol. 2006. 2006. pp. 1-10.
A. S. Wander, N. Gura, H. Eberle, V. Gupta, S. C. Shantz. "Energy Analysis of Public-Key Cryptography for Wireless Sensor Networks". Proc. 3rd IEEE PERCOM 05. Kauai (Hawai). 2005. pp. 324-328.
L. Uhsadel, A. Poschmann, C. Paar. "Enabling Full- Size Public-Key algorithms on 8-bit Sensor Nodes". Proc. of 4th European Workshop ESAS. Cambridge (UK) 2007. pp. 73-86.
P. Szczechowiak, L. B. Oliveira, M. Scott, M. Collier, R. Dahab. "NanoECC: Testing the Limits of Elliptic Curve Cryptography in Sensor Networks". Proc. Of European conference on Wireless Sensor Networks (EWSN'08). Bologna (Italia). 2008. pp. 305-320.
W. Du, R. Wang, P. Ning. "An efficient scheme for authenticating public keys in sensor networks". Proc. of the 6th ACM international Symposium on Mobile Ad Hoc Networking and Computing. 2005. Urbana-Champaign (IL). pp. 58-67.
L. B. Oliveira, M. Scott, J. Lopez, R. Dahab. "TinyPBC: Pairings for authenticated identity-based non-interactive key distribution in sensor networks". Proc. of International Conference Networked Sensing Systems INSS2008. Kanazawa (Japón). 2008. pp. 173- 180.
D. Boneh, M. Franklin. "Identity based encryption from the Weil pairing". SIAM Journal of Computing. Vol. 32. 2003. pp. 586-615.
A. Shamir. "Identity-Based Cryptosystems and Signature Schemes". Proc. of Crypto 84. Springer LNCS 196. Santa Bárbara (CA). 1985. pp. 47-53.
D. Hankerson, A. Menezes, S. Vanstone. Guide to Elliptic Curve Cryptography. Springer-Verlag. New York. 2004. pp. 73-86.
P. S. L. M. Barreto, H. Y. Kim, B. Lynn, M. Scott. "Efficient Algorithms for Pairing-Based
Cryptosystems". Proc. of Crypto 2002. Springer. LNCS 2442. Santa Bárbara (CA). 2002. pp. 354-368.
H. Krawczyk, M. Bellare, R. Canetti, HMAC: Keyed- Hashing for Message Authentication, Internet RFC 2104. 1997.
S. Peter, P. Langendörfer, K. Piotrowski. "Public key cryptography empowered smart dust is affordable". Int. J. of Sensor Networks. Vol. 3. 2008. pp. 130-143.
G. Barreto, S. Héigeartaigh. "Efficient pairing computation on supersingular Abelian varieties". J. Design, Codes and Cryptography. Vol 42. 2007. pp. 239-271.
J. Beuchat, N. Brisebarre, J. Detrey, E. Okamoto, F. Rodríguez-Henríquez. "A Comparison Between Hardware Accelerators for the Modified Tate Pairing over F2m and F3m". Pairing 2008 LNCS No. 5209. Springer. Egham (Reino Unido). 2008. pp. 297-315.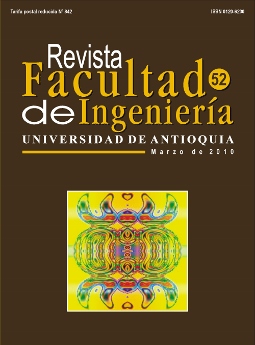 Downloads
How to Cite
Salinas Rosales, M., & Duchén Sánchez, G. (2013). Identity based authentication protocol for wireless sensor networks. Revista Facultad De Ingeniería Universidad De Antioquia, (52), 196–205. Retrieved from https://revistas.udea.edu.co/index.php/ingenieria/article/view/14816
License
Copyright (c) 2018 Revista Facultad de Ingeniería
This work is licensed under a Creative Commons Attribution-NonCommercial-ShareAlike 4.0 International License.
Revista Facultad de Ingeniería, Universidad de Antioquia is licensed under the Creative Commons Attribution BY-NC-SA 4.0 license. https://creativecommons.org/licenses/by-nc-sa/4.0/deed.en
You are free to:
Share — copy and redistribute the material in any medium or format
Adapt — remix, transform, and build upon the material
Under the following terms:
Attribution — You must give appropriate credit, provide a link to the license, and indicate if changes were made. You may do so in any reasonable manner, but not in any way that suggests the licensor endorses you or your use.
NonCommercial — You may not use the material for commercial purposes.
ShareAlike — If you remix, transform, or build upon the material, you must distribute your contributions under the same license as the original.
The material published in the journal can be distributed, copied and exhibited by third parties if the respective credits are given to the journal. No commercial benefit can be obtained and derivative works must be under the same license terms as the original work.