Preparación y evaluación de una pasta ósea para aplicaciones médicas
Diana Marcela Escobar

Universidad de Antioquia

Carlos Jaramillo

Universidad de Antioquia
Abstract
En este artículo se evalúan las características osteoinductivas y osteoconductivas de una pasta ósea preparada a partir de fosfato de calcio tipo hidroxiapatita, proteína morfogenética ósea y colágeno, capaz de inducir la diferenciación de células locales a células formadoras de hueso. La pasta preparada fue implantada en la región dorsal a nivel inter escapular, en 35 conejos de Raza Blanca de Nueva Zelanda, los cuales se distribuyeron en 7 grupos de evaluación (7, 14, 21, 28, 35, 42 y 49 días) transcurridos estos tiempos se retiraron los implantes para ser evaluados histológicamente por microscopía óptica convencional y así caracterizar los diferentes elementos tisulares. Los resultados obtenidos se analizaron por método factorial de correspondencias múltiples con clasificación jerárquica, el cual mostró que se logra estimular la inducción de hueso en sitios ectópicos, teniendo actividad osteogénica, sin embargo, la alta cantidad de linfocitos y de eosinófilos, evidencian respuesta inflamatoria alrededor del implante.

|Abstract = 14 veces | PDF (ESPAÑOL (ESPAÑA)) = 12 veces|
Downloads
Download data is not yet available.
References
T. Livingston, T. Tran, J. Mcalary, G. Daculsi. "A comparative study of biphasic calcium phosphate ceramics for human mesenchymal tem-cell-induced bone formation". Biomaterials. Vol. 26. 2005. pp. 3631-3638.
O. Gauthier, R. Muller, D. Stechow, B. Lamy, P. Weiss, J. Bouler, E. Aguado, Guy Daculsi. " In vivo bone regeneration with injectable calcium phosphate biomaterial: Athree-dimensional micro-computed tomographic, biomechanical and SEM study". Biomaterials. Vol. 26. 2005. pp. 5444-5453.
H. Moghadam, G. Sándor, H. Holmes, C. Clokie. "Histomorphometric Evaluation of Bone Regeneration Using Allogeneic and Alloplastic Bone Substitutes Maxillofacial Surgeons". Journal of Oral Maxillofacial Surgery. Vol. 62. 2004. pp. 202-213.
R. Chang and A. Kao. "Biomechanical and histological studies of particulate hydroxylapatite implanted in femur bone defects of adult dogs". International Journal of Oral and Maxillofacial Surgery. Vol 29. 2000. pp. 54 - 61.
F. De la Calle. Estudio de la cinética de disolución de la hidroxiapatita sintética según su grado de cristalinidad en una solución fisiológica artificial. Trabajo de grado. Facultad de Ingeniería. Universidad de Antioquia. 2004. pp. 69.
I. Ono, T. Tateshita, M. Satou, T. Sasaki and M. Matsumoto. "Treatment of large complex cranial bone defects by using hydroxyapatite ceramic implants". Plastic and Reconstructive Surgery. Vol. 104.1999. pp. 339-349.
K. Yoshida. "Osteoinduction capability of recombinant human bone morphogenetic protein- 2 in intramuscular and subcutaneous sites: an experimental study". Journal of Cranio-Maxillofacial Surgery. Vol 26.1998. pp. 112-115.
G. Pérez. "Hidroxiapatita porosa HAP-200 como bioimplante esférico integrado en el anoftalmos quirúrgico". Revista Cubana de Oftalmología. Vol. 11. 1998. pp. 5-13.
W. Friess, H. Uludag, Sh. Foskett and R. Biron. "Bone Regeneration with Recombinant Human Bone Morphogenetic Protein-2 (rhBMP-2) Using Absorbable Collagen Sponges (ACS): Influence of Processing on ACS Characteristics and Formulation". Pharmaceutical Development and Technology. Vol. 4. 1999. pp. 387-396 .
J. Rivera, C. Riaño, A. Echavarría, P. Monsalve, L. Restrepo y C. Jaramillo. "Injertos óseos - Obtención, caracterización y evaluación de hidroxiapatita Sintética y el compuesto de Hidroxiapatita Sintética porosa – Proteínas Morfogenéticas Óseas en un modelo experimental Lapino". Revista Colombiana de Ciencias Pecuarias. Vol. 17. 2004. pp. 20-28.
A. Noreña. Obtención y caracterización de hidroxiapatita sintética con porosidad inducida. Trabajo de grado. Facultad de Ingeniería. Universidad de Antioquia. 2001. pp. 94.
A. Echavarria. "Hidroxiapatita sintética de porosidad inducida: Comparación con el hueso calcinado". Rev. Fac. Ing. Univ. Antioquia. Vol. 19. 1999. pp. 56-64.
S. Dorozhkin. "Calcium Phosphates and Human Beings". Journal of Chemical Education. Vol. 83. 2006. pp. 713-719.
S. Pollick, E. Shors, R. Holmes and R. Kraut. "Bone formation and implant degradation of coralline porous ceramics placed in bone and ectopic sites". Journal
of Oral and Maxillofacial Surgery. Vol. 53. 1995. pp. 915-922.
K. Johnson, K. Frierson, T. Keller, C. Cook, R. Scheinberg, J, Zerwekh and L. Meyers. "Porous ceramic as bone graft substitutes in long bone defects:a biomechanical, histological, and radiographic analysis". Journal of Orthopaedic Research. Vol. 14. 1996. pp. 351-369.
K. Kurashina, H. Kurita, A. Kotani. "Experimental cranio-plasty and skeletal augmentation using an tricalcium phosphate/dicalcium phosphate dibasic/tetracalcium phosphate monoxide cement: A preliminary short term experiment in rabbits". Biomaterials. Vol. 19. 1998. pp. 701-706.
M. Johnsson, G. Nancollas. "The role of brushite and octacalcium phosphate in apatite formation". Oral Biology and Medicine. Vol. 31. 1992. pp. 61-82.
F. Hsu, S. Chueh, Y. Wang. "Microspheres of hydroxypapatite reconstituted collagen as supports for osteoblast cell growth". Biomaterials. Vol. 20. 1999. pp. 1931-1936.
A. Reddi. "Role of morphogenetic proteins in skeletal tissue engineering and regeneration". Nature Biotechnology. Vol. 16. 1998. pp. 247-252.
B. Chevallay, D. Herbage. "Collagen-basd biomaterials as 3D scaffold for cell cultures: applications for tissue engineering and gene therapy". Medical and Biological Engineering and Computing. Vol. 38. 2000. pp. 211-218.
D. Pioletti, H. Takei, T. Lin. "The effects of calcium phosphate cement particles on osteoblast function". Biomaterials. Vol. 21. 2000. pp. 1103-1114.
D. Villareal, A, Sogal, J. Ong. "Protein adsorption and osteoblast responses to different calcium phosphate surfaces". Journal of Oral Implantology. Vol. 21. 1998. pp. 67-73.
M. Concannon, M. Boschert, C. Puckett. "Bone induction using demineralized bone in the rabbit femur: A long-term study". Plastic and reconstructive surgery. Vol. 99. 1997. pp. 1983-1988.
I. Ono, H. Gunji, F. Kaneko, T. Saito, Y. Kuboki. "Efficacy of hydroxyapatite ceramic as a carrier for recombinant human bone morphogenetic protein". Journal of Craniofacial Surgery. Vol. 6. 1995. pp. 238- 244.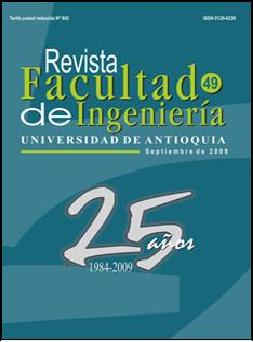 How to Cite
Escobar D. M., & Jaramillo C. (2013). Preparación y evaluación de una pasta ósea para aplicaciones médicas. Revista Facultad De Ingeniería Universidad De Antioquia, (49), 151-159. Retrieved from https://revistas.udea.edu.co/index.php/ingenieria/article/view/15969
Copyright (c) 2018 Revista Facultad de Ingeniería
This work is licensed under a Creative Commons Attribution-NonCommercial-ShareAlike 4.0 International License.
Authors can archive the pre-print version (i.e., the version prior to peer review) and post-print version (that is, the final version after peer review and layout process) on their personal website, institutional repository and / or thematic repository

Upon acceptance of an article, it will be published online through the page https://revistas.udea.edu.co/index.php/ingenieria/issue/archive in PDF version with its correspondent DOI identifier
The Revista Facultad de Ingeniería -redin- encourages the Political Constitution of Colombia, chapter IV
Chapter IV Sanctions 51
The following shall be liable to imprisonment for two to five years and a fine of five to 20 times the legal minimum monthly wage: (1) any person who publishes an unpublished literary or artistic work, or part thereof, by any means, without the express prior authorization of the owner of rights; (2) any person who enters in the National Register of Copyright a literary, scientific or artistic work in the name of a person other than the true author, or with its title altered or deleted, or with its text altered, deformed, amended or distorted, or with a false mention of the name of the publisher or phonogram, film, videogram or software producer; (3) any person who in any way or by any means reproduces, disposes of, condenses, mutilates or otherwise transforms a literary, scientific or artistic work without the express prior authorization of the owners thereof; (4) any person who reproduces phonograms, videograms, software or cinematographic works without the express prior authorization of the owner, or transports, stores, stocks, distributes, imports, sells, offers for sale, acquires for sale or distribution or in any way deals in such reproductions. Paragraph. If either the material embodiment or title page of or the introduction to the literary work, phonogram, videogram, software or cinematographic work uses the name, business style, logotype or distinctive mark of the lawful owner of rights, the foregoing sanctions shall be increased by up to half.